I've resisted going to a cordless handheld vacuum for quite a while now. I just didn't think a glorified dust buster was the way to go for cleanup. However, better batteries combined with brushless motors have really stepped up the suction power in this class of vacuums. So I now have the Ridgid R86090B Gen5x Brushless Handheld Vac to put to the test.
What I've done up until now is just use the attachments for my dust extractor. Its 150 CFM of suction is more than enough to make cleanup reasonably quick. But if I'm not already using a dust extractor, I have to wheel it out, find a plug, run through all my cleanup, and reverse the process. The appeal of a handheld battery-powered vacuum is pretty obvious. Just as long as it has enough suction power.
Ridgid R86090B Noteworthy Features
The Ridgid Gen5x Brushless Handheld Vac is sold as a bare tool and comes with a floor nozzle, crevice tool, crevice tool holder, and extension wand. One of the things I don't like about my dust extractor solution is that not all of my attachment tools can be stored onboard. With the crevice tool holder attached to the extension wand and the floor nozzle attached, everything is in one place. There's even a keyhole on the back so you can store it in an upright position.
If you're not running the floor nozzle or needing the extension, then you'll obviously need to take parts off. But it's nice that everything can be stored attached so there's no guessing which box I put stuff in this time.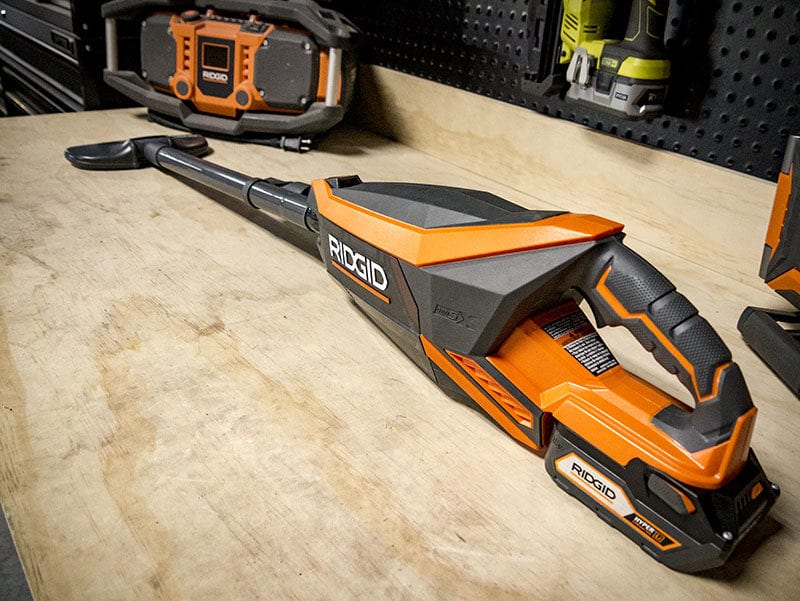 A latch on the front of the vacuum will give you access to the filters and allow you to empty any debris you collect. It can hold up to a quart of dry debris or roughly 1 cup of liquid. The prefilter is washable and the fine filter is replaceable. There's also no need to remove any filters prior to sucking up liquids. Just keep in mind that liquids other than water might not be kind to the plastic housing and attachment pieces.
Ridgid R86090B Ergonomics
The Ridgid Gen5x Brushless Handheld Vac weighs 3.34 pounds on its own and 3.96 pounds with all the attachments installed. With a 5.0 amp hour battery pack, that weight moves up to 5.70 pounds with all the attachments.
Even with a larger battery installed, the balance is significantly weighted forward. That's not a bad thing when working with vacuums since you are typically working below waist level. One area where this works against me is cleaning off the top of my workbench. Since I'm vacuuming an area that's above my waist, I have to fight that balance a little bit.
With the attachments installed and vacuuming at floor level, I was initially concerned that the extension might not be long enough for my six-foot, two-inch frame to handle it comfortably. While I still won't argue with a few more inches to get the floor nozzle a little further in front of me, I'm able to vacuum effectively without having to hunch in a position that hurts my back.
Around the handle is Ridgid's standard hex grip overmold which makes for a comfortable gripping surface even when your hands are wet or sweaty.
Performance
Rigid claims that their cordless handheld vacuum is the most powerful available. I couldn't find a CFM rating to back that up, but its dry suction performance is certainly better than most of the vacuums in this class. Milwaukee's new handheld vacuum is probably the only one that can compete and it's pushing 40 CFM. It's definitely a winner on hard floor surfaces, but you're better off with a standard vacuum on any carpeted floor.
While the Ridgid does very well cleaning up dry debris, it's not as confident in liquid. Once it has picked up its limit, it's capable of picking up more. However, it will release the additional liquid back through the nozzle.
Because Ridgid designed a significant gap between the collection flap and filters, the liquid never reaches the filters and therefore, doesn't need to be taken out when vacuuming liquids. Even if you slosh around some water, the prefilter is washable, so it's not the end of the world. Just let it dry out when you're finished.
Running the vacuum is easy enough. Simply hit the trigger, and it's in the on position. The trigger isn't variable speed and there's no need to hold it down – it's essentially an on and off switch. Push the trigger a second time to shut the vacuum off.
I was able to run this cordless handheld vacuum for 22 minutes 30 seconds continuously using a 5.0 amp hour battery. At the end of the test, neither the motor nor the battery was in danger of overheating.
One improvement I'd like to see isn't on the vacuum itself, but on the attachments. Even though the floor nozzle does a nice job of pick up, I'd like to have a ball joint on it to help maneuver around tighter spaces like workbench legs and miter saw stands.
The Bottom Line
The Ridgid Gen5x Brushless Handheld Vac has earned its spot in my tool collection. It's more than just a glorified dust buster and has high enough suction performance to handle my dry cleanup without turning to my dust extractor. It's much more convenient than dragging out the big old corded unit and has the power I need to make cleanup easy.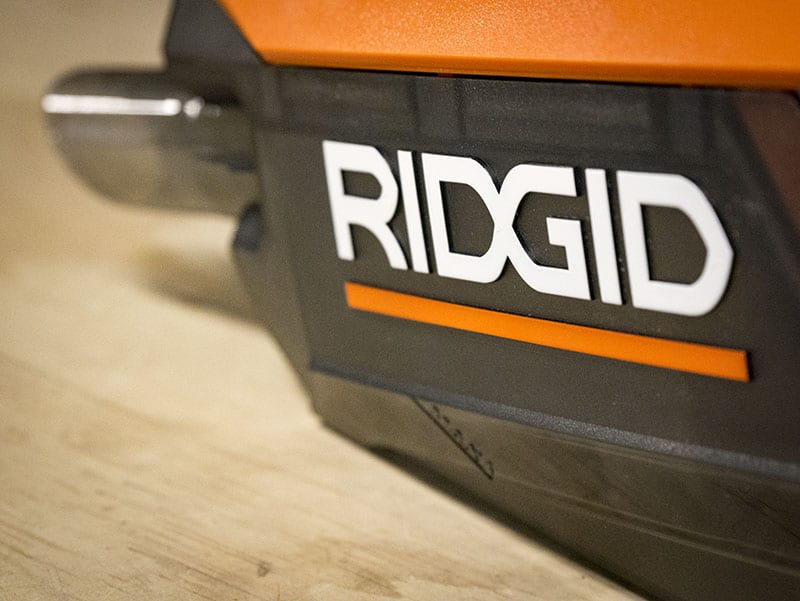 However, I won't be using the wet pickup capability unless I'm in a pinch. Not that it's incapable, just inconvenient with such small capacity.
With well over 20 minutes of runtime, I'm able to give my entire work area a quick cleanup without having to switch batteries. Ergonomically, it's a well-designed unit for cleaning up everything below the waist. However, the forward weighted balance does make it a bit more awkward when cleaning up bench tops and tools that sit above the waist level.
The basic attachment set covers everything I really need for post-work cleanup and gives me enough reach to effectively vacuum hard floors. My only request is to upgrade the floor nozzle with the ball joint to make it more maneuverable.
If you're already on Ridgid's 18V platform, you can add the Ridgid Gen5x Brushless Handheld Vac for $79.97 at the Home Depot. Masons, framers, and roofers will probably still want to go with the blower option for job site cleanup. On the other hand, carpenters, remodelers, and any Pro working where the exterior walls are already up will likely find this to be a valuable addition. Likewise, anyone working in a finished home, shop, or garage will find is easier to use than a dust extractor.
Ridgid Gen5x Brushless Handheld Vac Key Features
Strongest hand-held 18V job site wet/dry vacuum
Brushless Motor Technology, delivers more run-time, more power, and longer motor life
Wet/dry capable, vacuum both wet and dry debris
Floor nozzle, crevice nozzle, and 2-feet extension tube included clean up large areas and reach tight spaces
Pre-filter, for blocking large debris
Removable dust cup, for easy cleaning hex grip micro-texture, grip-enhancing micro texture for maximum user comfort
Ridgid R86090B Brushless Handheld Vac Specifications
Model: Ridgid R86090B
Voltage: 18V
Brushless Motor: Yes
Color Family: Orange
Certifications and Listings: 1-UL Listed
Removable Dust Cup: Yes
Weight: 3.0 lbs
Includes: Floor Nozzle, Crevice Nozzle, and 2-ft Extension Tube
Warranty: Lifetime service agreement
Price: $104 (Bare Tool)