If A Dead Battery Threatens Your Morning Commute, Just Reach For The Ryobi 18V Jump Starter
Over the years, we've gotten our hands on all types of portable jump starters, but most of those featured a small self-contained battery. For most of us, a good set of jumper cables was the gold-standard, but Ryobi thinks there's a better way. The Ryobi 18V Jump Starter takes a different approach when it comes to cordless convenience, and we think you ought to know all about it!
Want to see more jump starter reviews? Click here!
Ryobi Jump Starter Performance
Power Output: 1600 peak amps
Cold Cranking Amps: 800
Minimum Operating Temp: -4°
The all new Ryobi Jump Starter provides up to 1600 peak amps to jump start a car, truck, or boat battery with ease. With that kind of power, it can confidently revive up to a 6.0L V8 engine. Using the kitted 2.0Ah battery, Ryobi tells us you can expect up to 20 uses on a single charge.
This jump starter can operate in temperatures as low as -4° F with 800 cold cranking amps. This ensures you can get your car up and running, even on those cold winter mornings.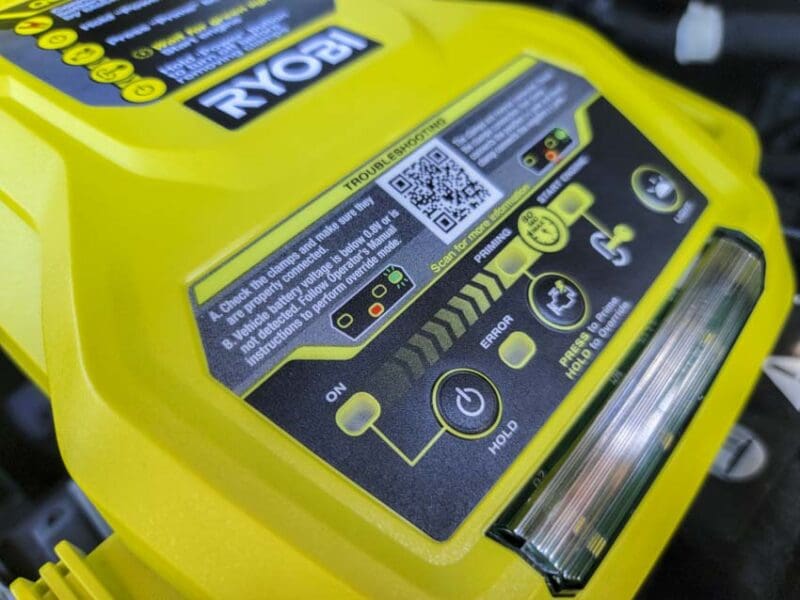 The on-board quick start guide provides you with step-by-step instructions. Start by connecting the cables to the appropriate battery pole, then press the power button. Next, press the "Prime" button to start the process. When the "Start Engine" light turns green, you're good to go. Just be sure to power-off the jump starter before removing the clamps to avoid any accidental sparking. Simply follow these instructions, and you'll be up and running in as little as 60 seconds.
Safety is always a big concern when it comes to jumping a battery. This jump starter features anti-spark technology and reverse polarity protection on the off chance you accidentally connect the cables incorrectly. This model also features an on-board LED light for increased visibility in low light situations, such as a dark parking lot, garage, or roadside.
As with all Ryobi 18V tools, this jump starter is compatible with any battery in the 18V lineup. However, one limiting factor is the battery housing door. The largest battery that will allow the door to close completely is a 4.0Ah High Performance. With that said, a 2.0Ah battery will provide you with plenty of power for multiple uses.
Ryobi Jump Starter Design Notes
Model: Ryobi P7101 (bare tool), Ryobi P7110 (kit)
Power Source: Ryobi 18V battery
Weight: 4.1 lbs (bare), 5.1 lbs (with 2.0Ah battery)
The Ryobi jump starter weighs in at a very reasonable 5.1 pounds with the kitted 2.0Ah battery in place—a far cry from the much heavier SLA alternatives. The lightweight design makes this a great option to keep in the garage or even the trunk of your car for emergencies.
The Ryobi P7101 has a convenient rubber top handle for easy transport and padded feet to help prevent damaging your vehicle's finish and keep it in place.
Our only complaint from a design aspect is that we wish the leads were about 6 inches longer. Currently, they're about 12 inches long, which is fine for most vehicles. However, that extra length would give you some more wiggle room if your battery is a little less accessible.
Ryobi Jump Starter Price
The Ryobi 18V Jump Starter is available for $179 as a bare tool and as a kit for $199. The kit includes a 2.0Ah battery and single-port charger. Ryobi backs this jump starter with a 3-year warranty.
The Bottom Line
Overall, we think Ryobi nailed the design of this first-generation jump starter. It has plenty of power to revive larger engines, and you get plenty of uses off of a single charge. There is still a little room for additional features, like a USB charging port, but even without any additional features it will still get you out of a bind.