What tool is so useful that it's literally out of this world? I submit the rotary hammer, which NASA included on the Mars rover Curiosity. When the job calls for making holes in stone and concrete or chipping masonry, the rotary hammer is the tool for the job. I'm not sure if Ryobi made NASA's version, but on the terrestrial side, the company has introduced the Ryobi 18V One+ SDS-Plus Rotary Hammer Drill.
You may notice the name suggests a hybrid: although generally intended for the same function, rotary hammers and hammer drills have distinct mechanisms. I certainly didn't disassemble the Ryobi to find out if it had both mechanisms, but I did want to find out if it could make some holes in concrete.
First Impressions
The Ryobi 18V One+ SDS-Plus Rotary Hammer Drill is light! The rotary hammer I usually use is bigger, heavier, and corded – but it can be overkill for most jobs. The 5,000 BPM impact rate, 1,300 RPM speed, and 3/4-inch max hole diameter is able to handle the majority of holes I need to make. Similar to the argument for 12V tools, why use something heavier and bulkier if I don't have to?
This rotary hammer drill has four modes: rotary hammer, rotational drilling, chisel only, and a chisel adjust mode that allows you to maneuver the bit to your desired position. While the design seems to suggest a bridge between hammer drills and rotary hammers, the chuck is an SDS-Plus design so you won't be able to use standard twist bits unless you go with a chuck adapter.
Modes are easily selected using a dial on the left side of the tool. It strikes me as a wide range of functionality for such a compact, light tool. The chisel adjust mode is one that you may not have seen on a rotary hammer before. It allows the bit to rotate freely while you work. Some hammers let you lock in the chisel at an angle, but free rotation while working is more unique.
The GripZone overmold reminds me of Ridgid's Hex Grip, which I really like. It's comfortable in the hand and as I've mentioned, it's very light. Speaking of light, the LED work light is a great touch. Finally, a feature I always look for is a battery gauge on the pack or on board – Ryobi's One+ battery's fuel gauge is on the pack with four indicator lights.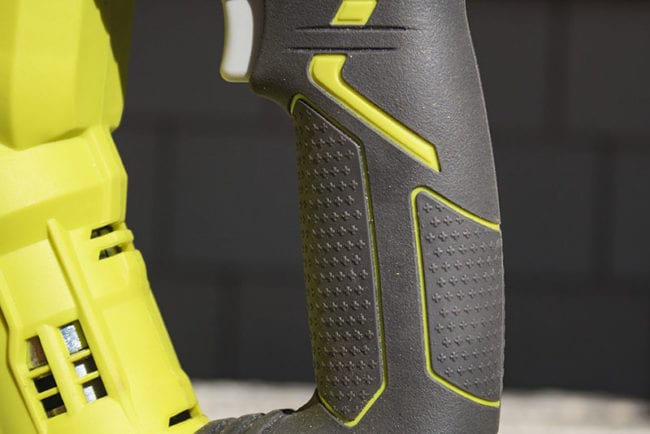 Drilling and Able
We had some big, louvered fans to install using tap cons so we called up Ryobi to the big leagues. Needless to say (but I'll say it anyway), having a cordless tool is preferred other things equal. But the Ryobi's cordless nature coupled with its light weight made the job breeze. It's great for working above your head or on walls above your shoulder.
Additionally, the design lends itself to one-handed operation. You must use two hands with the typical, larger-than-necessary rotary hammer I mentioned above. The Ryobi made all the holes we asked it to make with less muscular effort than our bigger, more expensive hammer.
Especially if you don't have a bunch of holes or for punch list stuff, this is perfect. Keep in mind it's intended purpose: if you need big diameter holes, hundreds of holes, or you intend to do major demo, this clearly isn't the tool you'd choose first. There are definitely more powerful, faster drilling options out there among the traditional Pro brands, but Ryobi takes a lot of the fatigue away with their lightweight design.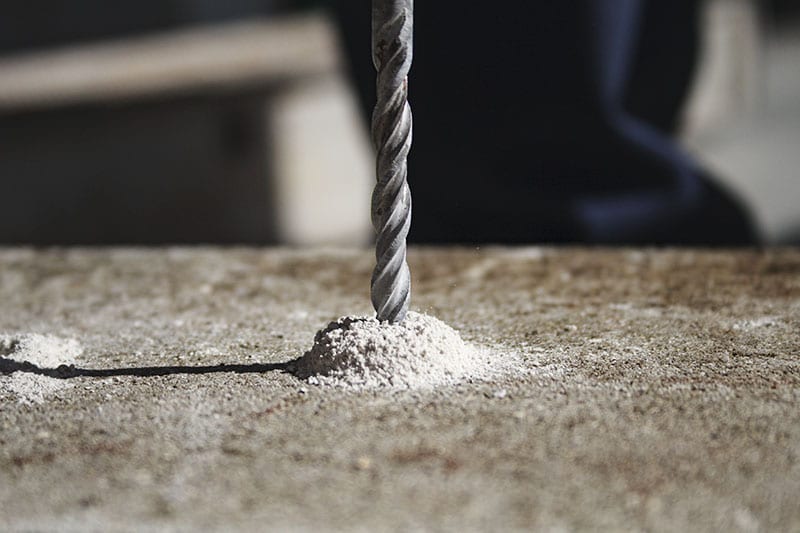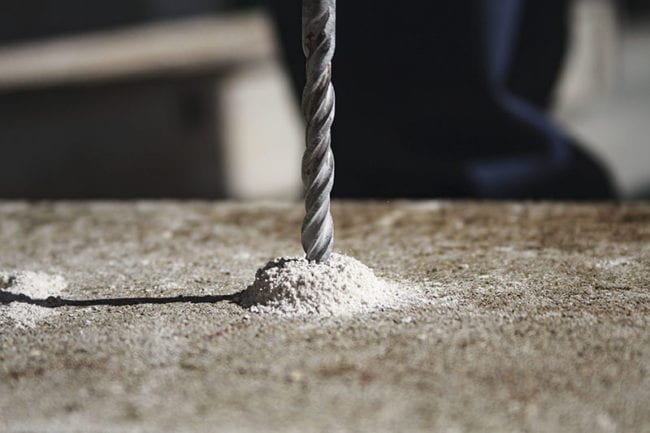 One request I'd have is for Ryobi to re-engineer the balance of this tool. Even with a small bit inserted, this hammer drill is top heavy and falls forward when you'd expect it to stand up on the battery. It's not a huge knock on the tool because most hammers can't stand up either, but with weight lending itself to one-hand use, it would be easier for horizontal and overhead applications to shift the weight back some.
The Bottom Line
We're often asked why a Pro-focused organization reviews Ryobi tools. The Ryobi 18V One+ SDS-Plus Rotary Hammer Drill is a perfect example of why. There's a plethora of tools that the DIYer is happy to get in their hands, but tools like this are clearly tipped more toward the Pro side of things.
Thousands of MRO crews around the country rely on Ryobi tools to get the job done thanks to their performance to cost ratio. You'll find them all over construction sites for the same reason.
From a size and weight standpoint, the Ryobi 18V One+ SDS-Plus Rotary Hammer Drill seems to bridge a gap between hammer drills and rotary hammers. However, with an SDS-Plus chuck, this is definitely a lightweight, compact rotary hammer and really not something I'd expect the DIYer to own. It's better suited as a cordless, compact supplement to the Pro's workhorse hammer.
With this in mind, it's an excellent solution for installing Tap Cons, making holes for anchors, and small tile removal and chipping jobs. Even Pros that are loyal to the big names may find themselves picking up the Ryobi P222 for one-off and punch list jobs.
The Ryobi 18V One+ SDS-Plus Rotary Hammer Drill is a smart addition for Ryobi. At $99, recommending it is easy, even more so if you're already on Ryobi's 18V platform. You can pay three times as much for a tool that will give you the same result and likely weighs more with a cord trailing behind.
Ryobi 18V One+ SDS-Plus Rotary Hammer Drill Features
SDS-Plus chuck for quick, secure, tool-free bit changes
Three-mode selector for rotary hammer, rotational drilling, and chisel only mode
Innovative chisel adjust mode to maneuver the bit to the optimum position
LED light increases work area visibility
Powerful, compact design up to 5,000 BPM to hammer through the toughest materials
Variable speed trigger to perform a variety of applications
New and improved GripZone overmold
Ryobi 18V One+ SDS-Plus Rotary Hammer Drill Specifications
Model: Ryobi P222
Power Source: Ryobi One+ 18V battery pack
Chuck: SDS-Plus
No Load Speed: 0-1,300 PRM
BPM: 0-5,000
Impact Energy: 1.2 Joules
Tool Weight: 3.65 lbs.
Warranty: 3 years
Price: $139.99 (bare)