Ryobi 80V Battery Platform Adds A 30-Inch Self-Propelled Lawn Mower
At the Equip Expo (formerly GIE) in Louisville, Kentucky, we got to see a huge variety of the latest OPE from some big-name brands. Among them was Ryobi, which showed off the newest addition to its 80V lawncare lineup. The Ryobi RYPM8010 80V 30-Inch Self-Propelled Lawn Mower ushers in some major upgrades to the brand's walk-behind roster.
Ryobi 80V Self-Propelled Lawn Mower: The Big Deal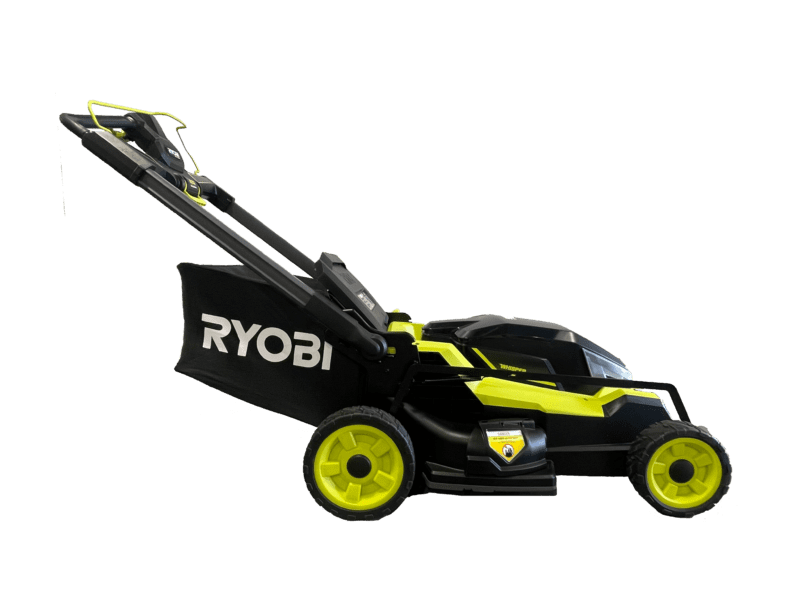 This mower is Ryobi's first 80V walk-behind model. Until now, the 80V system consisted of three ride-on mowers. Adding a 30-inch walk-behind mower supplements those tools with a more nimble tool that continues to use the same batteries.
Ryobi 80V Self-Propelled Lawn Mower Battery
A 10Ah 80V suitcase-style battery provides a higher capacity (720Wh) than you can get from the 40V slide packs Ryobi employs on its other mowers. In fact, you can expect up to 90 minutes of runtime on a full charge. That gives you 20 additional minutes over their next highest-capacity model, the Whisper Series 21-inch CrossCut mower.
Blade Design And Cutting Width
Ryobi designed this mower to deliver aggressive cutting thanks to its multiple cross-cut blades. It features four blades—dual sets of two stacked blades that overlap slightly. Essentially, you get a pair of smaller CrossCut stacked blades. The side-by-side stacked design allows for better cut quality over using a single, higher-mass blade.
Another really big deal is that it gives this mower a 30-inch total cut width. This is a huge cut capacity for an electric walk-behind mower. In fact, the only other battery-powered walk-behind mower that we know of at the time of writing is the Greenworks Commercial 82V 30-inch mower which was also announced at Equip Expo this year.
Mulching and Bagging
Regardless of whether you plan to mulch or bag, Ryobi makes it easy. To choose or switch between modes, simply twist the lever on the top of the deck and a door moves to open up or block the pathway to the rear bagger. In this way, you avoid the complications of having to deal with (and potentially misplace) a removable mulch plug.
Cutting High Adjustment and Storage
Using a single-lever cutting height adjustment system, Ryobi makes it easy to lift or lower the blades. It simplifies the required adjustment to get that perfect cutting height. The dual locking side rails also make this a stable setting, providing a nice even cut without requiring a separate lever on each wheel.
When you finish mowing, the Ryobi 80V self-propelled lawn mower's handle folds down completely for compact storage. To engage this feature, simply pull up on the handle release lever and push the handle down to the mower body.
Additional Features
Single-point height adjustment
Integrated mulch plug—just flip a lever!
Ryobi RYPM8010 80V Self-Propelled Lawn Mower Price
The Ryobi RYPM8010 lawn mower will include an 80V 10Ah battery and an 80V Super Charger. While there isn't any pricing information publically available yet, we'll know more leading up to its 2023 release. Like all Ryobi products, it will be available exclusively at The Home Depot.
This lawn mower will be manufactured at Ryobi's Anderson, SC facility, making it the first 80V product to be made in the USA with global materials.
Final Thoughts
Ryobi is moving into an interesting position with its 80V line. On one hand, homeowners with 1/2-acre to 1 acre lawns may find a 30-inch walk-behind more affordable and/or advantageous than a ride-on mower. On the other hand, most professional crews have a walk-behind to get into areas such as fenced-in lawn that their large riders won't fit. In classic Ryobi style, the team is carving out a Prosumer category between the residential and commercial lawn care sectors. Don't be surprised if you start seeing Ryobi battery-powered equipment tempt value-minded Pros as they transition from gas to battery power.

Kenny Koehler, Pro Tool Reviews managing editor
Specifications
Model: RYPM8010
Cut width: 30 in
Max runtime: 90 mins
Voltage: 80V