Ryobi Introduces the World's First 18V Cordless Right Andle Die Grinder
The Ryobi 18V One+ HP Compact Brushless 1/4-Inch Right Angle Die Grinder (PSBDG01) promises a convenient cordless alternative to its pneumatic counterpart. Considering it's the world's first 18V cordless right angle model, we wanted to know if it's time to ditch the air hose and compressor.
Ryobi Cordless Right Angle Die Grinder Performance
Need for Speed
Ryobi HP Brushless motor tops out at 22,000 RPM which is nothing to bat an eye at. In fact, that's a little higher than many pneumatic models. There are a few high-end professional-grade die grinders that top out a few thousand RPMs higher, but this one should perform well in most situations.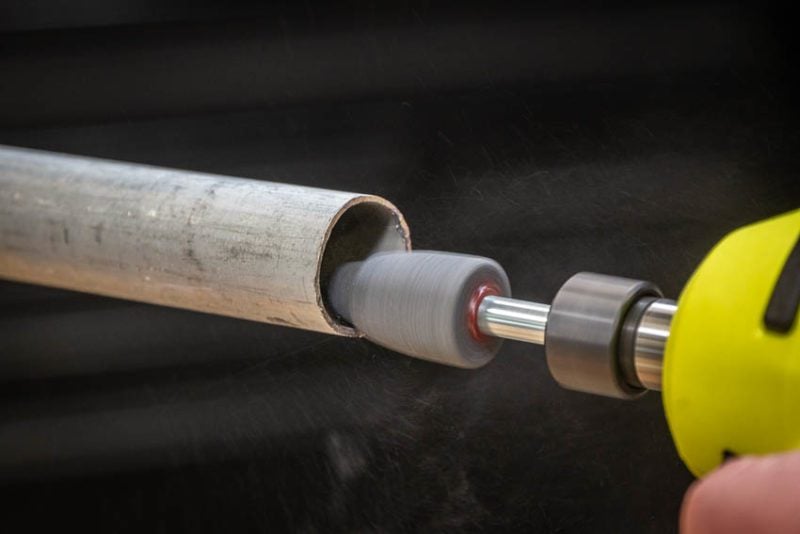 The 4-mode speed control lets you dial in the exact level of speed you need for the job—anywhere from 10,000 to 22,000 RPMs. The trigger is variable speed, so you have some additional control in each mode.
At these speeds, you can confidently tackle polishing and sanding projects or even sharpen your dull mower blades without breaking out the compressor. As an added bonus, it's also quieter than the pneumatic models we've used.
Ryobi Cordless Right Angle Die Grinder Design Notes
Size and Weight
The profile of this cordless die grinder is a bit larger than its pneumatic counterparts, but it's not outrageously bulky considering it's a cordless tool.
Bare, it stands 7.69 inches tall and 9.75 inches tall with a 4.0Ah battery. That's really not bad considering you don't have to worry about an air hose dragging behind the tool.
They also managed to keep the weight to a minimum. At just 3.25 lbs. with a 4.0Ah battery, it's incredibly maneuverable and easy to handle. It's even better if you make the switch to a more compact 2.0Ah battery.
Profile
The right-angle design accommodates the Ryobi stick pack battery design in a similar fashion to their drills and impact drivers. The head tilts up at a slight angle to accommodate the protruding battery. When the head is parallel to the ground, the entire collet extends beyond the battery and we didn't have any issues with clearance.
Trigger Design
The paddle-style trigger traces its roots to traditional pneumatic die grinders, including the spring-loaded finger safety. It adds a little extra measure of safety as well as a degree of familiarity if you're coming over from the pneumatic world.
Additional Features
Foot-mounted LED light
Lanyard loop
Spindle lock under the collet
Compatible with all Ryobi One+ batteries that power more than 225 products
Ryobi Cordless Right Angle Die Grinder Price
Grab this die grinder at The Home Depot as a bare tool for $99 or $159 kitted with a 4.0Ah battery and charger. It comes with Ryobi's 3-year warranty for some added peace of mind.
The Bottom Line
Anytime you get to check off the "world's first" box on your resume`, it's a good day. More than that, Ryobi's cordless right angle die grinder does a nice job and it's smartly designed to work as part of the massively popular 18V One+ system.
To learn more about the Ryobi One+ lineup, click here.
Ryobi Cordless Right Angle Die Grinder Specifications
Model: Ryobi PSBDG01
Power Source: Ryobi 18V Battery System
Motor: Brushless
Collet Size: 1/4 in.
Collet Nut: 11/16 in.
Max Accessory Diameter: 2 in.
Speed Modes: 10,000 / 15,000 / 20,000 / 22,000 rpm
Warranty: 3-year limited warranty
Price: $99 (bare tool), $159 (kit)