Ryobi Cordless 7 1/4-Inch Miter Saw Offers Impressive Accuracy and Value
Ryobi isn't new to the compact miter saw game. Their initial model checked off the box, but it was just okay. We were excited to get our hands on the updated Ryobi cordless 7 1/4-inch miter saw to see what kind of improvements the team has made.
Pros
Lightweight and portable
Impressive cross-cut capacity
Easy-to-read degree markings
Smooth bevel and miter adjustments
Cons
The table is a little on the small side
Editor's Note: Check out our best miter saw article for our top recommendations.
Ryobi Cordless 7 1/4-Inch Miter Saw Performance
Cutting Power
Ryobi's sliding miter saw produces up to 3,600 RPMs which is pretty good despite having a brushed motor and smaller stature. We powered through a series of cross, miter, and bevel cuts and only started to see a slight dip in cutting speed during compound miter cuts on larger materials. As always, the combination of letting the motor keep the RPMs high and a sharp blade leaves you with the best results.
For best performance, Ryobi recommends using their 9.0Ah High-Performance battery with this saw. If it gets anywhere near the stated 800 crosscuts per charge, you'll have an all-day tool perfect for trimming and even small build and repair projects.
Realistically, you're free to use any Ryobi 18V One+ battery and still get excellent results.
Accuracy
Our test cuts proved this saw to be incredibly accurate right out of the box. That was a nice surprise, but we don't judge our saws by it. Even though miter saws are typically calibrated before they leave for distribution, they can get a little off during shipping. Always make sure you go through the miter saw calibration process with any new tool and check it each day.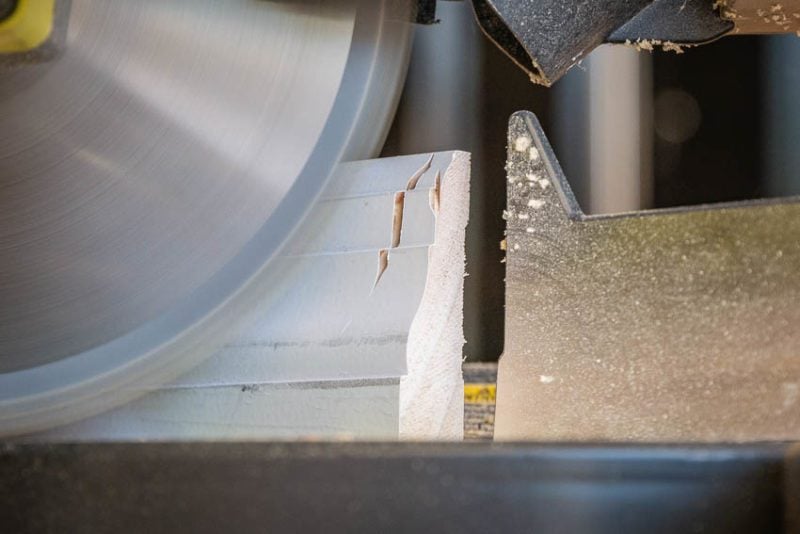 Unlike many miter saws, this one doesn't have any sort of alignment aid like a laser or LED light. You have to double-check your mark the old-fashioned way and bring the blade down to your cutline.
That said, we were impressed with how accurate this saw is. Cut after cut, the blade took our cutline off without any noticeable drift to either side.
Cut Capacity
One of the big deals about the Ryobi PBT01B cordless miter saw is the sliding feature. It drastically increases the cut capacity over the Ryobi P553. This saw tackles cross cuts in lumber up to 2×10 and 45° miter cuts in 2×6 lumber.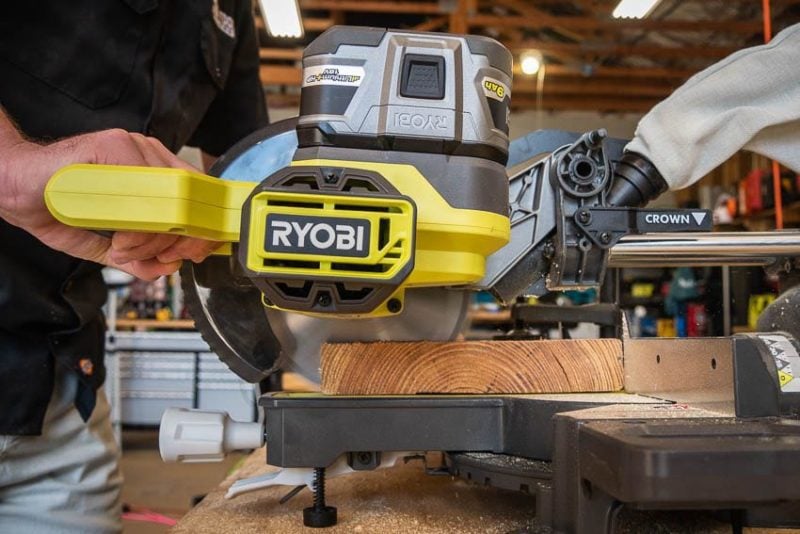 One thing to note is that the table is a little on the small side. It's not a big deal when you're cutting trim, but it is more noticeable if you're cutting lumber at its top capacity.
Similar to other sliding miter saws, Ryobi uses a dual-rail system to maneuver the saw back and forth. What's nice is how stable the entire head unit is. There's very little movement and as long as you don't push toward either side, the blade stays dead on over the length of the cut.
Ryobi Cordless 7 1/4-Inch Miter Saw Design Notes
Trigger Design
The Ryobi cordless sliding compound miter saw features a two-finger trigger with a convenient finger safety nestled into an ergonomic D-handle. I tend to be partial to full paddle triggers for extended use, but it's just a preference.
Adjustments
The cordless 18V Ryobi sliding compound miter saw has 9 miter detents (with bypass) to dial in common cuts. You've got your stops in the traditional locations, both left and right: 0º, 15º, 22.5º, 31.6º, and 45º. As usual, the miter adjustment lever includes a detent override so you can freely slide between those angles.
If necessary, you can also make miter cuts up to 47º left and right as well.
This particular saw only bevels in one direction up to 45°. Instead of detents, it has red indicators at 22.5° and 33.9° that stand out nicely along with arrow indicators at 15°, 30°, and 45°.
Dust Collection
Ryobi's dust collection port is pretty much what you'd expect to see on any miter saw and does a pretty good job of collecting the dust particles. However, during our initial testing, we did experience a little bit of clogging in the exhaust port. I don't think this is going to be a chronic issue but it's something to keep an eye on while you're working. Keep in mind that connecting a vacuum is far more effective than using the bag.
Size and Weight
Ryobi's lightweight sliding compound miter saw is compact and at just 25lbs, you won't have to worry about a back injury when you carry it around.
The total footprint is about two square feet including the side handles. If you prefer to mount the saw on a workbench or sawhorses, there are mounting holes in the feet for bolts or screws.
Ryobi Compact Sliding Compound Miter Saw Additional Features
Trigger lock-out hole
Depth adjustment knob
Adjustable work clamp
Adjustable miter table foot
Ryobi PBT01B Cordless vs TSS702 Corded Miter Saw
Just to give you an idea of the differences, we thought we'd compare this cordless 7-1/4″ sliding miter saw with its corded counterpart.
| Model | PBT01B 18V Sliding Miter Saw | TSS702 Corded Miter Saw |
| --- | --- | --- |
| Blade | 7-1/4″ | 7-1/4″ |
| RPM | 3,600 RPM | 5,350 RPM |
| 90º Miter Cut | 2″ x 10″ | 2″ x 10″ |
| 45º Miter Cut | 2″ x 6″ | 2″ x 6″ |
| Adjustable Bevel | 0º – 45º | 0º – 45º |
| Miter Stops | 0°, 15°, 22.5°, 31.6°, and 45° left and right | 0°, 15°, 22.5°, 31.6°, and 45° left and right |
| Cuts Per Charge (with P194 battery) | Up to 500 | NA |
| Price | $199 | $189 |
The key difference has to do with blade speed. Whereas the cordless model tops out at 3,600 RPM, the corded sliding miter saw spins its blade at up to 5,350 RPM.
Ryobi Cordless 7 1/4-Inch Miter Saw Price
The Ryobi 18V One+ sliding compound miter saw is at your local Home Depot store for $199 as a bare tool. Additionally, there are two kit options that include a battery and charger available. With a 2.0Ah battery, it's $278 and with a 4.0Ah High-Performance battery, it's $328.
One nice thing is that Ryobi includes a 40T blade instead of a 24T. You end up with a better finish on your cuts thanks to it.
Ryobi warranties the saw for 3 years.
The Bottom Line
We went into this review wondering if the Ryobi cordless 7 1/4-inch compound miter saw was going to be a better fit for DIYers or if it would reach up into the Prosumer category and attract value-minded Pros. Thanks to the performance and stability, we can easily recommend it for professional contractors and remodelers who have a lot of case and base along with other trim to install. Particularly in today's residential market where houses are going up quickly in developments, the saw's value and portability make it a solid addition for your trim crew.
To learn more about the entire Ryobi ONE+ line, click here.
Ryobi Cordless 7 1/4-Inch Comound Miter Saw Specifications
Model: Ryobi PBT01B
Power Source: Ryobi 18V Battery
Miter Stops: 0°, 15°, 22.5°, 31.6°, and 45° left and right
Blade Diameter: 7-1/4 in.
Max Speed: 3,600 RPM
Dimensions (LxWxH): 23.75 x 25.5 x 12 in.
Arbor: 5/8 in.
Max Bevel: 45°
Max Miter: 47°
Warranty: 3 years
Price: $199 (bare tool)