PTR co-founder Tom Gaige just finished helping my friend, Jeff Hogan, wrap up a new workshop next to his house. As one of the more knowledgeable DIYers in my local area, I put the new Ryobi Cordless 3-Gallon Project Vacuum in his hands to see what he thinks and how he implements it into his system as a supplement to a larger shop vacuum.
Check out our article on the latest Ryobi vacuum reviews and products.
Features
Standard Features
Blower outlet
Crevice nozzle
Utility nozzle
Wet/Dry capable
18V One+ Power Source
The big selling point for the Ryobi Cordless 3-Gallon Project Vacuum is the fact that it's an 18V One+ product, meaning any Ryobi 18V One+ battery will work in it along with more than 100 other One+ tools.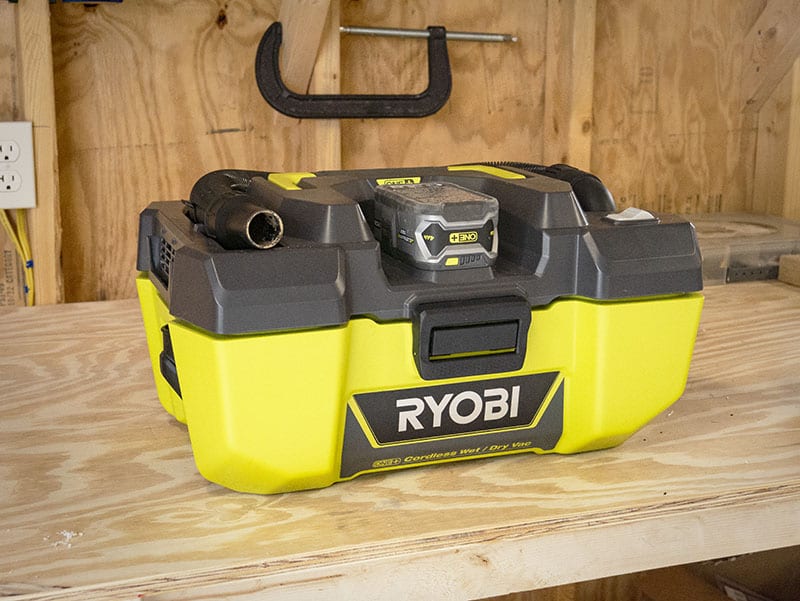 There's an argument to make for hybrid power on any cordless vacuum. It'll be interesting to see if this design takes off given its size and power. If it does, Ryobi might give us the hybrid power capability in the next one, though it will bump up the price a little.
Hose Managment and Storage
Generally, hose management and accessory storage have been the shop vacuum's perennial problems. Although some designs do a satisfactory job, more often the hose awkwardly wraps around the vacuum and the nozzles rattle around loosely. Issues like this can prevent the vacuum from storing well.
The Ryobi P3240 doesn't have this issue. The hose storages cleanly on top in a more compact form since it's an extendable design. There are just two accessories and they both store neatly on the sides. There are only a couple of shop vacuums we've seen that have storage characteristics this good.
It's hard to overstate the advantage of an extendable hose on a vacuum this size. Ryobi takes is a step further with a pivoting inlet that helps keep it from kinking as you work around the canister.
Washable Filter
It's inevitable that a vacuum's performance will diminish as the filter clogs up. Conveniently, you can remove the Ryobi Cordless 3-Gallon Project Vacuum's filter, tap it clean or wash it, and then reinstall to get back to work. It's easy to access, too – just release the latch to open up the canister and it's right there.
Size and Shape
Choosing the best vacuum canister size is all about have a solid grasp of your needs. The Ryobi P3240 is designed to cover cleanup on a smaller scale while staying highly portable. Weighing in at less than 10 pounds with a 3-gallon canister, it has the portability sorted out.
Three gallons of waste capacity is quite a few small messes if you think about it. You can conceivably use the Ryobi Cordless 3-Gallon Project Vacuum for a while before emptying it. It's exceedingly simple when it's time. A flip of the latch opens up the canister, and a quick twist of the filter releases it.
Another positive of the small capacity is that it doesn't get crazy heavy, even when you're cleaning wet messes.
It's an intentionally boxy design that sits well on your workbench and stores easily. The trade-off is that you don't have the wheels and accessories to use it as a floor cleaning vac from a standing position. It's a style you're going to set down on your workbench, truck bed, or vehicle interior to clean what's around your arm's reach.
Performance
The big performance stat you'll notice is that the Ryobi P3240 pulls 45 CFM. Compared to some of the larger models that boast 200+ CFM, that number doesn't sound terribly impressive. However, it's strong enough to pick up sawdust, nails, good-sized wood chips, and more.
The very first thing Jeff built for his shop was a workbench with the help of a Kreg Pocket-Hole Jig. He kept the waste to a minimum by holding the utility nozzle against the jig as he made the holes. It was a whole lot easier (and quieter) than rolling out a big, corded wet/dry vac for the job.
For keeping your immediate workspace clean during or after your project, it has enough suction power to get the job done well.
Price and Value
As a bare tool, the Ryobi Cordless 3-Gallon Project Vacuum runs $99 and we've seen it included in some promotions since its launch. It's just another $10 to move up to Ryobi's 6-gallon cordless vac. That one is better for rolling around and cleaning the shop floor- something to keep in mind as you decide which one is the best bet for your workspace.
If you can swing it, grab both. The 3-gallon model can cover your work surface and tool cleanup while the 6-gallon covers you for the floor and bigger areas. The best part is you're cordless on both vacs.
Bottom Line
The Ryobi P3240 makes a great cleanup tool for those projects where you're not using tools with built-in dust collection. For the DIYer, it can stand alone as your only vac if you don't mind sweeping the floors. Ideally, it supplements a larger vacuum to make your quick cleanups easier and quicker.
Ryobi Cordless 3-Gallon Project Vacuum Features
Wet and dry cleaning capability
Onboard storage for hose and accessories
Flat top design for convenient stacking and storage
Pivoting air inlet port for easy hose management
Exhaust port hook-up turns vacuum into a blower
Washable filter
Ryobi Cordless 3-Gallon Project Vacuum Specifications
Model number: Ryobi P3240
CFM: Up to 45
Weight: 9 pounds
Warranty: 3-year
Price: $99