A while back we did an article on how to install a Simpson Craftsman door on a 1920s bungalow home. It was an incredible update and really brought out the charm of the wraparound porch. Recently, we had the opportunity to follow up and review one of the Simpson barn doors for Pro Tool Reviews. We paired the interior door with Goldberg Brothers sliding barn door track hardware and add some privacy to the master bath. Currently, it has no door—just a 36-inch opening. To fully cover the doorway and add some style, we opted for a 3′ 6″ (42″) barn door made from Cherry.
Simpson Barn Doors Construction
Simpson offers its exterior and interior barn doors in a variety of wood styles, but more importantly, it really had the look and character he wanted for the home. The company makes doors in over a dozen different wood species. Want Fir, Alder, Ash, Cherry, Maple, Oak, or Walnut? No problem. Simpson makes the door's long stiles using multiple pieces of wood instead of a single piece. This type of construction adds strength without changing the look of the door.
The core of the Simpson barn door uses a finger-jointed construction with lots of glue surfaces. The outer edge band then blends into the 1/16″ vertical grain surface veneer to mask the joints. It's a really robust door that should last forever.
Shipping a Door
I wouldn't know how to ship a door in such a way as to keep it intact upon receipt. Simpson has this down pat. The Simpson barn door arrived plywood-crated and strapped to a couple of 2×4 stand-offs. Inside, veneer protected the door further, and we found absolutely no damage upon inspection. Other companies should take note.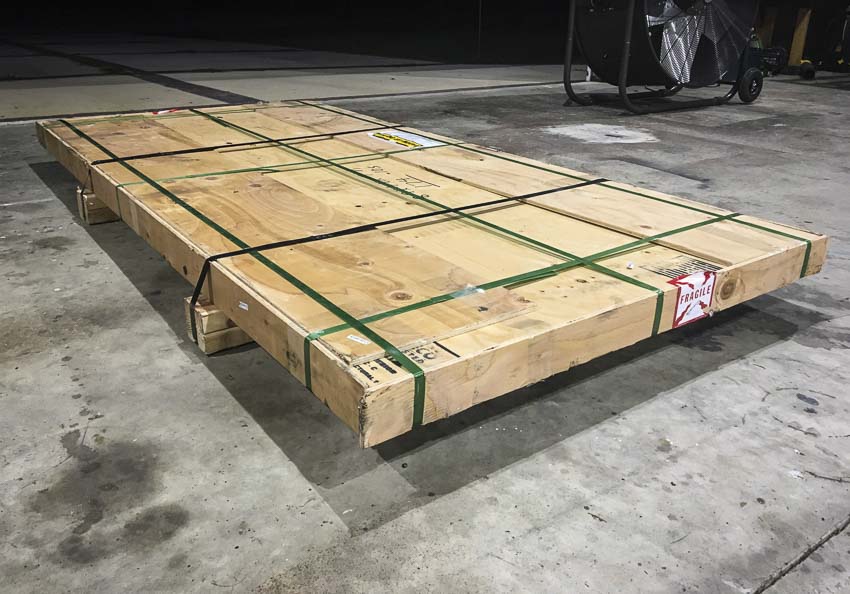 Sanding and Preparation
While this Cherry Simpson Barn Door (Model #49801) would have looked great with just a clear coat, we needed to match an existing room. The door could be made to match the existing Cherry furniture easily with a nice coat of stain. We ultimately opted for a nice Red Mahogany which gave the Cherry barn door a beautiful reddish-brown hue that blended well into the room. We used a new Festool hybrid sander to prepare the door, starting from 100 grit.
Between coats of stain, we sanded by hand using 320 grit, just to smooth down the grain. A great alternative would be to grab some Monocoat and do everything in one pass after sanding down to around 220. That's probably how I'd do it the next time around. The final process included coating the door on both sides with two layers of satin polyurethane.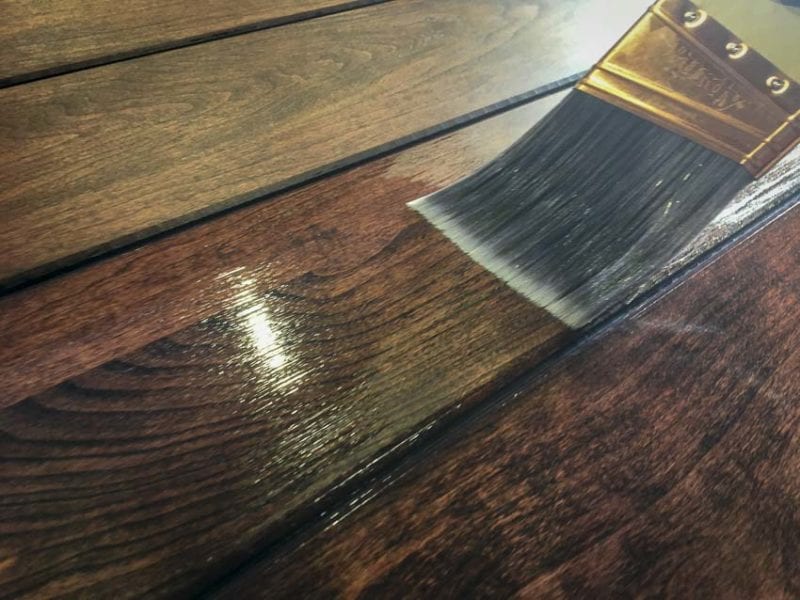 The combined Cherry wood, styling, and finish produced absolutely stunning results. One thing about Simpson barn doors is that they finish well. The grain on the cherry door simply popped once we were finished.
Installing the Simpson Barn Door and Hardware
Choosing barn door hardware may prove more difficult than actually installing Simpson barn doors. Once we settled on using the Goldberg Brothers barn door track (check them out here), we only needed to attach it to the door and wall. Quick Pro tip: railing systems rarely align to wall studs. This necessitates the use of an extended header or other means to ensure your steel track can support the weight of a heavy sliding barn door.
The Goldberg Barn Track we used comes in black or silver and supports up to 400 pounds. That's enough to hold me, my wife, and the door…possibly one of my kids as well. The actual door hanging hardware included nuts, washers, and bolts which matched the rail perfectly. The top-hanging system balanced the door evenly when sliding across the rail.
Robust door stops are included for each end of the top track and felt pads let you soften the close on either end. To guide the bottom of the door you can opt for using a standard "T" door guide (requires routing a 1/4-inch channel in the door) or a "U" guide. As we had Berber carpet and a concrete slab, we opted for an aftermarket wall-mounted guide.
Simpson 49801 Barn Door Specs
Series: Interior Barn Doors
Type: Exterior Decorative
Applications: Can be used for a swing door, pocket door, by-pass door, with barn track hardware, with pivot hardware and for any room in the home.
Construction type: Engineered all-wood stiles and rails with dowel pinned stile/rail joinery
Panels: 3/4 in. flat panel with square V-groove and applied rail
Available Wood Species and Materials:
Fir
Alder
Ash
Cedar (Red)
Cherry
Hemlock
Hickory
Knotty Alder
Knotty Pine
Mahogany (Sapele)
Maple
Oak (Red)
Ponderosa Pine
Poplar (Paint Grade)
Poplar (Stain Grade)
Quarter Sawn Red Oak
Quarter Sawn White Oak
Walnut
White Birch
White Oak
Conclusion
Installing Simpson Barn Doors allowed us to create a much-needed privacy barrier for our bathroom. When doing a project like this, it's nice to eliminate any potential issues. In our experiences, Simpson seems to provide consistent quality. The door arrived straight, square, and undamaged, and it had no imperfections or issues with taking stain. We had equal success with the hardware from Goldberg Brothers. Once that's out of the way, you can just get the job done and enjoy your door.
I'd work with these doors again for myself or any customer who wants the refined look of hardwood with the many options, sizes, and wood species Simpson offers.
Pricing on these doors will vary by wood species and dealer, but start around $479 for the slab for a 42-inch wide interior barn door.
For more information, check out the Simpson Door website.