Festool Hybrid Sander. Let that sink in for just a moment. Up until recently, Festool has been missing from the cordless sander conversation. And as it always is with our German friends, that's intentional. If you're already a Festool user, you know a couple of things about the brand. One, they're not going to release a tool until they're confident it meets the needs of its intended target user without compromising performance. Two, they're not going to release a tool until it's as enveloped in a full system that includes the tool, accessories, and dust extraction (when applicable).
Is Festool late to the cordless sander party?
Maybe, but they're betting Pros who know sanders are still going to crown them king. Let's dig in and see if the end result lives up to Festool's reputation.
Top Features
Hybrid Power
No matter which Festool Hybrid Sander you choose, the power sources are the same. You can run them with an AC adapter or 18V battery pack.
New Battery Form Factor
In order to preserve the ergonomics of these Festool sanders, they weren't able to run with their standard 18V battery pack. These are longer and slide into the tool's handle rather than locking to the top like most cordless sanders. That means your current Festool 18V batteries won't work in these sanders, nor with the new battery packs work in your standard Festool cordless tools. However, they can use the same charger.
Is that a negative?
I think the Pros outweigh the Cons this time around.
Three Designs
To kick off this line, the Festool Hybrid Sander is available in 3 standard forms – rectangle, delta, or circular pad. Depending on the job at hand, you can find a use for all three styles. If the performance is there, it makes sense to grab each of them as replacements for your current models.
Festool Hybrid Sander Models:
Circular Pad: Festool ETSC 125
Rectangular Pad: Festool RTSC 400
Delta Pad: Festool DTSC 400
Festool Protector
With the introduction of Festool RTS/DTS 400 REQ sanders, a simple innovation came with them – the Festool Protector bumper. When you're working against other finished material, this plastic guard helps protect against marring it with your sander. Each of the new Festool Hybrid Sander models includes the Protector. It's simple, effective, and our Pros love it!
Systainer Storage
Rather than packing everything into the main compartment of the Systainer, you get a drawer with this one. It's perfect for storing the AC adapter and cord when you're using the battery along with some extra sanding pads.
Ergonomics
At the heart of the new battery form factor is ensuring you still get outstanding ergonomics with these sanders. Does it work?
The elongated handle design is more like a barrel grip handle than anything else. It creates several natural gripping points and the potential to use two hands if you like. What's nice about the design is that the battery narrows, allowing the handle to narrow with it and offer a more secure grip. There's a rubber overmold on the top to absorb the vibration that makes it through and gives you a better grip. The power switch and speed dial are both easy to reach during use.
I have medium-size hands, and I could stand for the handle to be a little narrower in diameter in a perfect world. But it's much better than the other cordless sanders I've used and it's still very comfortable even compared to the Festool corded sanders we work with.
Coming back around to the vibration, Festool does an excellent job keeping what reaches your hand to a minimum. With my use so far, I haven't had the jelly hands feeling that comes with some of the others.
Overall, it's a win in the ergonomics department.
Performance
Power
As I prepared to take some 120 grit to a door that needed a finished removed, I wondered how much power loss there would be when I made the switch from AC power to the 18V battery pack. So how much was there?
Try none. I can't discern any difference in sanding power between using the AC adapter or the battery pack. When you look at other hybrid tools out there, there's often a drop in power. So the fact that Festool gets the same performance from both power sources is a pretty big deal for Pro users.
Dust Collection
When you're sanding along the edge of your material, you're going to lose some dust that would otherwise be collected. That's no different with the Festool Hybrid Sander line. While a connection to your Festool CT SYS dust extractor will certainly help, it's not going to be perfect. But that's something you deal with any sander.
What we were really looking for is how much dust is collected when the pad is completely on the material with or without the dust extractor. There aren't any surprises to report – the collection is outstanding when you use a dust extractor. Even the dust bag alone does an excellent job. However, given the choice of the two, we like the extractor to get a larger percentage of the dust collected.
The fact that you still get excellent dust collection with the bag along is an important finding when you consider the cordless capability of these sanders. Losing the cord isn't nearly as convenient if you still have to be attached to a hose.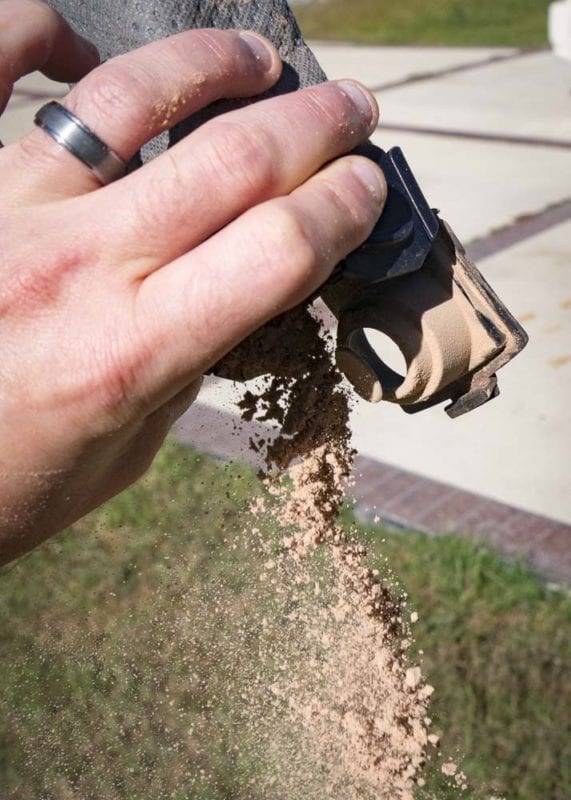 Runtime
So how long can you continuously run one of these sanders? Festool says up to 30 minutes at full power. While removing the finish from our door, we bounced between the circular and delta pads and ran continuously for nearly 50 minutes (49:39 if you're keeping score)! That's pretty impressive for the 3.1 amp hour battery pack. A full charging cycle is just 30 minutes, so you can work continuously with just two batteries.
When the battery gets to the end of its juice, the sander will give you a beep. Just be sure to flip the power switch off. The sander will start right back up when you put in a new battery if you don't. While that's not nearly as dangerous as a grinder, it'll startle you and possibly mar your work.
Final Thoughts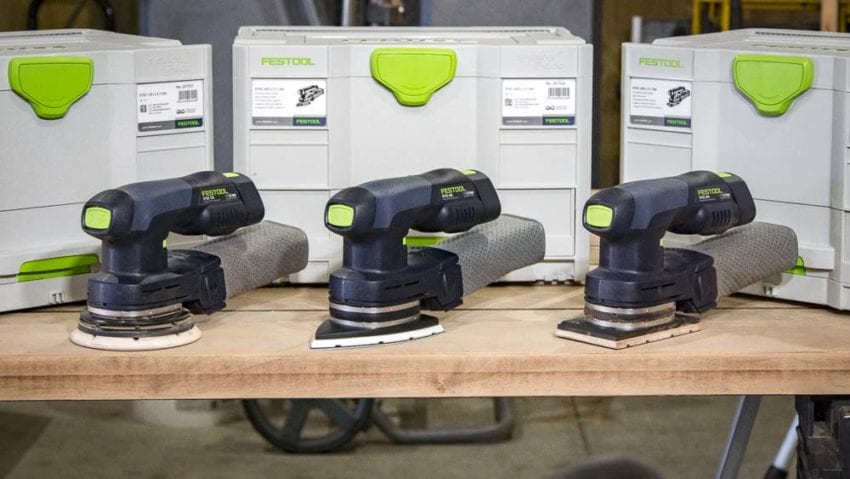 If you're considering picking up any or all of the Festool Hybrid Sander models, realize that they're finish sanders. If you've got some rough work to do over a large area, start with something like the Festool Rotex before moving on to these. For those finish jobs, the power and ergonomics are definitely there with either power source. With the battery, you get enough runtime to do some legitimate work by cycling a pair of batteries on the charger.
Let's talk price. The Festool RTSC 400 and Festool DTSC 400 will run $260 as a basic kit without a battery, charger, or AC adapter. That's the same as the RTS/DTS 400. The Plus kit moves up to $465 and adds the charger with two batteries. The most comprehensive kit is the Set that gives you the batteries, charger, and AC adapter for $600. The circular pad option runs $195, $400, and $535, respectively. Extra batteries run $70 and the AC adapter is $115.
If you don't need cordless freedom, stick with other Festool corded sanders to save some money. But if you're the Pro that will reap the benefits with higher productivity, then you have some options. If you only need one sander, grab the style you want in the Set configuration. But if you need two or three, buy one as the Set and the others as Basic kits. Since the same AC adapter works in all three models, there's no need to buy three unless you're sending them out to different jobsites.