We were on the hunt for a few new woodworking tools and came across a Skil 14-amp router that comes with fixed and plunge bases for less than $150. Skil normally gives us a lot of quality and performance for the price, so we brought it to see if it's worth adding to your shop.
Pros
Includes fixed base, plunge base, and parallel guide
Electronic control panel on top lets you change speed on the fly
Preset modes help less experienced woodworkers dial in the correct speed
Excellent sightline to the bit with LEDs to light the work area
Confident routing performance, even with larger bits
Comfortable handle design
Excellent value at $139.99
Cons
Center hole on the bases isn't big enough to use bits over 1 1/4-inch
Skil 14-Amp Router Performance
With 2.5 horsepower available, this Skil router draws 14 amps with speeds from 10,000 to 25,000 RPM. The electronic control panel on top is easy enough to change speeds on. Just press the + or – button to get the speed you want.
While seasoned woodworkers know how to dial that speed in, Skil includes some friendly help if you don't have quite as much experience. Pressing the "Set" button lets you select settings for the bit style, bit size, and hardwood, softwood, or plastic materials. Once you choose them, the router selects the recommended speed for that combination.
If you get started and find that the speed isn't quite right, you can change it on the fly without turning the motor off first.
Using quality router bits such as Bosch's 10-piece RBS010, we got excellent results and confident power with the edge and forming routing we did.
Key Features and Design Notes
It's handy that Skil includes both fixed and plunge bases with this set. Both include all the macro and micro adjustments you need to dial in the depth just right for the material you're working on.
They also have excellent lines of sight to your bit and the LED lights keep your working area visible.
The router can handle both 1/2-inch and 1/4-inch shank bits. To switch to the smaller shank size, you need to insert the 1/4-inch adapter that comes with the kit into the 1/2-inch collet and then install the bit. They're not completely separate collets.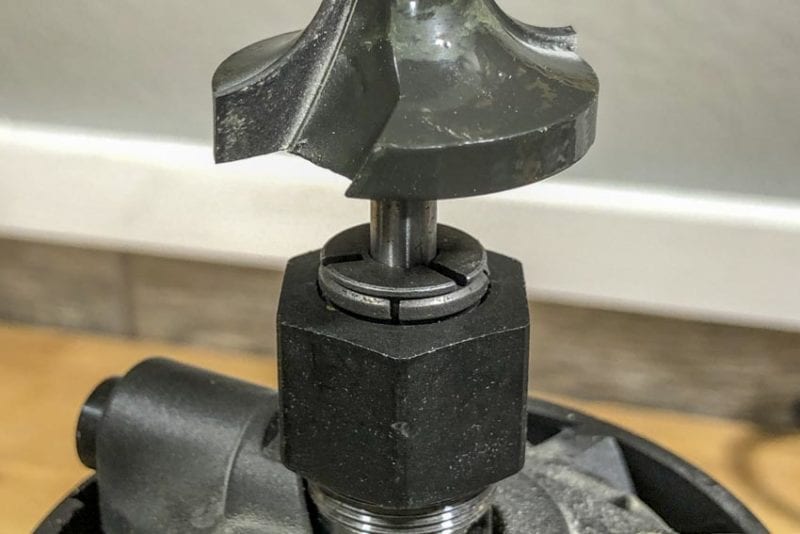 The base plate center openings are a little small. You can use bits up to 1 1/4-inch without a problem. Anything over that and the bit hits the opening side.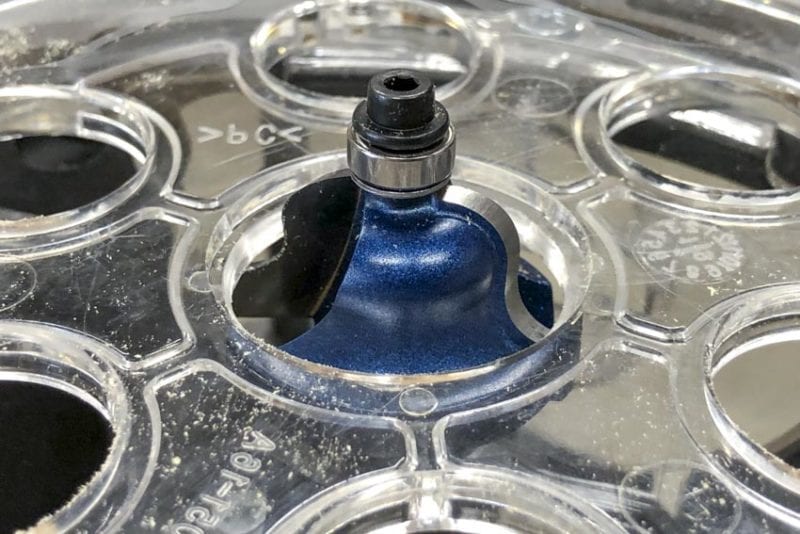 We took the largest roundover bit we normally use and gently pushed it through the base to enlarge it. This worked great, though it did have to cut pretty close to the other holes surrounding the center on the plunge base.
You want your mind on your bit and material when you're routing and Skil did an excellent job of making sure you're not thinking about the handles instead. The handles on both bases are comfortably shaped and perfectly placed.
Full Feature Set
14-Amp, 2.5 HP motor
Fixed and plunge bases included
Speed control LCD display
Electronic speed control
Soft start
Live tool indicator light
LED lights around the collet
Three coarse and one micro depth adjustment settings
Standard bit change with spindle lock and collet wrench
1/4-inch collet adapter included
Dust collection adapters included
Skil 14-Amp Router Price
This Skil router combo includes both fixed and plunge bases, dust extractor adapters for both bases, a parallel guide, a 1/2-inch collet, and a 1/4-inch collet adapter. You can snag it for $139.99 on Amazon or other Skil retailers.
The Bottom Line
This Skil 14-amp router fits well in the general-purpose category and comes as a versatile package thanks to the included fixed and plunge bases. You'll still need a palm router at some point and some of you will need a more powerful model down the road. However, the RT1322-00 covers a wide range of routing needs and is a great model to get started with. It's certainly suitable for budget-minded Pros as well.
Skil 14-Amp Router Specs
Model: Skil RT1322-00
Collet Size: 1pc 1/4″ and 1pc 1/2″ collet
No Load Speed: 10,000-25,000 rpm
Power: 14 Amps
Height (inch): 10
Length (inch): 9-7/16
Weight (pound): 12.2
Width (inch): 6
Warranty: 1-year warranty
Price: $139.99