Skil 20V Brushless Impact Wrench Breaks Nearly 300 Ft-Lbs in Testing
As we continue our look at Skil's increasing line of cordless tools, we come to the Skil 20V brushless impact wrench. It looks and feels smaller than other Prosumer brands in the same space but keeps its price well under the Pro brands it's closer to. We put it through a series of tests to see where it fits among the budget-friendly options and whether it might be useful to Pros.
Pros
Compact size and lower weight are similar to Pro brands
Outperformed its listed torque in our tests
2 speeds plus reverse control mode
Comes with upgraded PWRJump charger and USB battery adapter
5-year warranty is more than other Prosumer options
Cons
More expensive than some of the other Prosumer options
Recommendation
Buy it if you're looking for a budget-friendly compact 1/2″ wrench that packs a legitimate punch with some Pro features. Pass if you're willing to trade off some performance, size, and features for an even less expensive option.
How Much Power Does the Skil 20V Brushless Impact Wrench Have?
On paper, you can expect up to 200 ft-lbs of torque. On high, you also get up to 2400 RPM and 3200 IPM to help fasten or loosen. We ran the Skil 20V brushless impact wrench through a couple of tests to see what that practically means.
In our fastening torque test, we let the impact hammer away at Grade 8 hardened nuts, then used our digital torque wrench to see how much force it took to break. Looking at an average of 5 tests, it comes out to 105.6 ft-lbs.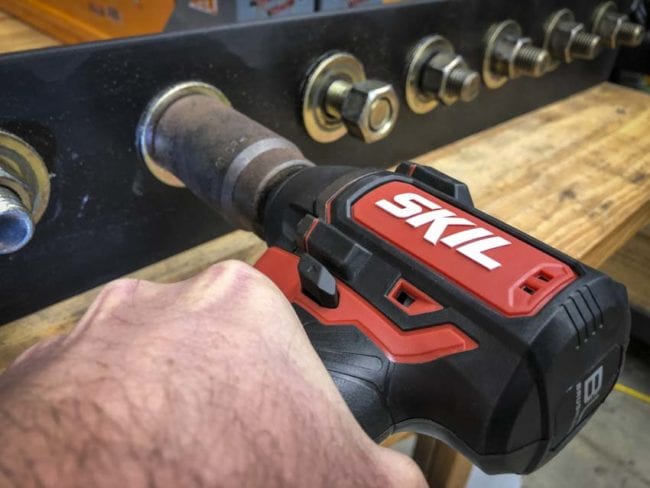 When it comes to nut-busting torque, we got a very happy surprise. Using our torque wrench along with a torque multiplier, we proof-loaded the same nuts and bolts to specific intervals.
Skil's impact wrench easily broke 180 ft-lbs, 190 ft-lbs, and even 200 ft-lbs. I worked all the way up to 290 ft-lbs—well beyond the 200 ft-lbs on the spec sheet! Just to make sure it wasn't a fluke, I repeated the test several times and the results held.
With that kind of power, there's enough force to handle tire lugs and a lot of the light to medium-duty fastening you need for automotive and construction projects.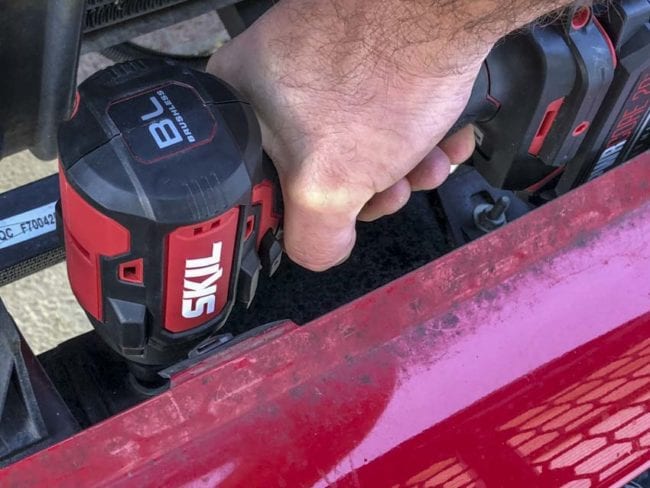 How Big is it?
This Skil impact wrench fits into the 18V/20V Max compact class when it comes to size. Its head is 6-1/8″ long and it's right at 8″ tall without a battery (9-7/8″ with a 5Ah battery).
On the weight side, you're looking at 2.5 pounds bare and 4.2 pounds with the 5.0Ah battery.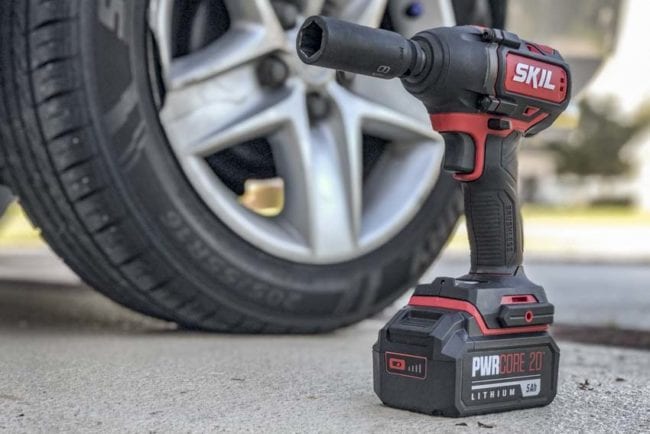 When you compare that to brands like Ryobi and Craftsman, it's smaller and lighter, though both brands spec higher torque values. The size and weight are almost identical to Milwaukee's M18 Fuel compact impact wrench (2759), putting it in some pretty solid company.
What Else Should I Know?
Reverse Control Mode
Skil includes what they call "reverse control mode" and it's really handy. It loosens in high, and when it feels the impacts stop as the nut releases, it stops the rotation. It's particularly helpful to keep nuts or fasteners from coming all the way out and letting you hand thread them the rest of the way so they don't drop to the ground.
When you're in reverse control while fastening, it runs just like in high, so you can use it as your primary fastening and loosening mode without having to switch.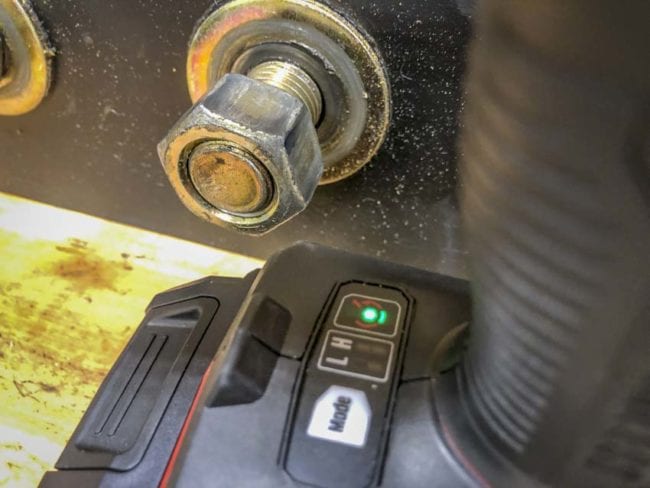 Premium Kit with a Bonus
As one of Skil's premium kits, this impact wrench comes with a PWRJump charger. It has a USB charging port on the front and gives your battery a super-fast charge at the beginning. For a 2Ah battery, it jumps 0% – 25% in 5 minutes, giving you enough juice to wrap up the last bit of work instead of having to wait around longer.
Skil also packs a USB battery adapter in the kit. Their PWRCore 12 batteries have a USB charger built-in, but the PWRCore 20 packs don't. The adapter just slides and locks on top of the battery, giving you two USB ports to charge devices.
Additional Features
1/2″ square drive with friction ring
High and low speeds
LED light mounted above the battery
Belt clip included
How Much Does it Cost?
Right now, you can only get this Skil 20V brushless impact wrench as a kit and it runs $179.99 on Amazon. That's higher than what we're seeing from Ryobi ($99) and Craftsman ($119 bare tool only) right now. Both of those are brushed models, though, and Skil has a tighter design and longer 5-year warranty.
A quick glance around Pro brands shows us that Skil has pretty significant savings over them.
The Bottom Line
If you're a serious DIYer, we like the performance and design of the Skil 20V brushless impact wrench as your go-to workhorse. It's a good option for Pros on a budget or that need an occasional use impact wrench as well.
Buy it if you're looking for a budget-friendly compact 1/2″ wrench that packs a legitimate punch with some Pro features. Pass if you're willing to trade off some performance, size, and features for an even less expensive option.
Skil 20V Brushless Impact Wrench Specifications
Model Tested: Skil IW5739-1A
Power Source: Skil PWRCore 20 battery (5.0Ah included)
Drive Size: 1/2″ square with friction ring
No-Load Speed: 0 – 2100, 0 – 2400 RPM
Impact Rate: 0 – 2800, 0 – 3200 IPM
Torque: 200 ft-lbs
Weight: 2.5 lbs bare, 4.2 lbs with 5.0Ah battery
Warranty: 5 years
Price: $179.99 kit