Last Updated on July 11, 2023
Skil 20V Compact Drill And Hammer Drill Reach New Levels Of Compact
Skil's PWRCore 20 system is kicking off its next-generation of compact tools with a renewed emphasis on "compact". We're taking a deep dive into the Skil 20V Cordless Compact Drill and Hammer Drill to see just how much improvement there is.
Skil 20V Cordless Compact Drill Performance
On the performance side of things, these drills use brushless motors that pack 500 RPM in low gear and 1800 RPM in high. The hammer drill adds 7500 BPM in low and 27000 BPM in high when you're working in hammer mode. The torque maxes at 450 in-lbs.
Compared to the previous versions, that's not much different. The low gear gains 20 RPM and that's about it. Considering the goal was to work on the size, it's not a big surprise to see the speed and torque in a very similar place.
So what can you do with that kind of performance?
Quite a bit. All of your standard twist bit drilling and screw driving tasks are easy to perform. Even jumping up to 1-inch spade bits or 2-inch hole saws is on the menu. Almost all of your home repairs and weekend projects are well within the scope of what these drills are capable of. If you're wanting to go up to something like a 2 9/16-inch self-feed bit for rough-ins, Skil's heavy-duty model is still your go-to for the highest performance.
Skil 20V Cordless Compact Drill Design
Size and Weight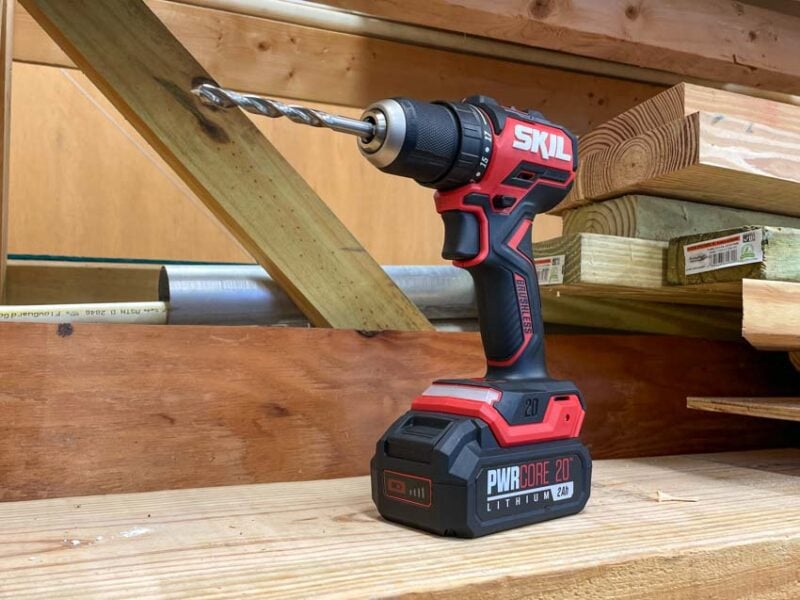 The big deal for these drills is the size reduction. The drill measures just 6.1 inches from tip to tail and the hammer drill is 6.6 inches. That's an inch shorter!
The weight is down as well. Bare, the drill weighs 1.9 pounds and the hammer drill is 2.0 pounds. That's a 5-ounce drop for the drill and 7 ounces lower for the hammer drill.
Considering we're talking about the compact class, Skil made really impressive improvements in both size and weight, putting these drills more on par with the size of 12V tools than 20V.
LED Light
It seems like we talk about LED lights on Skil products more than any other brand. Most brands stick an LED on the foot and call it a day, but Skil keeps raising the bar. In this case, they mount an LED light strip on the foot and add a diffuser to soften the light. It's something you'll appreciate when you're drilling into a white wall. There's also an on/off button so you can set the drill down and keep using it as a work light for up to 10 minutes.
Additional Highlights
Ratcheting 1/2-inch chuck
17 clutch settings
Includes reversible belt clip
Bit holder on the back of the foot
Tether point under the bit holder
Kitted PWRJump charger charges the battery from 0% – 25% in just 5 minutes!
Works with any Skil PWRCore 20 batteries
Skil 20V Cordless Compact Drill Quick Comparison
| | | |
| --- | --- | --- |
| | Gen 1 Compact | Gen 2 Compact |
| No-Load Speed | 0 – 480/1800 RPM | 0 – 500/1800 RPM |
| Max Torque | 450 in-lbs | 450 in-lbs |
| Head Length | 7.1 inches | 6.1 inches |
| Bare Weight | 2.2 pounds | 1.9 pounds |
Skil 20V Cordless Compact Drill Price
The best place to grab the next-gen drill and hammer drill is on Amazon. The drill runs $99 and the hammer drill is $129. Both are kits that include a 2.0Ah battery and an upgraded PWRJump charger, and the tools come with a 5-year warranty. The batteries include a USB-A port on the back so they can double as a power supply.
Getting a brushless drill kit for less than $100 that's backed for 5 years? That's a heck of a value in today's economy.
The Bottom Line
Skil set out to make their 20V cordless compact drill and hammer drill even more compact and they nailed it. Both are significantly smaller and lighter without dropping any of the performance we enjoyed in the previous versions. Combined with a price tag that offers excellent value, we give the Skil PWRCore 20 Compact Drill and Hammer Drill two enthusiastic thumbs up for homeowners and DIYers.
Specifications
Model: Skil DL6293B (drill), HD6294B (hammer drill)
Power Source: Skil PWRCore 20 battery (20V)
Chuck: 1/2-inch
No-Load Speed: 0 – 500/1800 RPM
Max Torque: 450 in-lbs
Blow Rate (Hammer Drill Only): 0 – 7500/27000 BPM
Head Length: 6.1 inches (drill), 6.6 inches (hammer drill)
Drill Bare Weight: 1.92 lbs
Hammer Bare Drill Weight: 2.03 lbs
Warranty: 5 years