Last Updated on July 11, 2023
The Skil String Trimmer Now Features Smart Load Technology For Faster Line Changes
Back in mid-2021, we got our hands on the Skil 40V 14-Inch String Trimmer and our overall impression was positive due to its lightweight frame and capable feature set. Now, we're turning our attention to Skil's latest 40V string trimmer that now features Smart Load line technology.
Skil String Trimmer With Smart Load Performance
No-Load Speed: 0-4800/5800 RPM
Line Type: 0.080 in.
Cutting Swath: 15 in.
Motor: Brushless
This 40V string trimmer utilizes a brushless motor to accelerate the 0.080-inch trimmer line up to 4800 RPMs on low and 5800 RPMs on high. While that is slightly lower than the previous iteration, Skil extended the cutting swath out to 15 inches.
The big deal with the Smart Load trimmer head is that you can spool up fresh trimmer line in a matter of seconds. Start by threading the line through the trimmer head and pull until the ends and then rotate the lever on the back of the trimmer head counter-clockwise to load the line. That's it! No more need to disassemble the trimmer head to refill the spool—you'll be up and running in no time, flat!
Skil String Trimmer With Smart Load Design Notes
Model: Skil LT4832C-11
Power Source: Skil PWRCore 40 battery
Weight: 6.75 lbs (bare), 9.25 lbs (with 2.5Ah battery)
Length: 68 in.
Shaft Type: Straight
Feed Type: Bump
This 40V trimmer has an overall length of 68 inches and a total weight of 9.25 pounds with the kitted 2.5Ah battery. That's a pretty common length for straight-shaft residential models, but you'll probably need to trim at an angle if you're on the taller side.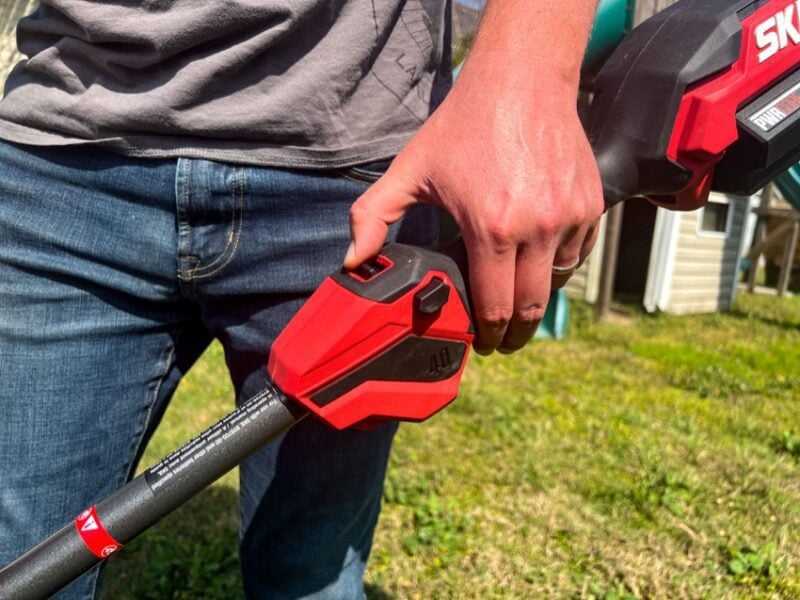 The main grip's textured rubber overmold and two-finger trigger remain relatively unchanged from the previous model. It features ambidextrous thumb safeties to prevent accidental trigger pulls as well as a speed selector switch located on top of the for easy access.
Additional Features
Compatible with all Skil PWRCore 40 batteries
Skil String Trimmer With Smart Load Price
This 15-inch string trimmer kit is available for $159 and comes with a 40V 2.5Ah battery and a single-port PWRJump 150W charger. Skil backs the trimmer with a 5-year warranty while the battery and charger come with a 2-year warranty. Keep in mind that you'll need to register your tools in order to take full advantage of Skil's warranty program.
The Bottom Line
Overall, the trimming capabilities of the Skil LT4832C-11 are right in line with what we expect from a residential model, plus, the price tag is pretty hard to ignore. However, the star of this article is definitely the Smart Load trimmer head. This feature reduces maintenance-related downtime and lets you get back to work much faster than with traditional trimmer heads.