Last Updated on August 13, 2022
The original SKIL Model 77 Worm Drive came out in 1937 and since then there have been many improvements that now include an even lighter weight magnesium case on the latest SKIL Mag 77 SHD77M. With so many years of experience under their belt, the engineers at SKIL have nearly perfected the worm drive circular saw! This current model, while not a new model per say, still sets the standard for many folks when they think of a worm drive circular saw.
Just to pay homage to what we are dealing with here, it is only fitting that we give a bit of the history of the SKIL Model 77 Skilsaw. The original company that designed and manufactured the first ever electric handsaw was the Michel Electric Handsaw Company which was founded in 1924. In 1926, the company was renamed Skilsaw Inc., and a few years later in 1928 a major breakthrough was made with their development of the Skilsaw Model E Circular Saw. This saw featured a die-cast aluminum motor housing and was manufactured all the way up until 1939. Using the Model E as its basis, a new improved worm drive saw was designed and started production in 1937. This new saw was called the Skilsaw Model 77. Over the last 70+, there have been improvements and updates to the Skilsaw Model 77, but the fact is that it still shares in its original design. Since Skilsaw was the company to first bring these types of cutting machines to the market, almost everyone mistakenly calls every other brand of circular saw a "Skilsaw" too! After more than seven decades of being on the market, it is a pretty safe assumption that a good many homes owe their construction to carpenters being dependent on their "Skilsaw."
Build Quality
The motor & gear housings of the SKIL Mag 77 SHD77M are made of magnesium. What this does is makes the saw durable yet a full two pounds lighter than the regular model SHD77. The shoe or base of the saw is made of thick aircraft quality aluminum. There is very little plastic used on this saw with the only major pieces being the handles which are made of red ABS. The handles are comfortable to use and offer a good grip. The trigger is a heavy duty 20A rated on-off style. Just pull the trigger and go, this saw has no safeties or extra buttons to push!
One of the things that we really liked was the folding hanging hook that is mounted on the back side of the saw that allows the saw to be hung up on a piece of 2x material when not in use. No more worries of trying to balance the saw when you are finished with the cut while you get situated with your next work piece. Just hang it up. The patented anti-snag lower blade guard helps to reduces snags when making narrow cut-offs and the blade guard automatically retracts on a 45 degree angle cut so it does not cause the saw to bind up. This saw has a powerful 15 Amp all ball bearing motor. The worm gears are precision machined and run in a continuous oil bath that keeps them both lubricated and cool. To prevent oil leaks, oil pressure relief bellows are used internally. There is also an easy to read oil level indicator on the saw. Both the bevel angle and depth levers are easy to set and there are easy to read indicators on each to show where you are at. The whole saw has a very heavy duty and has a purpose built feel to it.
For those not familiar with the design, a worm drive saw works with the motor mounted parallel with the blade. Out of the motor extends a shaft which enters the gear housing. Inside this housing is a worm and pinion gear which transmits the power to the blade. What this does is transmit more torque to the blade which means more cutting power. Another advantage of this setup is that a lot of the direct stress of cutting material is taken off of the motor which greatly extends its life. The down side is that as compared to a "sidewinder" type of saw, a worm drive saw weighs considerably more.
Using the SKIL SHD77M Magnesium Worm Saw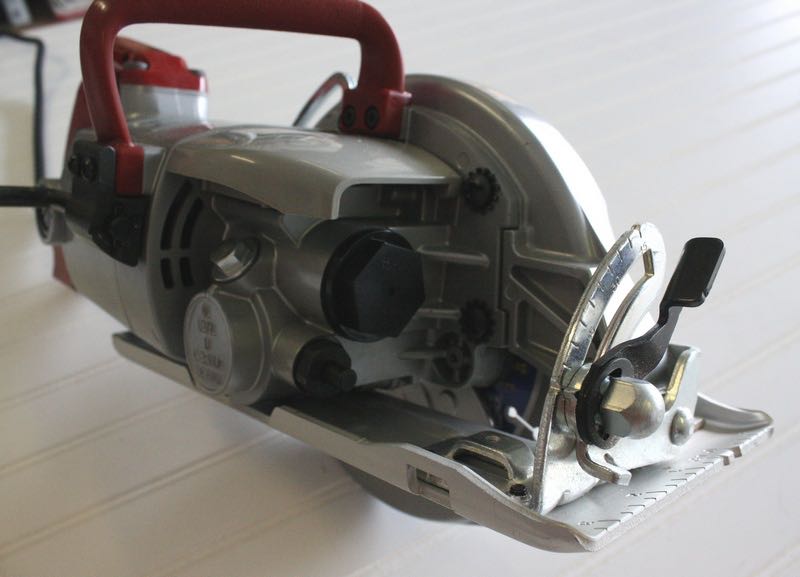 While we have not framed a house with the SKIL Mag 77 SHD77M saw, we can attest to its raw power and ability to cleanly slice though wood. We have cut both PT and regular lumber along with plywood. All the cuts were done with ease and never once did the saw even hint at slowing down. It is a wood eating machine! The one thing that some folks will have to get used to with this type of saw is that the view of the blade is on the opposite side of a sidewinder (which many folks are more accustomed to). In the end, I would have to say if I was going to have to spend a lot of time with a circular saw, I would want it to be a worm drive saw because it never tires or slows down and I feel like I have a better view of where my blade is cutting. (I am sure in the beginning it will be me that slows down until I get used to the additional weight!)
Conclusion
For the saw that essentially built America for the last seven decades, we have to say that our hats are off to it. The fact that the SKIL Mag 77 SHD77M is based directly on the very first worm drive saw is a salute to the original design. Although some of the competition has made their own varieties of worm drive circular saws, it is hard to beat the fact that this is still the original Skilsaw. For our performance rating, we gave it a 9/10 because while it is statistically the reigning champ as far as overall popularity, we wish it came with a nice hard case to store it in when we are not using it. As far as our Value rating, we gave it a 10/10 because of its price; you will be hard pressed to find a better saw with the same features (and history for that matter).