Stihl Unveils the Most Powerful 36V Chainsaw in the Lineup
Felling and limbing is serious business, and serious business calls for a serious chainsaw. With that in mind, Stihl has produced the MSA 220 C-B, the most powerful chainsaw to hit its 36V lineup. As the first Stihl battery chainsaw to feature a 16″ bar, its cutting capacity will make a capable and powerful addition to the Pro arsenal.
Stihl MSA 220 C-B 36V Chainsaw Features
The Stihl MSA 220 C-B 36V Chainsaw features a brushless motor to drive the chain. Not only does it generate a 78 ft/s chain speed, but it does it with minimal vibration, noise, emissions, and maintenance.
Though Stihl does claim that you can fit a 14 in. bar and chain to the MSA 220 C-B, the big news here revolves around this being the first time Stihl has produced a battery saw that can run a 16″ bar and chain. It comes standard with the Picco Super 3 chain, a low-profile, low-kickback chain that features a square-cornered cutter shape that applies a minimal amount of friction for a smooth cut.
However, this chainsaw also includes the typical Stihl feature set that makes it an appealing option for Pros and homeowners alike.
Stihl MSA 220 C-B Chainsaw Chain Brakes
It features the QuickStop chain brake, designed to stop the chain within fractions of a second. Like you'd expect, you can apply the brake by hand. However, the chainsaw can apply the brake if it senses a change in inertia, like in the event of kickback.
The Stihl MSA 220 C-B Chainsaw also features a coast-down brake. When you release the trigger, the controlled braking device kicks in to stop the chain's rotation.
It also features the Ematic Lubrication system. The Ematic guide bar and Oilomatic saw chain provide the proper lubrication with less oil consumption. The system uses two strategically placed ramps on the guide bar rail to help contain the flow of oil, directing all lubrication to the sliding faces of the bar, chain links, rivets, and driver holes.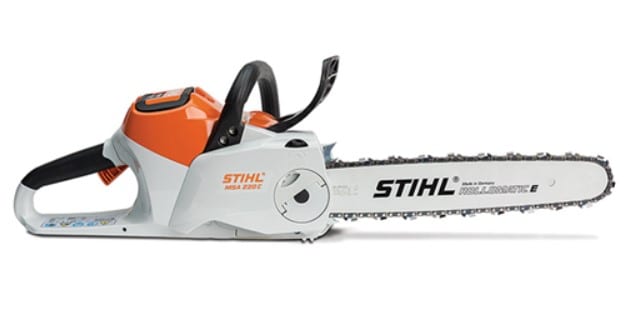 The 36V chainsaw comes with Stihl's Quick Chain Adjuster to give you tool-free chain tensioning, while a raised and printed felling stripe lets you aim the felling direction. For comfort and a better grip, Stihl covers the handle in a soft rubber overmolding.
Pricing
The Stihl MSA 220 C-B 36V Chainsaw starts at $399.95. It comes as a bare tool, but with a 16″ bar and chain. It also includes Stihl's 2-year commercial/3-year residential warranty. You can buy directly from the Stihl website, or from anyone authorized Stihl dealer.
Stihl 36V Chainsaw Specs
Model: Stihl MSA 220 C-B
Guide Bar Length: 14 in. and 16 in.
Powerhead Weight: 10.4 lbs with AP 300 S battery, 6.4 lbs. without battery
Recommended Chain: 63 PS3
Chain Speed: 78 ft/s
Guide Bar: Stihl Rollomatic E
Run Time (with AP 300 S): Up to 48 minutes
Warranty: 2-year commercial, 3-year residential
Price: $399.95 (bare tool with 16 in. chain)