The new Milwaukee Compact Tape Measure line is now part of the 400+ items the company has introduced since it began its hand tool expansion in 2012.
The new tapes, which can accommodate a 25-foot tape in a 16-foot case for example, are 30% more compact than their predecessors and feature Milwaukee's proprietary Nylon Bond Blade Protection as well as a 5-point reinforced frame for drop protection. Standard 16th inch markings are on the blade with fractional measurements every 8th inch.
Our Take
We've seen Milwaukee's 5-point reinforced tape measure take a beating in several different testing scenarios including drop tests, smashing against a cement wall using a oversize slingshot, and even used as a baseball in the back parking lot. The fact is, these are tough tapes.
Now we haven't actually seen the new Milwaukee Tape Measure in person, but the fact that Milwaukee is claiming the same durability in these models bears notice. The two big features are there with the nylon blade coating and reinforced housing.
A 30% reduction in size, with the example given as a 25-foot tape in a 16-foot housing, begs the question – what did they give up to make them smaller?
That's not something we have a specific answer to yet. From the photos we've seen so far, the tape width looks to be similar, so it may be a redesign of the return mechanism inside that requires less room.
One thing to point out is the price point. These are several dollars less than the current larger models that we've come to love, so there's definitely a difference of more than just housing size.
Whatever the answers, we're looking forward to getting our hands on a few so we can get back to you on how well they work.
Milwaukee Compact Tape Measure Available Models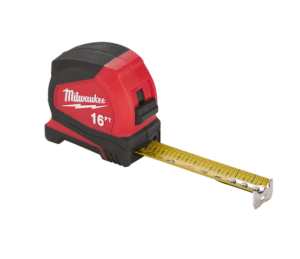 Milwaukee Compact Tape Measure Key Features
30% more compact housing
Same durability
Nylon Bond Blade Protection
5-point reinforced housing