Kapro 353 Ledge-It Square Looks Legit
Kapro Tools has introduced its 353 Ledge-It Square, designed for the professional tradesman, carpenter, or woodworker. It features a unique retractable metal ledge support, letting you stabilize this tool on virtually any surface.
10-Second Summary
Model: Kapro 353
Certified 90° square
Retractable ledge support so it holds onto edges when making marks
Cast aluminum handle with 3 precision-milled surfaces
45° and 30° cast-in handle platforms
Stainless steel ruler with etched gradations
Marking holes at 10°, 15°, 22.5°, 30°, 45°, 50° and 60°
Includes openings every ¼ inch for fluid and parallel pencil markings
What Stuck Out to Us on the Kapro 353 Ledge-It
The 353 LEDGE-IT Square does a lot right. We like the innovative retractable metal ledge support. It improves upon an idea we saw with the 309 Ledgend 12-inch miter square. Having made marks from the edge of hundreds or thousands of boards, this feature alone softens the 353 Ledge-It $20 cost of entry.
Kapro Levels Out
While the most notable feature of the Kapro Ledge-It Square is its retractable ledge support, it features much more. Aside from the flip-out stabilizing tab, you also get a cast aluminum handle with three precision-milled surfaces. Using the handle platforms, you can achieve 45­° and 30° marks.
The Kapro 353 also has a stainless steel ruler with laser-etched gradations. The first 4 inches have been marked out in 1/32 increments for fine measurements. The rest of the ruler has markings every 1/16 inch.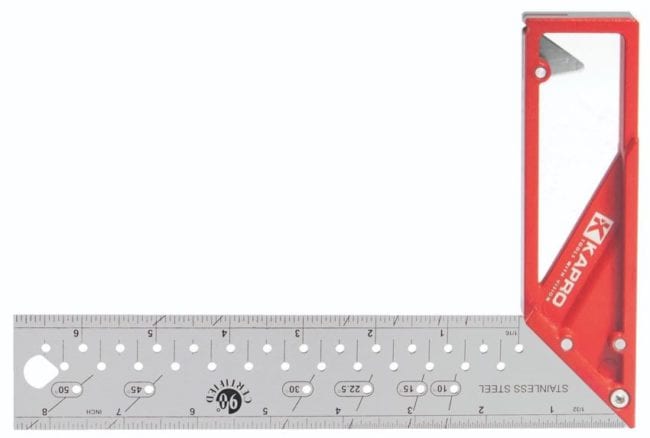 The Holey-est Square We've Seen
The Kapro 353 Ledge-It has marking holes along the blade at 10°, 15°, 22.5°, 30°, 45°, 50°, and 60°. You also get openings every ¼ inch for fluid and parallel pencil markings. Don't worry—they also make a version with markings every cm.
The 8-inch Kapro 353 Ledge-It is priced at just under $20. You'll be able to pick it up wherever Kapro products are sold. Of course, if you want the metric version, that can be found now in 10 in. (25cm), 12 in. (35cm), and 16 in (40cm) sizes.
Shop Kapro at Acme Tools
To learn more about Kapro's innovative line of products, visit Kapro.com.