I don't know about you, but whenever I get to slice through concrete I get a Tim Allen-style rush that makes me giddy with adrenaline. Of course, I don't do it 8 hours per day, day in and day out. For those who do, they might appreciate the new Makita EK7301 14″ Power Cutter. The new Makita EK7301 gas power cutter was developed to blend the best aspects of both convenience and performance. It improves upon previous Makita offers by including faster starting, more power, and better fuel economy.
Author's note: Check out the Makita EK6101 14″ power cutter for a newer, lower weight model, or check out the tools we saw at the Makita 100th Anniversary Event.
Makita EK7301 14-inch Gas Power Cutter Concrete Saw Features
The Makita EK7301 14-inch gas power cutter concrete saw uses a 4.5 cu.in. (73 cc) engine with 5.1 maximum HP. It spins the blade at up to 9,350 RPMs and with an engine that big it should be able to maintain a decent speed, even when under load. The ignition coil has a start-support function that stores electrical power with each pull so your start-ups are much easier. It also has a re-engineered carburetor that uses an improved deco-valve and metering spring for precise fuel regulation at start up. That means less flooding. The Makita EK7301 even comes with an SLR muffler for more efficient fuel consumption. The muffler recycles unburned fuel vapor and generates a whopping 15% improvement in consumption.
On the Makita EK7301 power cutter itself, ergonomics are improved by relocating the starter grip and decompression valve to the same side of the tool. This makes for faster starting. The cushioned operator grips use four vibration-absorption rubber buffers for more comfort during use. When you're holding a diamond saw and dropping it into concrete curbs, walks and other paved areas, anything you can do to reduce vibration is a godsend. The Makita EK7301 has a large volume exhaust which is ported to direct debris away from operator, and the tool uses aluminum for the guard and wheel pressure plates in order to reduce weight. The cutting arm easily adjusts from center position to flush (outboard) position, so you can make cuts directly adjacent to curb edges, walls or directly above the ground.
Additional ease-of-use features include a five-stage foam-paper-nylon system with advance directional air flow to improve airflow, increase power and reduce maintenance time (better filtration, easier replacement).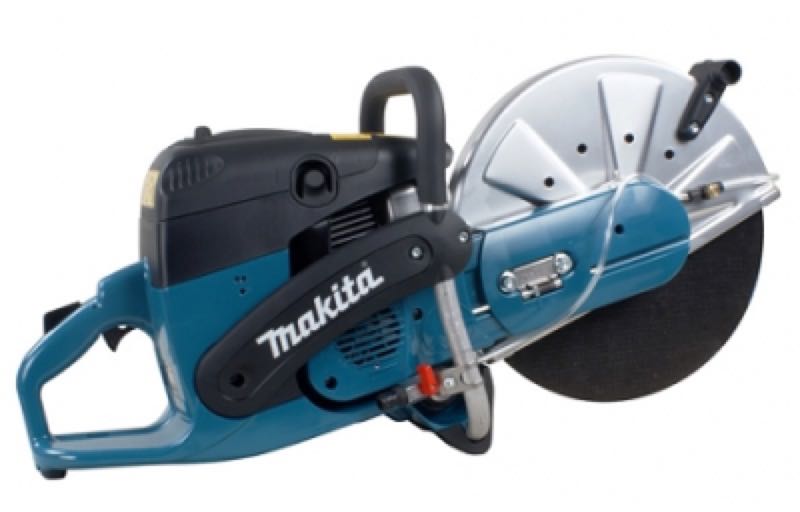 This tool has its crosshairs on road and railroad construction crews, rescue personnel, general steel contractors, masons, and even landscapers. The EK7301 includes the tool, universal displacement, torx key, screwdriver, and adapter ring. You can also purchase a Makita Dolly & Gravity Feed Tank (model DT2000) which can be used with a garden hose, gravity tank or pressure tank.
Makita EK7301 14-inch Gas Power Cutter Concrete Saw Specifications
Engine: 4.5 cu.in.
Max power: 5.1 HP
Speed: 9,350 RPM
Fuel: 50:1
Fuel capacity: 37 oz
Spindle speed: 4,300 RPM
Wheel diameter: 14″
Arbor: 20mm
Weight: 22 lbs.
Includes: Tool, universal displacement, torx key, screwdriver, adapter ring
At the same time, Makita has also added three new Optimum Diamond Blades:
4-1/2″ Continuous Rim Blade (A-95065)
7″ Continuous Rim Blade (A-95087)
10″ Segmented Rim Blade (T-01747)