Honda Set to Showcase Prototype AWV at Upcoming WoC Event
At the 2020 world of concrete in Las Vegas, we saw the unveiling of the latest Honda self-driving four-wheeler work vehicle. This Honda Autonomous Work Vehicle combines advanced self-driving technology with the company's existing all-terrain chassis. Honda has designed the AWV to enhance the efficiency and safety of commercial and consumer enterprises, such as construction, search and rescue operations, firefighting, and agriculture.
10-Second Summary
Honda Autonomous Work Vehicle (Honda AWV)
Aimed at utility in commercial and consumer applications, such as construction, search and rescue, firefighting, and agriculture
Based on Honda's ATV chassis
Four-wheel drive
GPS and sensor-based autonomy guides unit in almost any environment
Rail accessory mount system
Onboard PTO points
Still in R&D, Honda has enlisted partners to beta-test and develop attachments
A Self-Driving Four-Wheeler Because…Why Not?
Honda first introduced the Autonomous Work Vehicle in 2018. Since then, the company has worked with a variety of partners to beta-test and evaluate it in an array of applications ranging from a large-scale solar operations company, wildland firefighting, and an agricultural research facility.
The Honda Autonomous Work Vehicle (Honda AWV) uses the brand's ATV chassis and existing four-wheel-drive system. This prototype features GPS and sensor-based autonomy capable of driving the unit in just about any environment. It also has a rail accessory mount system for attachments and onboard power plugins or PTO points.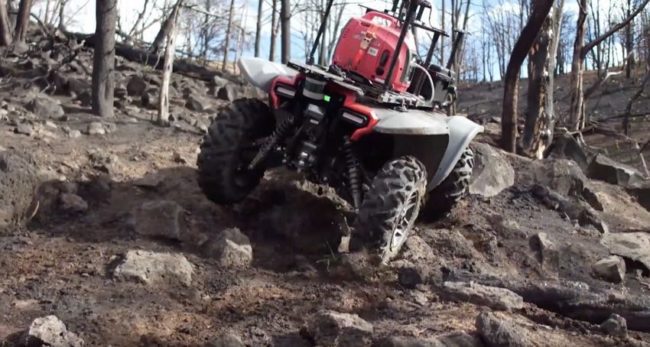 Because of its compact size and off-road capabilities, this self-driving four-wheeler is highly maneuverable. Honda hopes it would function as an ideal choice for a variety of terrains. As a 4×4, it could just as easily operate across construction sites, urban areas, or wooded areas. The Honda AWV also supports programming for different modes and patterns to accommodate a range of applications.
Honda Research and Development engineers plan to continue developing the Autonomous Work Vehicle to expand its usage in potential applications in real-world settings.
Showing Off the Honda AWV at World of Concrete
Honda showed off the new self-driving four-wheeler at World of Concrete 2020. The company is not only looking to the general public for feedback but also wants to enlist autonomy technology and sensor developers to further improve the platform's off-road tech. Now if they could only make automated Honda generators that follow you around the jobsite.
For those who didn't make it out to Vegas this year, you can still see Honda's self-driving four-wheeler in action by clicking here.