We've been waiting to hear about the next generation upgrades to the Ridgid X4 cordless tools series and today is our day! The new Ridgid Gen5X Cordless Tools are built around the Ridgid Gen5X motor. This permanent magnet motor is designed to offer best in class power, performance, and run time. There are several tools coming that we'll take a look at. The first is Ridgid's 5-piece kit. As the only 5-piece kit offered at Home Depot, it includes 4 new Ridgid Gen5X tools: Gen5X Hammer Drill, Gen5X Impact Driver, Gen5X Reciprocating Saw, and Gen5X Circular Saw.
The first thing that I noticed with the new Ridgid Gen5X kit is that the circular saw is now a full 7-1/4″, bringing another player into that class of tools. The Ridgid Gen5X kit will include a pair of 4.0 amp hour HyperLithium battery packs. In addition to those new cordless tools, the Ridgid Gen5X family will also include a Random Orbit Sander. Let's take a closer look at each of these tools.
Ridgid Gen5X 1/2″ Hammer Drill Specs
Model: R8611503
No Load Speed: 0 – 450/0 – 1600 RPM
Torque: 780 inch pounds
Beats: 0 – 7200/0 – 25,600 BPM
Chuck: 1/2″ carbide locking jaws
Ridgid has moved the LED on the Gen5X Hammer Drill to surround the chuck, leaving light unobstructed.
Ridgid Gen5X Impact Driver Specs
Model: R86035
Motor Speeds: 3 speed
No Load Speed: 0 – 2750 RPM
Torque: 2000 inch pounds
Impacts: 0 – 3200 IPM
Chuck: 1/4″ Hex
Ridgid Gen5X Reciprocating Saw Specs
Model: R8642
No Load Speed: 0 – 3000 SPM
Stroke Length: 1-1/8″
Orbiting Action: yes, with on/off switch
Ridgid Gen5X 7-1/4″ Circular Saw Specs
Model: R8652
No Load Speed: 3700 RPM
Blade Size: 7-1/4″
The Ridgid Gen5X 5-Piece Cordless Tool Kit also includes the Ridgid R8693 LED work light. It should get over 40 hours of run time on a single 4.0 HyperLithium Battery. This is a different model than the one that was included in the Ridgid X4 kit, so we'll be sure to check it out and see what's different. The kit is set to launch in March 2015 and carries an MSRP of $499. Like many of Ridgid's cordless tools, this kit comes with a Lifetime Service Agreement that includes free parts, free service, and free batteries for life.
Ridgid Gen5X Random Orbit Sander Specs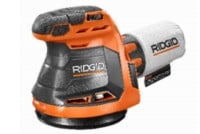 Model: R8606
Variable Speed: 7,000 – 11,000
Orbit Diameter: 1/8 inch
Pad Size: 5 inches
Run Time: up to 40 minutes
Warranty: 5 year limited
Price: $59.97
In addition to the Ridgid Gen5X Permanent Magnet motor, the Gen5X Random Orbit Sander also includes Airguard technology. This dust collection system traps up to 90% of the dust created in the work environment. This one is going to be sold as a bare tool.
Check out the sneak peak on the new Ridgid Gen5X family and visit the website to sign up for email updates!
Quick shout-out to our friend Marc Lyman of HomeFixated.com for the featured photo on this article which he took at the IBS Show in Vegas.