Makita looks to expand its 18V X2 LXT System with a new 6-1/2″ Plunge Saw. The Makita 18V X2 LXT Plunge Cut Saw runs on two 18V Lithium-Ion batteries, and a brushless motor delivers a longer runtime per charge. It can be used with an optional guide rail system which we expect will allow for smooth and accurate splinter-free cuts in wood panels.
Makita Moves From Corded To Cordless
"We created a corded plunge saw and rail system in 2008, and many contractors responded to this more portable option over a table saw for cross cutting and ripping sheet goods in confined areas or when accuracy and finer finishes are a must. Now, users get this precision cutting solution without a cord. The new XPS01 is powered by two 18 volt batteries so users get the power, speed and run time they need, but without the hassles or expense of cords, and without having to invest in a separate platform of heavy, slow charging batteries. Best of all, the new cordless plunge saw is 100 percent compatible with the corded guide rail system that thousands upon thousands of satisfied SP6000J customers are already using, further enhancing the value of their investment."

– Andrew Camp, product manager, residential construction, Makita U.S.A.
The Makita 18V X2 LXT Plunge Cut Saw Key Features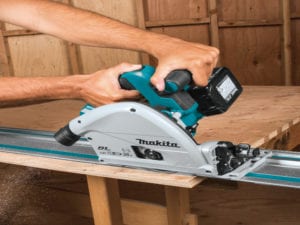 Makita had accuracy and speed in mind when they designed this new plunge saw. It features a variable speed control dial which allows for a range of anywhere from 2,500 – 6,300 RPM. Like other saws from Makita, it utilizes their proprietary Automatic Speed Change technology that adjusts cutting speed and torque. These electronic speed controls work to maintain constant speed under load for smooth and efficient cutting. There's also a soft start feature for smooth start-ups.
The Makita 18V X2 LXT Plunge Cut Saw has a cutting capacity of 2-3/16″ at 90º and 1-9/16″ at 45º. It has a bevel capability -1º to 48º, with positive stops at 22.5º and 45º. Dual front and rear bevel supports keep bevel cuts precise and accurate. A large scale makes depth adjustments easy to set and a built-in depth stop allows the user an initial scoring cut of 2-3mm for cleaner cut lines. It is also compatible with the old Makita guide tracks, as well as guide tracks from other manufacturers.
The Makita 18V X2 LXT Plunge Cut Saw also features a number of design enhancements. It can cut close to a wall at 11/16″ for expanded cutting applications. It also includes a large rear dust port that directs sawdust away from the user. A vacuum system attaches to the dust port to eliminate a mess before it happens. The hex wrench stores on board and a standard locking lever holds the blade in position so that the wrench can be inserted through a hole in the blade case.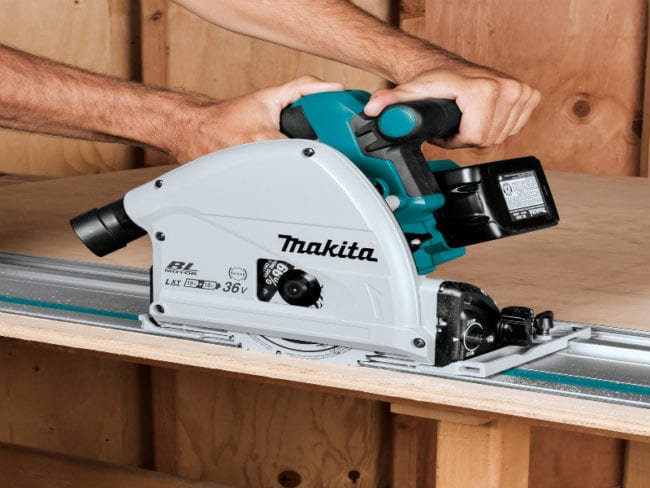 The saw features a compact design and weighs 11.2 pounds with the batteries attached. The rubberized soft grip handle and plunge release lever claim to have comfort in mind with their design.
Bottom Line
Although we haven't had the chance to get our hands on one yet, this new cordless plunge cut saw seems like it could be a quality addition to the 18V LXT line of products from Makita. I like the slim design that allows for cutting in confined spaces. And I really like that it's compatible with a variety of other track guides. The X2 system will likely give the saw enough power to replace your corded model.
All that said, the Makita 18V X2 LXT Plunge Cut Saw doesn't create a huge gap compared to other cordless options. There are quite a few other models out there that offer the same or similar features, though this one looks like it might be a little easier on the wallet than some. What usually sets Makita apart isn't necessarily the major features, but some of the smaller ones that improve the performance. We're used to seeing better ergonomics and a smoother cutting experience – but we'll have to get our hands on it before we can prove it. If you're already on the Makita 18V LXT platform, this saw could be a great addition. And for dedicated carpenters, this is a key product that may just entice you into the system.
Makita 18V X2 LXT Plunge Cut Saw Specs
Model: Makita XPS01PTJ
Blade Diameter: 6-1/2″
Arbor: 13/16″
Max Cutting Capacity at 90º: 2-3/16″
Max Cutting Capacity at 45º: 1-9/16″
No Load Speed: 2,500-6,300 RPM
Speed Settings: 5
Battery: (2) 18V LXT Lithium-Ion
Overall Length: 13-5/8″
Net Weight: 11.2 lbs (with batteries attached)
Single Tool (XPS01Z) Includes: Tool, (1) 6-1/2″ 55T CT Cordless Plunge Saw Blade, (1) Hex Wrench
Tool Kit (XPS01PTJ) Includes: Tool, (2) 18V LXT 5.0 Ah batteries, (1) 18V LXT Dual Port Charger, (1) 6-1/2″ 55T CT Cordless Plunge Saw Blade, (1) Hex Wrench, (2) Interlocking Case
Shop Amazon