Milwaukee Tool recently announced the Fall 2017 launch of a full line of insulated Milwaukee Gridiron Work Gear including the Gridiron Hooded Jacket, Gridiron Traditional Jacket, and Gridiron Zip-to-Thigh Bib Overalls made with Gridiron Ripstop Polyester as well as the No Days Off Hooded Sweatshirt.
"At Milwaukee, we always start with extensive jobsite research to become experts on the trades. After years of working with tradesmen in cold weather, we saw multiple reoccurring issues and expanded our research focus to understand dress patterns, layering trends, and the most common pieces of apparel on the jobsite. The insights gathered from this research are the defining factors of the ground-up product designs we're launching in 2017. The introduction of our Work Gear lineup reflects Milwaukee's continued focus on providing trade-focused solutions. For decades, tradesmen have been forced to choose between durability and mobility. Milwaukee is committed to delivering products that outlast traditional work gear and make it easy for tradesmen to move and stay comfortable while working."

– Patrick Lueck, Senior Product Manager for Milwaukee Tool
Our Take
Even if it's cold – sometimes frigid – we still have to work. Cold weather workwear has traditionally been bulky and/or restrictive, meaning that we either work uncomfortably without gear or work inefficiently with it. The bulkiness and materials also made the clothing susceptible to abrasions and rips. Milwaukee's heated gear and Gridiron Rip Stop polyester have been around for a few years now, allowing us to protect ourselves from the cold with less bulk and more durability. Now the line is expanding – doesn't that just warm your heart?
Milwaukee Gridiron Jackets
The Milwaukee Gridiron Hooded and Traditional Jackets feature reinforced high-wear areas that the company claims is three times more durable that 12-ounce cotton duck while also being 25 percent less bulky. They have large riveting, reinforced utility pockets, tarnish-resistant metal zippers, articulated elbows, and FreeFlex stretch panels across the back. The No Days Off weather protection is designed to provide wind and water resistance.
Milwaukee Gridiron Overalls
Next up is the Milwaukee Gridiron Zip-to-Thigh Bib Overalls that feature Ripstop Polyester reinforcing the knee panels, cuffs, and pockets as well as metal buckles and zippers. FreeFlex stretch panels run along the inner legs for mobility on the job or your evening yoga class while an adjustable waist allows 2 inches of room to allow for more layers. There's even a chest pocket and secure zipper storage for your phone, keys, or any other important item.
Milwaukee No Days Off Sweatshirt
The No Days Off Hooded Sweatshirt features the wind and water resistance found on the new jackets with a fleece lining. It features an extended collar for neck protection, interior storm flap, reinforced pocket edges and forearm area. It's made to be a general outer shell for milder weather.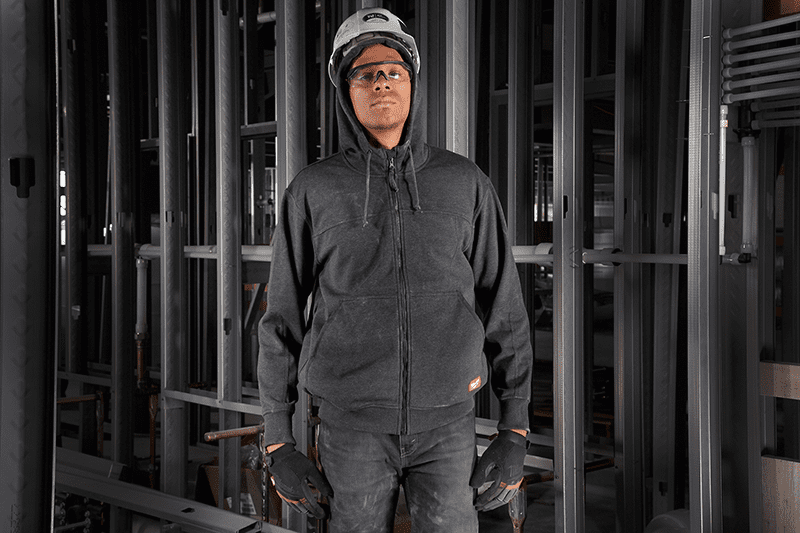 Two smaller yet equally important items round out the workwear expansion: fleece-lined knit hats and a re-launch of Milwaukee's WorkSkin mid-weight base layer. The beanie-esque knit hats feature a wind-blocking fleece band around the ears with a 98% polyester, 2% spandex blend.
Our only regret is that our Floridian home-base means we might only wear the WorkSkin with much regularity. But we won't sweat that too much – winter shows up for at least a couple of days each year.
Related Content
Milwaukee Gridiron Work Gear Expansion Features