Last Updated on August 16, 2022
As Managing Editor of Pro Tool Reviews and an avid endurance athlete, I'm a sucker for comfortable clothing for work and workouts. While I try to dress up a little for media events, you'll find me in a dry fit shirt anytime I can get away with it. When I saw the new Milwaukee Workskin Light Weight Performance Shirt, it took about 30 seconds to decide to review them.
Last year, Milwaukee expanded their workwear lineup to include the original Milwaukee Workskin – a cold weather base layer. The new shirts are lightweight to keep you comfortable as the summer weather rolls in.
Design
You can get the Milwaukee Workskin Light Weight Performance Shirt in either short or long sleeve and in light gray or hi-viz yellow colors. For this review, I decided to go with a short sleeve in gray and a long sleeve in hi-viz.
Some people might ask why you want a long sleeve shirt for the summer, but Pros know why. It keeps the sun from frying your arms and increasing your chance of skin cancer. But the deal it, is has to breathe to be comfortable and not hold sweat against you all day.
Pro Tip: Wear a lightweight long sleeve shirt when you're catching direct summer sunlight to reduce your risk of sunburn and skin cancer.
The design follows suit with that original base later with sweat-wicking zones down the middle of your back and under your arms. With a look at the feature set, it's really just a lighter version. And that's a good thing.
Fit
Milwaukee tends to be a little generous in the sizing department. I normally wear a large shirt, but I default to medium for Milwaukee gear. That's because they give some extra room in the chest and belly and a large makes it look like I'm being swallowed a bit. At least that's the way it's been in recent years.
The sizing is closer to normal clothing with these. The medium is a little small for me in the chest and shoulders and after checking the large at the New Product Symposium, it's a happy medium between previous fits and standard. For you guys that have a typical contractor's build (broad shoulders and large chest), you'll really like the fit.
Comfort
There's a feeling that these shirts have a more durable design than my running shirts, but they're still very lightweight. They feel light when wearing them and they do breathe well. I wore the Milwaukee Workskin Light Weight Performance Shirt for some tool testing and yard work, and I really like the comfort level – even in the heat of the day.
To see how they'd do in more extreme conditions, I took them a little ride and run. It's consistently running in the low to mid-90's here already and the sun is brutal at lunchtime. Alas, that's the only time I have to workout on most days. First up, I wore the long sleeve model for a time trial around the lake. It's not the most aerodynamic piece I own, but it helps ensure that drivers can see me. As I got up to speed and started cranking out the watts, it became very clear how well this shirt breathes as I felt the air pass through it.
The following week I had quarter-mile sprints on my workout schedule. Again with the sun directly overhead, I took off. No longer moving at 22 MPH, it was the moisture wicking that took center stage. The material is slightly thicker than my normal running gear, so it holds on to moisture a little longer. However, it still wicks effectively and didn't leave me with sweat dripping down my shirt and off my elbows.
Whether you're working inside or outside, airflow is the key to allowing these shirts to really engage the evaporative cooling that makes them feel cooler than other options.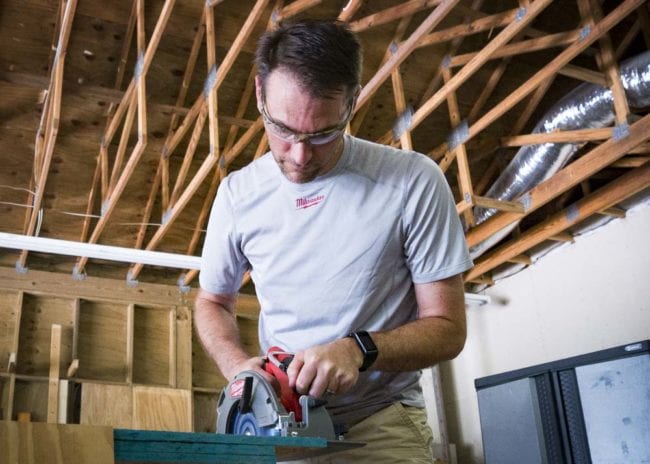 Style
Style is a consideration with any workwear. While coveralls are great for some jobs, we have an inherent desire to look good whether we're working or headed out for a cold beer at the end of the day. From a pure design standpoint, the Milwaukee Workskin Light Weight Performance Shirt looks and wears like something you'd get from Nike to play football in. So if you're the kind of guy that wants to look athletic, it's a win.
The gray shirt is a good look and you have a red Milwaukee logo in the middle of your chest. I say to make the point that it's not going to work as a casual shirt under your suit jacket for Sunday morning worship. Hi-viz is, well, highly visible and it draws attention to you. That's great for staying safe on the job and for hanging out with guys cut from the same cloth, but not so much for date night with your Lady.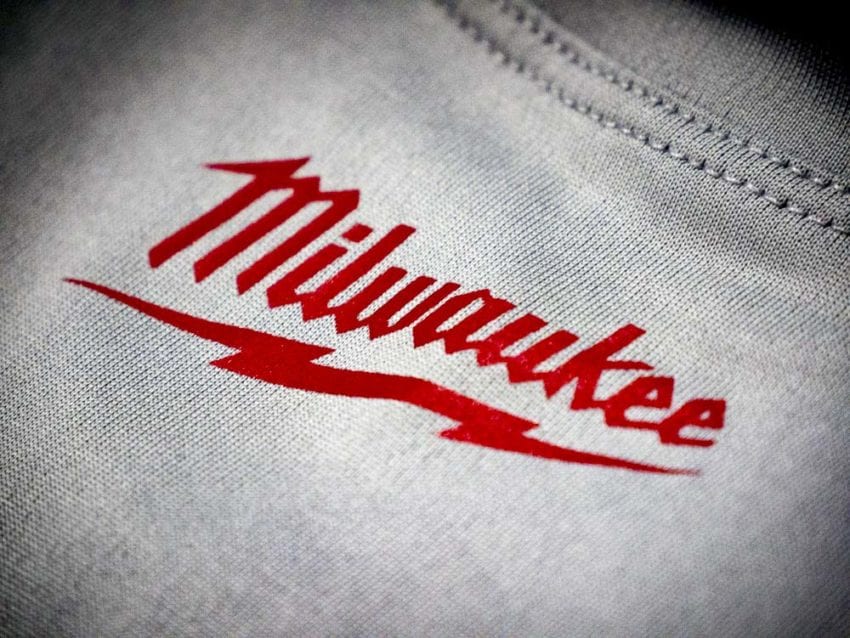 At the end of the day, you'll look good on the jobsite, but keep it there or for your chosen sport for the most part.
The Bottom Line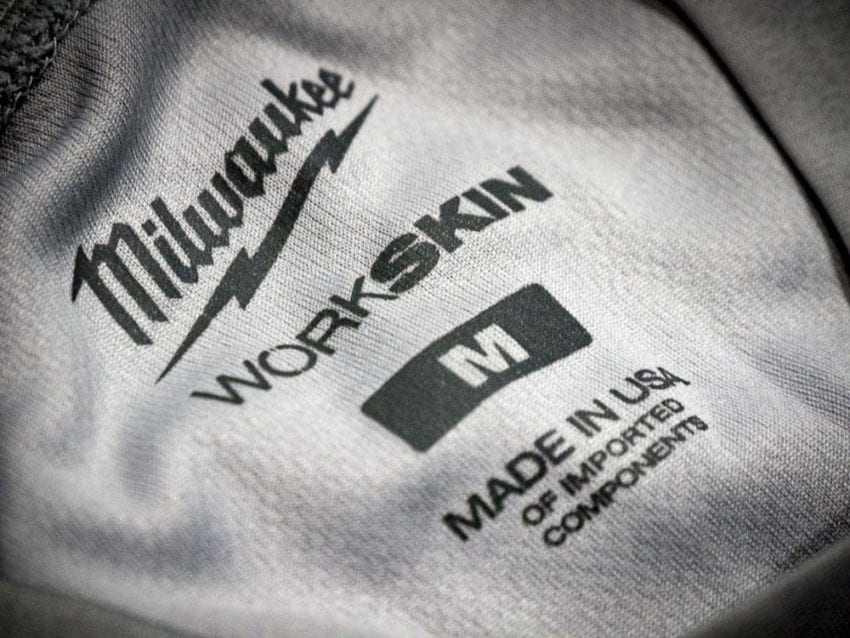 I like the original Milwaukee Workskin for cold weather and the new Milwaukee Workskin Light Weight Performance Shirt is also a win as the temperatures rocket toward summer. It's lightweight and does a nice job of wicking sweat while maintaining a higher level of durability than athletic clothing.
You want to feel as comfortable as you can when you're on the jobsite and these shirts help thanks to solid breathability to pair with the moisture wicking. Just like the base layers you see Pro athletes wear, Workskin shirts allow for easy movement in just about any working condition. Milwaukee also takes the seams off your shoulders to eliminate pressure points when wearing a harness or using a tool with a shoulder strap.
Cotton still has a place on the jobsite and these make a great base layer for Pros who want to keep it that way. For the level of comfort I like and my taste in style, they're a primary outerwear option for me.
Pricing is pretty reasonable when you compare it to similar clothing from Nike or Underarmour. Short sleeve shirts are $29.99 and long sleeves are $39.99. They're not cheap, but I bet once you try one, you'll want to have a few more.
Milwaukee Workskin Light Weight Performance Shirt Key Features
COOLCORE Performance Fabrics use patented three-yarn construction to wick moisture away from the body and keep the garment up to 30% cooler when working in the heat.
Fast Wicking Sweat Zones extend down the back and under the arms to accelerate drying in high-sweat body areas.
Chemical free moisture wicking allows shirt to dry faster reduces saturation and doesn't wash out over time.
UV protection helps block harmful rays from reaching the skin.
Durable pilling-resistant fabrics extend product life.
Drop tail extended back provides extra coverage when working overhead.
Seamless shoulders reduce discomfort from straps and harnesses.
Milwaukee Workskin Light Weight Performance Shirt Specifications
Colors: Light Gray, Hi-Viz Yellow
Styles: Short sleeve, long sleeve
Sizes: M – 3XL
Washing: Washer and Dryer Safe
Warranty: 1 year
Price: $29.99 (short sleeve), $39.99 (long sleeve)