"He Who Smelt It, Dealt It." It's a time-honored and universal maxim, known by all grade school children and accepted without question. But we all know that reality doesn't match up with the cliche` and discovering the source of combustible gas is a very serious business. The Klein Combustible Gas Leak Detector offers an easy-to-use solution for discovering the source.
All Jokes Aside…
The truth is that the Klein Combustible Gas Leak Detector is a serious piece of equipment that is pretty intuitive. After an automatic, 50-second calibration process at start-up, the Klein ET120 will provide audible and visual alarms when it comes into contact with methane, propane, or other combustible gases. It detects the presence of gases from 50 ppm all the way to 10,000 ppm.
It has two detection level settings. The high sensitivity setting measures between 50 ppm and 1,000 ppm for when levels are lower. But if you have a higher concentration, you can switch to the low sensitivity setting, which will detect up to 10,000 ppm. The 85 dB audible alarm speeds up as gas concentration increases, so it's a bit like playing "hot and cold". The leak detector has a silent mode in case you'd like to rely on just the visual aid for leak source identification. The more gas present, the more red bars appear on the screen.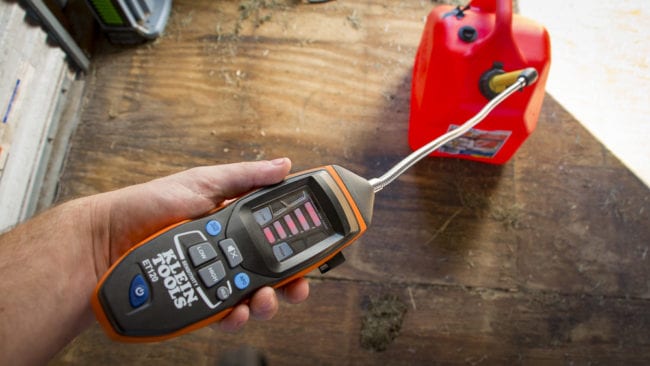 A hold button will keep a measurement on screen for you and the unit automatically shuts off after 10 minutes of non-use.
The Klein Combustible Gas Leak Detector has an 18-inch, flexible neck that you can position in any number of ways. It clips onto the side of the unit for storage.
The Klein ET120 uses 4 AAA batteries for power and retails for $99.99. It comes with batteries, instructions, and a storage pouch.
First Impressions
Unlike a lot of test and measurement equipment, the Klein Combustible Gas Leak Detector will only take a few minutes to familiarize yourself with.  Even a greenhorn will be able to use it effectively with the simple controls and auto-calibration system. With both visual and audio cues to help narrow down the source of the leak, it's an intuitive process. At just under $100, it's a good bet for MRO crews in industrial applications.
Klein Combustible Gas Leak Detector Features
Detection range: ~50 to 10,000 ppm* (*based on Methane)
Two levels of detection: High (~50 to 1000 ppm) and Low (~50 to 10,000 ppm)
Five red LED's (visual) and 85db audible alerts that increase with gas concentration
Automatic zero-point calibration at power-up
18-inch flexible gooseneck expands sensor's reach; clips onto the device for storage
Over-molded body for comfortable grip
Auto power-off after 10 minutes of non-usage conserves battery life
Includes detector, 4xAAA batteries, instruction manual, and storage pouch
Klein Combustible Gas Leak Detector Specs
Catalog Number: ET120
Special Features: Audible Alert, Auto-Power Off, Visual Notification
Length: 28-5/16" (719.1 mm)
Height: 2-3/4" (69.9 mm)
Width: 1-25/32" (45.2 mm)
Batteries: 4 x AAA
Display: Digital
Included: Batteries, Carrying Pouch
Weight w/Batteries: 15 oz (425 g)
Weight: 13 oz (380 g)
MSRP: $91.47