SATA Torque Wrench Line Coming to Amazon
If you're looking for an affordable torque wrench that still has the quality of a professional-level tool, consider the SATA torque wrench lineup. These 1/2″ torque wrenches come in three traditional styles along with an electronic version.
Each SATA torque wrench is made with all-steel construction and comes with a lifetime warranty on the ratchet heads.
SATA Torque Wrench Models
1/2-inch Drive Electric Torque Wrench: 250 ft-lb, +/- 2% accuracy ($264.92)
1/2-inch Drive Adjustable Torque Wrench: 20-100 Nm Dual Scale (coming soon)
1/2-inch Drive Adjustable Torque Wrench: 40-200 Nm Dual Scale (coming soon)
1/2-inch Drive Adjustable Torque Wrench: 60-340 Nm Dual Scale  (coming soon)
A 3/8″ electric torque wrench is due later in 2020. 
There's nothing surprising about the overall design. On the mechanical models, you have a reversible 1/2″ drive with 32 teeth. The head leads down a steel shaft to a handle made from knurled aluminum. The measurement stops are etched into the shaft just above the handle.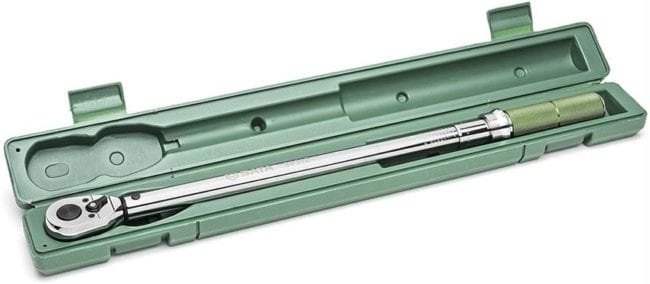 Wondering about the ft-lbs conversion? The three models hit 14.75 – 73.75 ft-lbs, 29.50 – 147.51 ft-lbs, and 44.25 – 250.77 ft-lbs. These are dual-scale torque wrenches, so both measurements are on there for you.
Aside from adding electronics to the package, the electronic torque wrench switches to a more ergonomic, overmolded grip.
The bottom line is that these torque wrenches promise to get the job done right without breaking the bank. As I'm writing this, only the electronic torque wrench is available, but look for the mechanical models to be available soon.
Parting Thoughts
If SATA is a new name to you, you're not alone. It's a brand from Apex Tool Group that has been popular over in Europe and recently made its US debut with Amazon as its primary retail partner.
Apex also owns Gearwrench as a premium automotive tool brand. SATA is definitely more budget-friendly, but not DIY-focused. They're for the Pro that's interested in keeping more of his or her paycheck.