Cord cutting is all the rage lately, whether it's from the cable company or on your power tools. Just like the liberation you feel when you cease to pay $150 a month for 15 minutes of commercials per hour, the ability to work without being tethered to a cord or hose and compressor is exhilarating. I always welcome the opportunity to test a lithium-ion powered tool that I've traditionally used as an electric or pneumatic one. So it is with the Porter-Cable 20V Max 18 Gauge Brad Nailer – a tool type that I use all the time for trim work, especially punch list jobs.
It's lame to roll out the compressor (which itself needs power) and the hose or look for fuel cells rolling around your toolbox or truck when you're swinging by a job for the finishing touches, so I hoped the Porter-Cable was up to the tasks ahead.
First Impressions
At first I thought the head seemed bigger than some of the other brad nailers I've used and I worried that it would be cumbersome (it turned out not to be). The motor and tool-free jam clearing mechanism necessarily makes the profile beefier than pneumatics.
At 5.9 pounds with the 1.5Ah battery, the weight is normal for a tool like this – maybe just a tad heavy – but it's really a negligible difference. I had quite a few projects for the Porter-Cable 20V Max 18 Gauge Brad Nailer, so I got straight to work.
Editor's Note: While the Porter-Cable 20V Max 18 Gauge Brad Nailer fits very well in the cordless nailer category for weight, all of the nailers in this class are significantly heavier than their pneumatic counterparts.
Porter-Cable 20V Max 18 Gauge Brad Nailer Features
Battery Power eliminates need for compressor, hose, or gas cartridges
Motor design provides consistent firing power into various materials and climate conditions
Multiple Tool-Free settings provide ease of use
Unit's lightweight and optimal center of gravity provide user comfort in multiple positions reducing user fatigue
Multi-functional dual LED lights function for workspace illumination and error indication
Porter-Cable 20V Max 18 Gauge Brad Nailer Specifications
Model: Porter-Cable PCC790LA, PCC790B
Nail Diameter: 18 gauge
Power Source: Porter-Cable 20V MAX Battery Pack
Fastener Size: 18 Gauge Brad Nails
Fastener Length: 5/8 – 2-inch
Magazine Capacity: 100
Magazine Loading: Side
Jam Clearing: Tool Free
Depth Setting: Tool Free Adjustment Wheel
No Mar Pad: 2
Integrated Belt Hook: Yes
Tool Height: 11-inch
Tool Width: 3.9-inch
Tool Length: 12.5 -inch
Tool Weight: 5.9 lbs
Trigger Lock-Off: Yes
Firing Mode: Sequential
Brad To The Bone
The nailer shoots 5/8-inch to 2-inch long brads. I usually use 1-1/4-inch brads but I also had some projects for 2-inch brads. The nailer handled both lengths very well. Loading and unloading is very easy – you press a button, slide magazine down, insert the nails, and slide the magazine up.
Driving Home the Point
The depth of drive dial was simple to operate and the indicator was easy to see when I needed to adjust the depth. The majority of the moldings I use are soft – mostly pine – and if a nailer's depth is set too deep, the brad can shoot right through it.
With the correct depth set, the sequential firing worked perfectly throughout my testing. There's no bump fire mode on this model, but it's not really a necessity for an 18 gauge brad nailer in my opinion.
Jam Clearance
Ironically, I wish I had experienced a jam because I wanted to try out the jam clearing lever and release latch. The the nailer worked so well that I didn't need to. Theoretically anyway, if you experience a jam, you remove the battery, pull the red release lever, then loosen the latch on the nose of the gun to clear the jam. It's all tool-free and well-designed.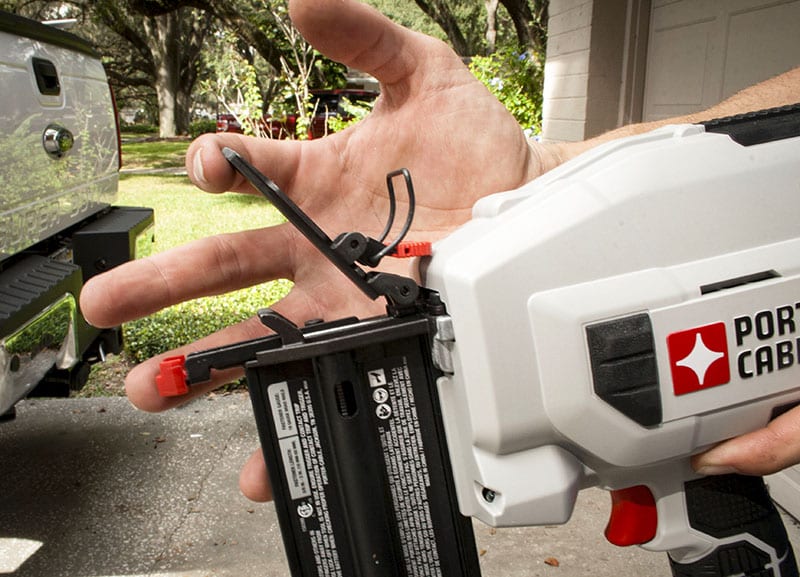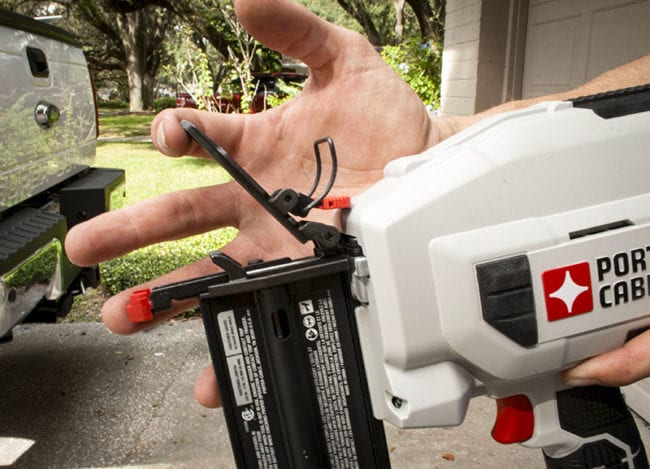 Lithium-Ion Endurance
With other battery powered brad nailers, I've noticed that depth of drive becomes shallower as the battery weakens. However, the Porter-Cable 20V Max 18 Gauge Brad Nailer drove the brads at a consistent depth.
The kit comes with a 1.5Ah battery and after several weeks, I still haven't charged it. There's no fuel gauge on this battery. It's always helpful to have one, but for a tool like this it's not as big of a problem as it would be with a hammer drill or another tool doing heavy-duty work.
Other Standout Features
The two LED lights are one of my favorite parts of this gun. They illuminate the work area very well. The belt clip is also a great touch and comes in very handy. It's important to note that the Porter-Cable 20V Max 18 Gauge Brad Nailer is low maintenance – there's no oil required unlike most pneumatic models.
The no mar tip is excellent and the trigger lock is a nice feature. Because the tip has to be depressed and the trigger pulled to fire a brad, I didn't feel the need to use the lock very much. Still, I understand why it's there.
Professional Relevance
It quickly became clear that this brad nailer is an excellent tool for punch list work. It makes my job so much easier when I'm not dragging around an air hose, especially when I'm only tying up loose ends on a job. Much like my friend Garth Remick's experience with the Ridgid cordless miter saw, I might not trim out a whole house (although it's capable if you had a few batteries lined up in the queue), but it's really worth it's weight in gold for its portability and consistency in putting the finishing touches on a job.
The Bottom Line
For its all of it's great features – the consistent depth of drive, the battery life, the lights, the loading/unloading, the belt clip, and more – the Porter-Cable 20V Max 18 Gauge Brad Nailer is a fantastic finishing tool. I'd add fuel gauges to the battery, but generally I have no improvement suggestions and at $185 with a 3-year warranty, I highly recommend it to other Pros.