The Metabo HPT 14-inch 75cc Cut Off Saw CM75EBP rebrands the original Hitachi model with the Metabo HPT name. This Pro-level saw allows quick concrete cutting for small window and door openings. It also appears to have plenty of power for cutting paving stones and curbstone for landscaping. This gas saw uses a three-stage air filter, includes a water kit, and has on-board service tools. Between the apparent power and features, this saw looks like a great fit for most any new construction and/or renovation jobs.
As you'd expect. this 14-inch power cutter has plenty of cutting capacity, and the 75cc gas engine provides solid power. Metabo HPT also optimized emissions without sacrificing power or adding weight. Metabo uses metal for the arm cover plate, wheel guard, lower guard, and footplate.
The Metabo HPT CM75EBP cut off saw starts easily thanks to a decompression valve and one-lever choke for cold-weather starting. The tool-free blade guard can be adjusted easily to switch between wall and floor-cutting. Continuing the tool-free pattern, users can also remove and clean the foam pre-filter without a tool.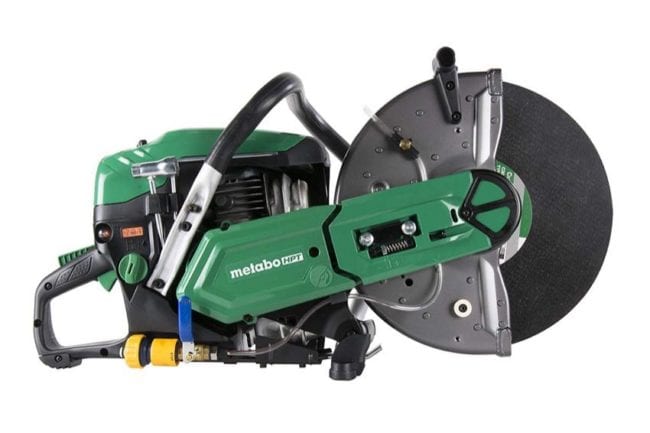 The 14-inch concrete saw weighs just 23.4 pounds and carries a 1-year warranty. This power cutter comes with a 14-inch abrasive wheel, 25mm to 20mm reducer ring, water kit, and on-board mounted service tools.
The Metabo HPT CM75EBP Power Cutter Includes
Abrasive Wheel (14 in.)
Combi Box Spanner Wrench  (6698582)
Hex Bar Wrench 4 x 135 mm  (6699918)
Adapter Collar  (6699919)
Safety Glasses  (875769)
Shop Amazon
Metabo HPT 14-inch Cut-Off Saw Specifications
Engine: 75cc Two-stroke
Fuel capacity: 37.1 oz.
Run time: 27 min
Arbor size: 20 mm
Anti-vibration system
Coil spring
Starting system: Standard recoil w/decompression valve
Noise: 103 dB(A) SPL
Air filtration: Three-filter (foam pre-filter, paper, nylon)
Weight: 23.4lbs
Warranty: 1-year
Maintenance Parts
Recoil Start Assembly  (6699876)
Foam Pre-Filter  (6699872)
Belt  (6699877)
Paper Air Filter  (6699868)
Nylon Filter  (6699867)
Spark Plug  (6699320 / BPMR7A)
Pump Filter Body / Fuel Filter  (6692285)
20mm Reducer Ring  (6699919)