When you need an extension cord, sometimes you just pick up anything that seems to do the job. The problem is, extension cords are like big long resistors, and they can heat up and draw precious current (and thus power) away from your tool if they're not properly gauged (sized) to the task. Coleman Cable and Woods are both part of the Southwire family of companies which manufactures wire and cable as well as other electrical products. Recently, they sent us a pair of Yellow Jacket extension cords, including a 100′ cord with a lighted end and a 50′ extension cord with a lighted 3-outlet power block. These are super high quality cords with UL-rated gauge sizing for longer runs and which support for higher current draws at those lengths. The Yellow Jacket extension cords will eventually sell under the Woods brand.
Yellow Jacket Extension Cords Features & Build Quality
The Yellow Jacket extension cords are designed specially to address the needs of the construction worker or anyone working on an industrial job site. These cables are SJTW-type and are rated to 300 volts. The thick yellow jackets (hence the name) are outdoor weather resistant and made to handle the higher current draw typically required by power tools. The Yellow Jacket extension cords are also extra flexible down to -40C (-40ºF). When you're working in the cold, this is a great feature that will help you set up faster and clean up just as quickly.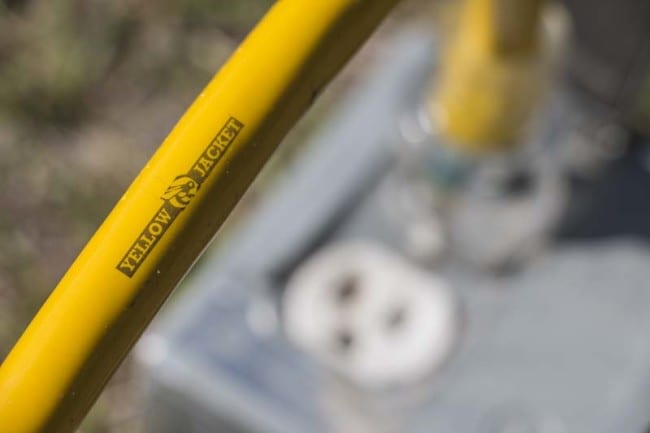 The SJTW Yellow Jacket cables are UL and cUL listed and each contains a quick-check neon power indicator that lights on the female end when the extension cord is plugged into a live circuit. The cords have a NEMA 5-15 plug, which means they're grounded and rated to 15-amps when used with a 125V circuit. The plugs grab really well, and we were able to plug them successfully into both 15 A residential and 20 A commercial outlets without them "sagging out". Considering these cords are fairly heavy duty—that matters.
10/3 100′ SJTW Yellow Jacket Extension Cord w/Lighted End
Length: 100 ft.
Wire: 10 gauge
Jacket: SJTW, low temperature PVC, yellow
Conductor: 104/30 BC
Cable O.D.: 0.567 in.
Plug: Clear PVC, with neon power indicator lamp in the power block
Model: 2806
Price $159.99 Buy it Online
12/3 50' SJTW Yellow Jacket Extension Cord w/3-Outlet Lighted Power Block
Length: 50 ft.
Wire: 12 gauge
Jacket: SJTW, low temperature PVC, yellow
Conductor: 65/30 BC
Cable O.D.: 0.420 in.
Plug: Clear PVC, with neon power indicator lamp in the plug
Model: 2827
Price: $69.99 Buy it Online
Using the Yellow Jacket Extension Cords
We used the 50′ Yellow Jacket extension cord to run power for testing several tools, including the Makita 12″ Dual Slide miter saw and the Hitachi C12RSH 12″ sliding dual compound miter saw. The 12-gauge cable was sufficient to allow us to draw the necessary power to run the tool away from our building and experience no real noticeable drops in voltage compared to a direct connection to our power source. In reality, when you do the math, there's only about a 3V drop in these cables—which is nearly negligible under a full 15-amp load. They're built very well and adequately-sized to power any 15-amp tool.
When you're setting up a 2,000 square foot steel building there's a period of time that exists before you're able to run steel building electrical conduit and get everything correctly wired. During that interim period we ran one of the 100 ft. Woods Yellow Jacket extension cords from the house to our new building in order to run the aforementioned tools and also light the area while we worked. The Yellow Jacket extension cord allowed us to operate lights and miter and corded circular saws with only minimal voltage drop—even over 100 feet! Both the 100 ft. cord and the 50 ft. cord have plenty of wire, and there was almost no noticeable loss of power even when using a work light and a 15-amp miter saw simultaneously.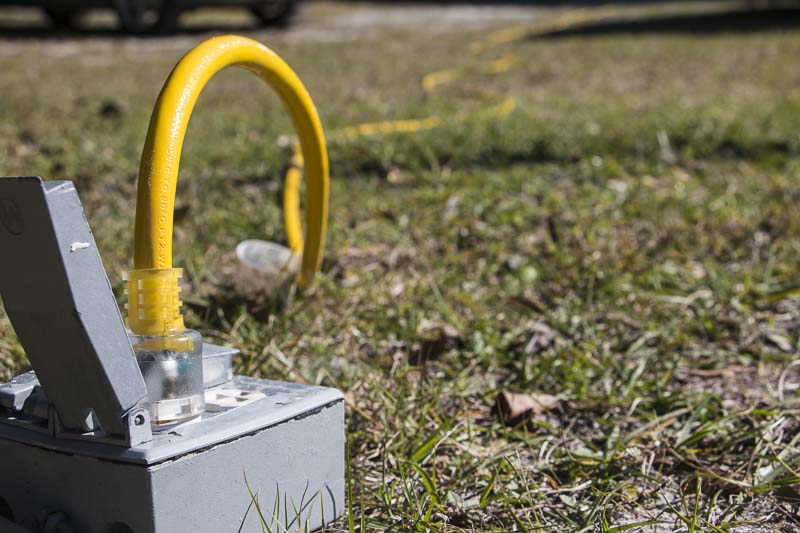 The Yellow Jacket extension cords are well-recognized in the industry, but they're also recognized by their color—and the yellow colored cabling comes in handy on the jobsite when you're collecting everything at the end of the day. These extension cords are easy to recommend, and you can find them at a wide variety of brick and mortar dealers as well as online. Do yourself a favor and don't skimp on this particular accessory for your jobsite. You need your tools to work at maximum capacity, and having a well-made, properly-sized extension cord will let you work without worrying if your table saw's going to make it through that next rip cut.
Learn more about the Woods brand here.