In our little part of central Florida, there is no shortage of homes that need renovating. One of the really cool things is the number on homes that were built in the 1920's in our downtown area. It is on of those that we're working on right now and bringing the Hilti PR 30-HVS Rotating Laser along to play. We first saw the Hilti PR 30-HVS at the 2015 World of Concrete, but it's great to take a much closer look at it here in Lakeland.
Most of these homes were built up on pillars and wood beams rather than leveling them on a foundation. It's often an intriguing wonder when we tear back the old installed hardwood flooring or decking and see how they're held up. The home that we're working on has been completely gutted. It's undergoing a complete overhaul and getting a new addition for a couple that was just married back on August 1st. We're going to be using the Hilti PR 30-HVS Rotating Laser to help level the floors. We'll also be pairing that with Hilti's PRA 30 Remote Control/Laser Receiver and the Hilti PRA 90 Automatic Tripod.
In order to level the floors, we'll need to pick a benchmark height that is the highest stable point we're going to keep. From there, we'll use the laser to tell us where the rest of the home frame should be raised using 40 ton jacks.
Hilti PR 30-HVS Rotating Laser with PRA 90 Automatic Tripod Specs
Item Number: 3508188
Accuracy: +/- 0.03″ at 33 feet
Range: 1640′ diameter (820′ radius)
Rotation Speed: 600 RPM
Self Leveling Range: +/- 5 degrees
Protection Class: IP66
Laser Class: <4.85mW, 620-690nm, Class 2 (IEC 60825-1:2007), class II (FDA CFR 21 art. 1040)
Run Time: 25 hours
Weight: 5.5 pounds
Tripod Thread: 5/8″
Price: $3349 (kit with automatic tripod), $2249 (Laser and Remote)
Package Includes: Hilti PR 30-HVS Rotating Laser, Hilti PRA 90 Automatic Tripod, PRA 30 Remote Control, (2) AA Batteries, (2) PRA 84 Lithium-ion Batteries, (2) PUA 81 Mains Adapter (charger), case
First Impressions
The Hilti PR 30-HVS Rotating Laser was designed specifically to be jobsite tough. You'll notice how serious they are about that the moment you open the case. Four massive rubberized handles surround the lower housing of the unit. The laser on top is further surrounded by an oversize rubber top, protecting the rotating optics system. The entire unit is clearly so well protected, that I have a hard time seeing how you could damage the most sensitive parts accidentally. These are features that don't take much time to explain, but I can't overstate just how well built this rotating laser is when is comes to protecting the unit through design.
Setup of the system requires some reading to fully understand, but this is really expected considering the tight tolerances that it has to be able to operate in. Once you've charged the batteries, you're ready to install them. This is where Clint DeBoer gets really excited. Why? We finally get to push the battery in place, then turn the handle to lock it in… it's just like arming a bomb in the movies!
After you install the batteries in the laser; remote; and tripod, pairing is a relatively simple operation. With the units off, hold down the power button on the laser and remote for 3 seconds. The lights will flash, the remote will beep, and you're good. Repeat that operation with the remote and the tripod to get the entire system ready to go.
Hilti PR 30-HVS Performance
When you're using a system like the Hilti PR 30-HVS Rotating Laser, many people mistakenly assume that you're going to see the laser. Realistically, it's going to be difficult to see in sunlight after just 10 feet or so. That doesn't mean that it's useless outdoors. What you can no longer see, the remote senses up to 820 feet away. When you hold the remote vertically and pass it over the beam, it will begin to beep and tell you how far over or under the line it is. If you really need to see the laser, that can be more easily aided with a pair of red laser visibility glasses (~$20 from Hilti).
We used the PR 30-HVS in a couple of ways. First, we simply wanted to get a quick estimate of what we were working with. We set the laser low to the ground using a cinder block to match our benchmark height. From there we could move around with the PRA 30 remote and see how far we needed to raise each part of the house frame. This isn't the recommended way to actually do the leveling. Still, it was a perfect solution to get a quick idea of what we were looking at before heading out for materials.
Once we returned with the materials we needed for marking (and our 40 ton jacks), we needed to setup the laser on Hilti's PR 90 Automatic Tripod. With a leveling staff to clamp the PRA 30 Remote to, we began to make our way around to get the exact measurements we needed to do the leveling. By having the remote/receiver attached to a constant height, we could utilize the PRA 90 Automatic Tripod to set our height from the same point each time we needed to reset between classic Florida summer thunderstorms. While you can do some initial quick estimation without a tripod, you'll want a tripod and leveling staff for consistency.
When you clamp the laser remote/receiver to either the structure frame or a leveling staff like we did, the automatic tripod becomes indispensable. Simply double click the tripod button on the remote and the tripod moves up and down until it sets itself to the center point of the remote/receiver. Boom! Done in under 2 minutes. Now we could simply move from point to point and the laser told us how far the frame was from our benchmark line. Once we jacked up the frame by our pre-measured amounts, double checking the accuracy was crazy fast.
Additional Features
For most of your interior residential needs, you're going to be able to stick with a good cross line laser. Hilti's PR 30-HVS does its best work in commercial and industrial applications during build-out and exterior construction applications. Our project didn't require us to use all of the features of the Hilti PR 30-HVS system, and there is definitely more that it is capable of handling. We only needed horizontal leveling today, but the PR 30-HVS is capable of vertical leveling applications as well. Angles can be set from -15% to +8.6% for applications that require a slope such as drainage or concrete ramps. Squaring and alignment applications are also fair game with this model.
Conclusions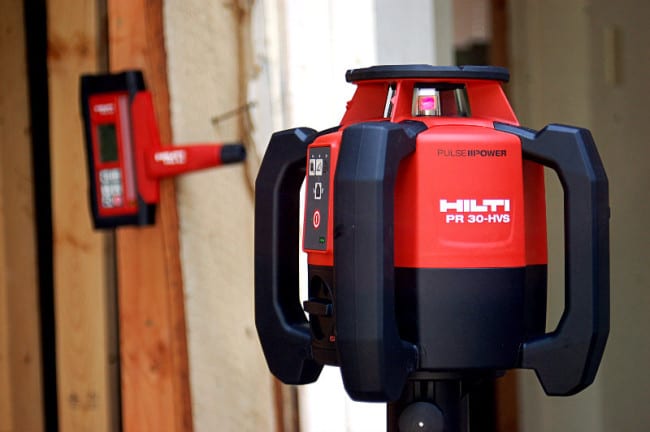 Leveling the frame of this home to ensure level flooring would have been ridiculously difficult without using the Hilti PR 30-HVS Rotating Laser with the PRA 90 Automatic Tripod. This was the only way that we could have efficiently found a 360 degree benchmark to get the job done with just a 3 man crew working in between summer thunderstorms.
It did take us a solid 45 minutes to get set up and work with the system to the point that we felt comfortable with it. That's after I spent the evening prior reading through the instruction manual. After we were familiar with the system, it made the job of alignment much easier. The only thing that you'll really want to be sure of is getting the batteries charged the night before. That will take several hours.
While it didn't take us too long of a time investment to get set up for the basics, you'll definitely want to spend a couple of hours training your employees on how to use this. The manuals are helpful, but the hands on experience is what Rick and I found to be the most useful in getting to know the Hilti PR 30-HVS Rotating Laser and PRA 90 Automatic Tripod as a system. Once you do, you'll find the PR 30-HVS is an irreplaceable part of your business when it comes to anything from major to minor laser applications.
The really big deal with the Hitli PR 30-HVS Rotating Laser is the build quality. Rotating lasers are calibrated like scientific instruments and have delicate components inside. Hilti has set a very high standard in protecting your investment with the design of this model (and at $2,159 for the basic kit it's definitely an investment). I haven't used a rotating laser that comes anywhere near matching the quality that I find in the Hilti PR 30-HVS. The laser is also covered under Hilti's lifetime service agreement and calibration services.
Want to be friends? Like Pro Tool Reviews on Facebook!
Want to love us with fewer words? Follow Pro Tool Reviews on Twitter!