DeWalt Folding String Trimmer Employs Unique Design
As part of a recent series of cordless outdoor power equipment announcements, DeWalt revealed a most unorthodox product. The DeWalt Folding String Trimmer (DCST922) has a 14″ head and works on the brushless 20V Max XR line. The unique design makes storage a snap, and it also appears to have power and runtime to trim your whole yard.
10-Second Summary
Model: DeWalt DCST922
Folding hinge reduces size by 41% for easy storage
14-inch cutting swath
QuickLoad Spool
Hi/Lo speed control switch and variable speed trigger; 4600/6000 RPM
Supported line: 0.080 in.
Warranty: 3-year limited, 1-year free service, 90-day money-back guarantee
Key Features of the DeWalt DCST922
The noteworthy feature of the DeWalt 20V Max XR Folding String Trimmer, as you might guess, revolves around the hinged shaft. This hinge lets the trimmer fold in half, allowing for easy storage and transport. It makes the tool 41% shorter when folded in the stowing position.
Beyond that marquee feature, you've still got a string trimmer designed to handle the rigors of home lawn maintenance. This trimmer comes equipped with a brushless motor that reaches speeds up to 6000 RPM. The DeWalt Folding String Trimmer has a respectable 14-inch cutting swath. With its QuickLoad Spool system, it can wind up new 0.080″ line quickly and easily.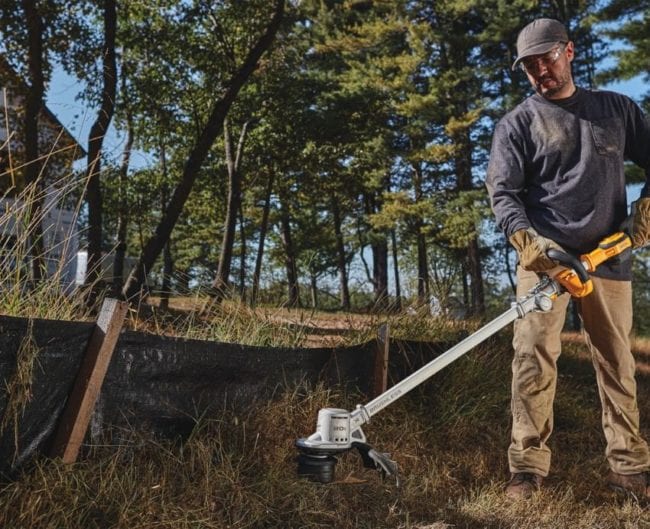 If you grab the kitted DeWalt 20V folding string trimmer, it includes a DCB2015 5.0Ah battery and charger. That kit retails for $199. As a bare tool, you can pick it up the 20V DeWalt DCST922 for just $129.
What We Think
The DeWalt DCST922 makes for a compelling buy for anyone looking to maximize the storage of their OPE tools. From lawnmowers that fold up for storage, to hanging systems for your tools, saving space helps.
Also, since the brushless motor works as a direct-drive, the folding of the tool only requires flexible electrical contacts. If this were a shaft-driven system with the motor at the back of the tool, it would require a complex mechanical interface. This smarter design should help ensure acceptable longevity and ease of use.
For homeowner use, the power should be there based on our experience with other DeWalt 20V outdoor power tools. And, obviously, if you're already on the DeWalt platform, picking up a tool like this makes even more sense.
DeWalt 20V Max XR Brushless Folding String Trimmer Specs