The Milwaukee M18 Fuel Cordless Pipe Threader proves capable of carving out threads in a matter of seconds on stainless, black iron, and RMC up to two inches. Keeping its promises, it beat the thirty-plus-year-old manual threader in our shop by a long shot. The side grip eliminates pushing on the spinning die—making it superior to other power threaders. We put a ton of pipe in the chain vise in our shop and put the 2874-22HD to the test.
Pros
Side-grip eliminates the need to push on the die head for a square thread start
AutoStop kickback control function protects the user from bind-up
Universal (Ridgid 12-R and Reed R12+) die head compatibility up to 2 inches
Support arm eliminates the need for a pipe stand
Cons
Recommendation
Milwaukee succeeded in making the often arduous, messy task of pipe threading much easier, faster, and (remarkably) cordless. The side grip eliminates the awkward contact with the spinning die at thread starts, the support arm eliminates the need for a pipe vise, and the big M18 12Ah battery eliminates the power cord. It cuts dies quickly and accurately so you can get on with the job. It provides big benefits over the corded threader you've been using and even bigger ones if—like me—you've been threading pipe manually for over 20 years.
Milwaukee Cordless Pipe Threader Performance
Pipe Dreams
Even though I spend most of my time with PVC and PEX, quite often I need to thread pipe for industrial work. Our crew still uses the same manual threader it had when I was hired two decades ago! Now that we've got the Milwaukee M18 Fuel cordless pipe threader for black pipe, stainless, and rigid metal conduit, we may very well bid more of those industrial-type jobs. It's a remarkable tool—and not just because we've been doing it the hard way all these years. Users of corded threaders will find it superior to their current tool for a variety of reasons.
Importantly, the Milwaukee cordless pipe threader uses universal dies. That means you probably already have the ones you need. They slip smoothly into the die head and are secured in place with a retention lock. Use the speed selector to choose the right speed for the diameter (more on that in a bit) and you're nearly ready to thread some pipe.
(Don't) Take a Stand
The Milwaukee M18 Fuel pipe threader's cordlessness is its most visible benefit over the most common power threaders. But there's more good stuff than meets the eye. Notably, the brushless motor actually cuts faster than most—if not all—of today's corded threaders.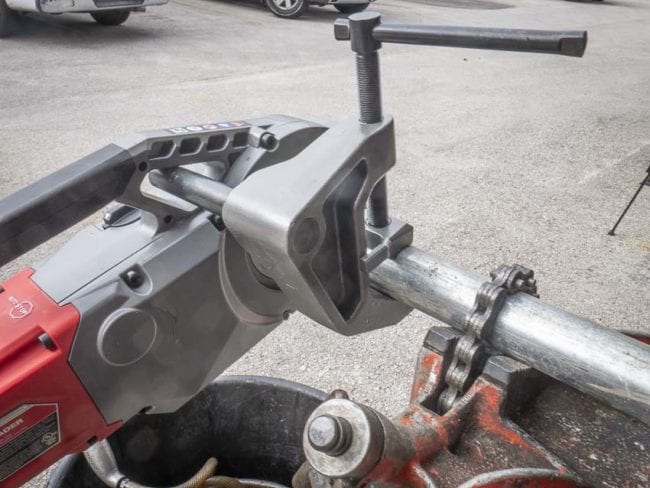 Next, a dedicated support arm clamps onto the pipe and eliminates the need for a pipe stand. It's certainly easier to use one, but in a pinch, you can do without.
The AUTOSTOP kickback prevention works similarly to the bind-up safety features we've seen on an increasing number of rotary tools. The Milwaukee 2874-20 pipe threader doesn't spin as quickly as a drill, but there's still a ton of torque in your hands. Speaking of your hands—perhaps the "handiest" feature of the Milwaukee threader is its side grip. This grip eliminates the need to push on the spinning die for an accurate thread start. Contact with the spinning part of a tool really seems like a relic of a more dangerous time, anyway!
Thread or Die
Be sure you select the right speed for the die diameter range. This is actually very important. Use Speed 2 for pipe diameters less than 1-1/4-inch. Speed 1 tackles 1-1/4-inch or larger. It took us a couple of pretty ratty threads to realize our error. Once we selected the right speed, the Milwaukee M18 Fuel pipe threader began making perfect threads.
This tool is rather hefty, but its benefits well-outweigh any trade-offs. Plus, this tool is "smart". You can have the peace of mind that Milwaukee One-Key management and tool-tracking allows via your mobile device. You can add it to your inventory, and even track it on the job site.
Price
At $1,399 bare and $1,699 for the kit, you can't pick the Milwaukee M18 Fuel Pipe Threader up for chump change. But that doesn't mean it isn't worth it. DeWalt's FlexVolt Pipe Threader DCE700 is the only answer to Milwaukee at the moment. Its similarly-priced kit (DCE700X2) includes a pair of 3Ah 60V batteries, but you'll pay around $2,299 for the kit plus dies (DCE700X2K).
The Bottom Line
The Milwaukee M18 Fuel Pipe Threader is an impressive innovation for plumbers, electricians, and pipefitters. It eliminates the cord, the pipe stand (if you choose), and the need to push on the spinning die. With a die retention lock and simple speed selector, you can be carving threads in black pipe, stainless, and rigid conduit up to two inches in a couple of minutes. And you'll be done faster than if you used a corded threader. It's not cheap, but once you use it, you might consider it one of those tools you can't afford not to buy.
Milwaukee M18 Fuel Pipe Threader Specifications
Item Numbers

2874-20 (bare tool with threading support arm, and case)
2874-22HD (kitted with RedLithium HD12.0 battery, Rapid Charger, threading support arm, and case)

Threads up to 2 inches
Length:

26.3 inches

Width:

4.8 inches

Height:

8.5 inches

Weight:

22.3 pounds

Prices:
Shop Acme Tools