Last Updated on April 5, 2023
Complete Two Jobs at Once Using Ridgid FlexShaft
The Emerson branch of the Ridgid brand introduces the FlexShaft K9-306 Drain Cleaning Machine. The new drain cleaner tackles 3-6 inch pipes up to 125 feet, bringing wall-to-wall cleaning to your jobsite. Plus, with the ability to simultaneously run an inspection camera, you can effectively complete two jobs at the same time.
10-Second Summary
Model: Ridgid K9-306
Cleans 3- to 6-inch diameter drain lines up to 125 feet
Simultaneous camera inspection
Features 1.5 HP universal motor
Fully enclosed drum
Retractable handle
Multiple wheels and grab points
Fully enclosed nylon-sheathed cable
Backed by Ridgid Full Lifetime Warranty
K9-306 Key Features
RIDGID apparently did well enough with their first two Ridgid FlexShaft Drain Cleaning Machines last year to keep the line updated. The K9-306 functions as a similar product that clears even wider and longer lines. Since the K9-306 can clear 3- to 6-inch pipes and reach up to 125 feet, it lets contractors push all the way out to the main.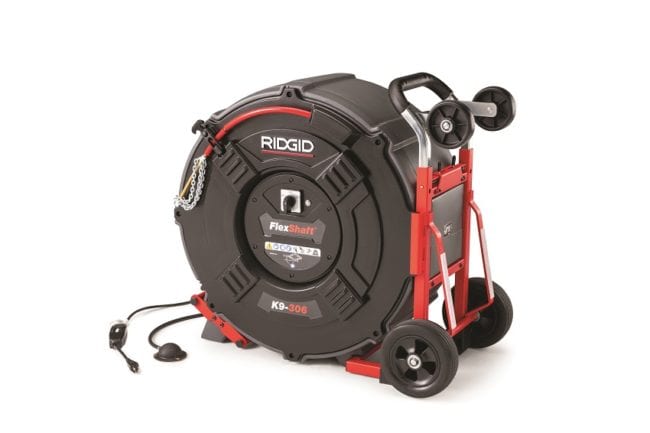 The Ridgid FlexShaft K9-306 drain cleaning machine uses its 1.5 HP motor to clear grease buildup, roots, and heavy scale in larger pipes. It features a fully-enclosed drum, making setup and cleanup cleaner (and safer). The K9-306 also allows for simultaneous camera use. (Check out the RIDGID SeeSnake Mini).
Premium Performance
As the highest capacity Ridgid FlexShaft machine in the line, the K9-306 uses high-speed chain knockers to clear pipes up to 6 inches in diameter. The 125-foot cable comes fully sheathed in nylon for easy wipe downs as you pull it from the line.
The Ridgid K9-306 features a retractable handle that allows for a compact footprint in tighter working conditions. It also creates a low profile for storage. Multiple wheels and a variety of grab points make for easier loading and unloading from your work truck or van.
To purchase or learn more about the Ridgid FlexShaft K9-306 Drain Cleaning Machine, or any other Ridgid drain cleaning solutions, contact your local distributor for an in-person demo by visiting their website or calling 1-800-4RIDGID.
Ridgid FlexShaft Drain Cleaning Machine Specs
Model: Ridgid K9-306
Cable: 125 ft. x 3/8 in.
Area of application: House drains and laterals to main lines
Type of blockage: Grease, scale, and roots
Warranty: Full lifetime
Price: $3,959.57
Shop RIDGID FlexShaft at Acme Tools