20% of Truewerk Haun Vest Sales to Support Keep Craft Alive Scholarship for Giving Tuesday
Just in time for Giving Tuesday 2021, the Truewerk S4 Haun Vest is entering the scene to support your work and the work of the next generation.
Truewerk S4 Haun Vest Inspriation
Before we dive into the actual vest, there's a story behind this garment that's worth telling. "Haun" is for Larry Haun, a carpenter who inspired folks to go into carpentry and homebuilding professionally.
His mindset for workwear, particularly in carpentry, was the need for core insulation combined with the freedom of movement for your arms, so a vest makes perfect sense.
Wearing the Truewerk S4 Haun Vest
Fit
Truewerk's fit isn't as generous as some brands. They're known for outfitting the "industrial athlete" with a more athletic fit and style in their clothing.
I ordered a large, the same size I get my T-shirts and button-downs in, and it was an excellent fit. There's a little extra room in the chest and I could have gotten away with a medium there, but then the length would have been too short. For reference, my chest size is 42 inches.
Where there's not a ton of extra room is around my stomach. I have a little more pooch there than I'd like and the vest's fit is very comfortable in my midsection.
The bottom line—order your regular T-shirt size and you should be good to go.
Comfort
On most cooler days, I'd rather wear a vest than a jacket every time. Like Mr. Haun, I like having plenty of free arm movement.
Truewerk's material choice is 92% polyester and 8% spandex for the shell. The lining is 100% polyester.
The feel of the vest is very comfortable. I was initially concerned about the collar riding up against my neck, but the material is soft and didn't cause any irritation.
As for the warmth factor, the Truewerk Haun vest uses 180-gram insulation (the same as the S4 Tower Parka). I've been wearing this vest on days that start in the mid-'40s (we're in Florida, that's cold for us!) and have been very comfortable as the sun pushes us into the '50s and '60s as the day goes on.
Once the temps start getting close to 70, I'll shed the vest, especially when I'm working at a pace that keeps my blood flowing. On the opposite side, As the temps drop into the low 40's, I'm ready for a full jacket.
Function
Aside from keeping me warm in the middle-temperature range, there are four pockets to add some function to the vest. Two kangaroo pockets are on the right and left, and have a center snap to secure items inside. They're great for gloves or a beanie, but smaller objects can fall out.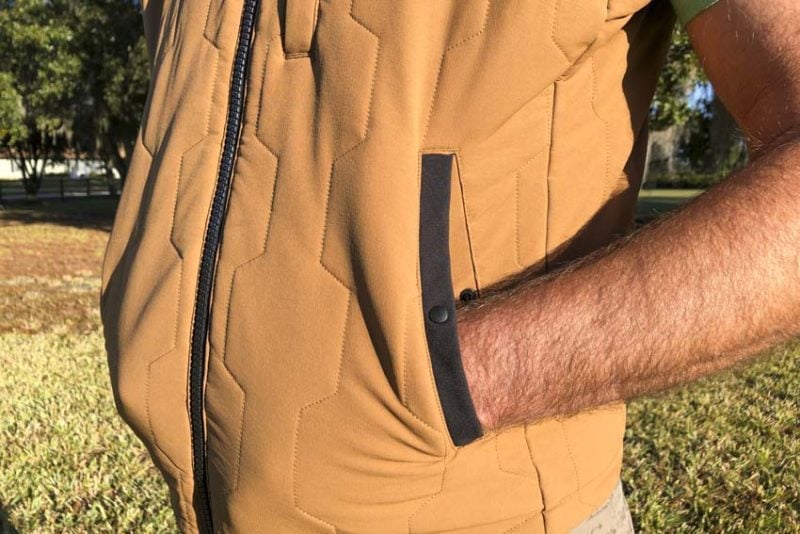 There's a zippered chest pocket on the left side. It's where I like to store my cell phone or documents that I need to keep close by.
Finally, there's an inside mesh pocket on the left as well. It's another good spot to store your gloves or beanie.
You can get the vest in black/gray or black/brown. Those colors aren't inherently visible in low or no-light environments, so Truewerk put some reflective piping in the back.
Additional Highlights
Four-way stretch fabric
Shoulder patches provide additional protection when carrying lumber
Tear-resistant materials
DWR (durable water repellent) coating to keep you dry
Thermo regulating materials
Truewerk Haun Vest Price
You can pick up your Truewerk S4 Haun Vest for $109 directly from Truewerk. Get it in Sand or Deep Grey in sizes ranging from Small to 3XL.
The Bottom Line
As a slimmer guy, the fit and comfort of Truewerk's Haun Vest are excellent and I like the look a lot. For as warm as it is, it's lightweight, and your arms have a ton of freedom to move in any direction. Overall, it's another outstanding piece of workwear and Truewerk's donation to the Keep Craft Alive scholarship fund is icing on the cake.