No tool is more iconic of work around the jobsite or the home than a drill. If there's work to be done, somewhere along the line it likely requires a hole made, a fastener driven, or a screw removed. If only the ancient Egyptians or Romans, who used drills of some fashion, could see how technology has improved upon their concepts. We don't even have to go back that far in history. Our own grandfathers used hand drills with a crank mechanism or simply a T-handle and some elbow grease. Since then, manufacturers have electrified drills with cords and then untethered them with lithium-ion batteries. Fortunately, we get the benefit of those innovations that make jobs easier and give us more control. But what to look for on a Pro level drill is different than what the DIYer needs.
Generally speaking, this is a good list to go by for the construction industry. However, electricians have different needs than general contractors. So if you're new to your trade, start here, but ask around to see what the other Pros you work with carry.
What to Look for on a Pro Level Drill: Brushless Motor
Regular readers will be familiar with our article on the contrast between brushed and brushless motors which we link to quite often. Brushed motors are physically-commutated, which means inside the motor there's contact between brushes and the commutator. This creates friction, heat, and wear on the brushes that will eventually need replacement. Brushless motors are electronically-commutated. This eliminates that wear and tear and results in longer motor life. But that's not all; brushless motors allow smart electronics – that is, communication between the motor and battery that maximizes performance and protects against damaging thermal overload.
Companies like Milwaukee Tool have innovated around these smart electronics to create even more impressive functionality like Milwaukee One-Key. This works as an app-based tool control and fleet management technology. Brushless motors are also lighter but—as you may have suspected with all these advantages—more expensive.
Pro Pick: A brushless motor is best, but you can still find some solid tools that use brushed motors
Pro Level Drills: Size and Power
Technology often creates format wars that, in retrospect, result in oddball product offerings. Eventually, the consumers and manufacturers settle on some sort of standard—think VHS and Betamax or Blu-Ray vs DVD. There's a hint of that in lithium-ion nominal voltages that manufacturers have offered in 6, 9.6, 14.4, and other assorted levels over the years. But by-and-large, you'll find 12V and 18V cordless tools now. DeWalt, in what might have been a stroke of genius, confused the marketplace for a while with its 20V Max line of tools, but 20V Max and 18V are the same.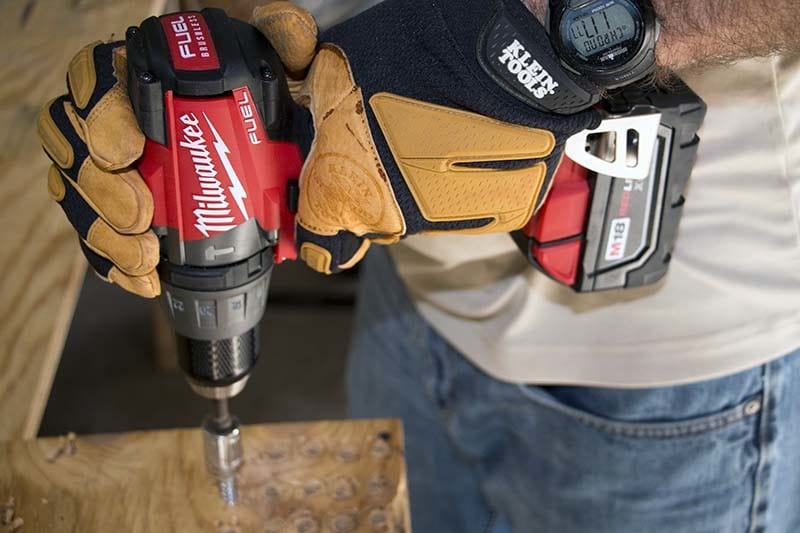 Generally, the size of the chuck moves higher with the battery's voltage (and price!). You've likely seen drills advertised as a 3/8-inch or a 1/2-inch. This refers to the chuck size or the bits shank diameter that the drill will accept. More often than not, you'll see 3/8-inch 12Vs and 1/2-inch 18Vs.
So how about 12V vs 18V tools? Good question! We wrestled with that question in-depth. Unless you're in production work, chances are you can perform 80–90% of your job (and tasks around the house) with a 12V tool. They are lighter, charge faster (at least for now), smaller, and less expensive. However, you'll still run into tough or stubborn jobs that require 18V muscle.
Pro Pick: Start with a 1/2-inch 18V drill. Later, supplement with a 12V model if it lightens the load and your budget allows.
Looking for that Pro Level Drill Speed and Control
Some smaller or less expensive drills have just one speed. Many drills, however, include both a Low and High RPM gear switch. Top speeds range from around 300 to 2000 RPM or more. On drills and hammer drills, lower speeds deliver higher torque. Higher speeds produce less torque. The choice, of course, depends on the material being drilled or the fastener being used.
Two speeds will suffice for most users. You'll find a few drills with three speeds. That second speed really fills a nice gap and delivers faster drilling in harder materials. Once in a great while, you'll even run across a 4-speed drill like the Hilti SF 10W A22 which provides lots of control for nuanced work. However, even our diminutive 12V single-speed Ryobi has a variable speed trigger (as do larger 18V tools). You typically find more variability and control than first meets the eye.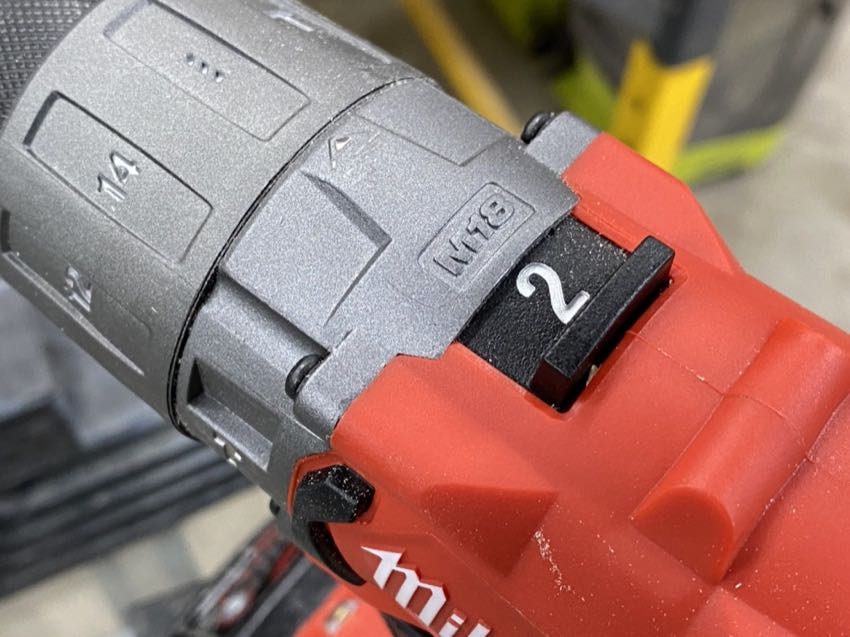 Pro Pick: Make sure your drill has at least 2 speeds and hits 1800 RPM for it to sit at what we call a "Pro" level.
High Torque for Difficult Applications
So how much torque do you really need? Some drills go as high as 1200 in-lbs and others fall in the low 300's. There are several classes from 12V to 18V compact and 18V heavy-duty. Generally speaking, as you move up that line you get more torque along with increased size.
Pro Pick: For heavy-duty drills, get at least 750 in. lbs. of torque. If you can only afford one drill at the moment, it'll tackle most of your applications without any issue.
Have you ever rounded out the head of a screw when the driver bit you were using left its seat and caused damage? Or have you ever driven a screw below the material's surface when you just wanted it flush? Even better: has the screw head ever snapped off during the drive? If so, you have first-hand experience with excessive torque. It ain't pretty. You want just enough torque to complete the task without doing any damage.
Those numbers that encircle a drill's chuck represent your drill clutch settings which modulate torque. The lower the number, the lower the torque. For fine work or soft (cheap) fasteners that easily deform, low torque is best. For denser materials that the bit will need to dig deep to bore into, high torque works best.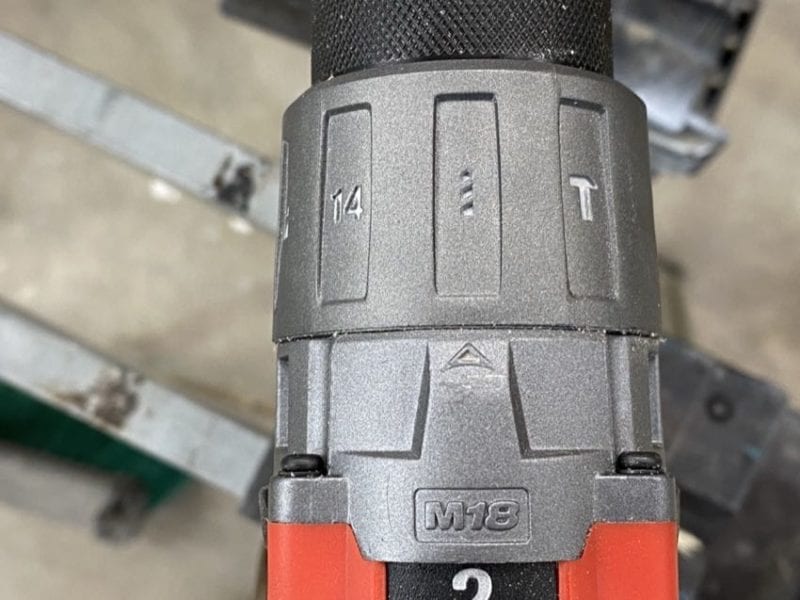 Pro Pick: Make sure you get a drill with adequate clutch settings.
Active Torque Control for Bind-Ups
Now, in a discussion about torque, we'd be remiss if we didn't mention a standout safety feature showing up in some of the most powerful drills: Active Torque Control, or ATC. It works in two ways. First, it protects the user's hands, elbows, shoulders in a bind-up situation where the bit stops and the drill wrenches violently. Second, it stops the drill's motor even if it has slowly moved about 135° from its starting point. We're seeing more manufacturers (Bosch, Hilti, Kobalt Tools, Flex, and others) adding this to their top-end drills and hammer drills. Be on the lookout for torque control mechanisms as you shop.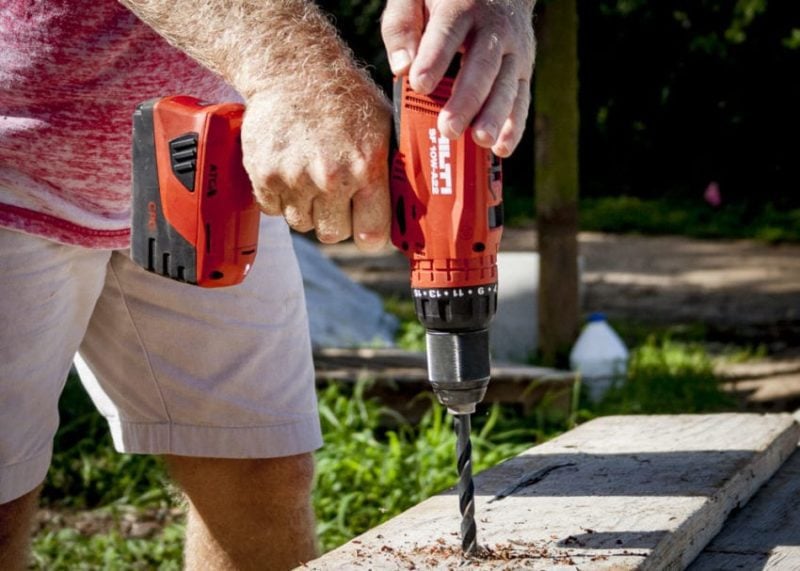 Pro Pick: ATC is great on heavy-duty drills, but it's not on every drill in the industry yet. This one is optional… at the moment.
Other Feature Considerations
Some features have become standard and we might not even need to point them out – but we will anyway! Ratcheting keyless chucks are one of those things. Although being able to tighten a drill or driver bit into the chuck simply by putting the drill in forward, holding the chuck, and pulling the trigger is convenient, we're a little sad that young people today will never have the joy of searching for a chuck key or getting some skin caught in the chuck and key gears.
However, drill chucks still come in both plastic and metal. Plastic chucks seem to hold as tight as the metal ones, but they mar more easily when they rub against objects in tight spaces. We prefer-all metal ratcheting chucks that really lock in the bits so they don't fall out.
Pro Pick: Look for a keyless metal chuck. Seriously. If your drill includes a plastic chuck, it's simply not a Pro model.
LED Work Lights Have Become Standard
A work light now seems almost standard. It can make a world of difference to have a flashlight each time you pull the trigger. We've also used them to find small screws we've dropped in the dark or to illuminate our toolboxes when they might not be organized well enough!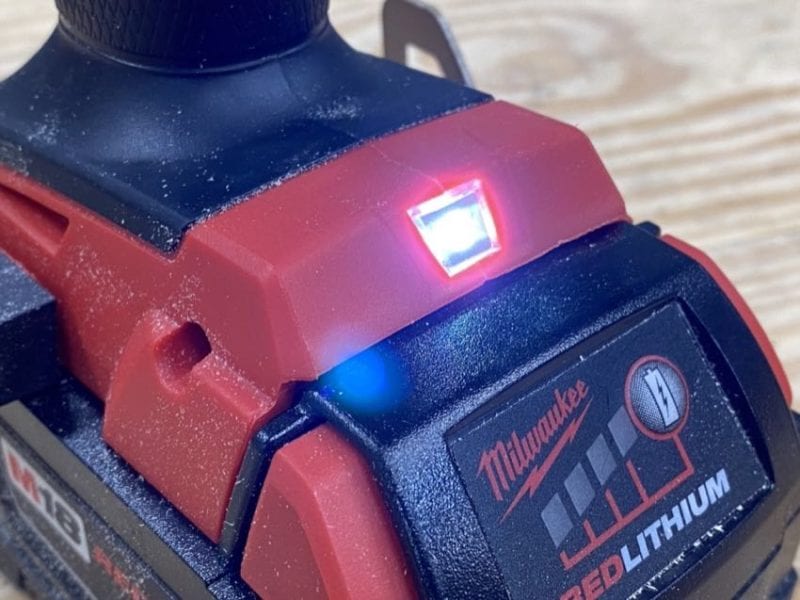 Pro Pick: Your drill needs an LED light, and most feature one. We favor the designs where the LEDs surround the chuck.
When it comes to the hammer drill vs drill question, figure out what you need the tool to accomplish. A hammer function can come in handy for masonry work. If you anticipate drilling into block, brick, or stone, consider a drill with a hammer function. Hammer drills use a different mechanism than masonry-focused rotary hammers, but for occasional, light-duty masonry drilling, the hammer drill is just fine. You might even consider an auxiliary t-handle to give you stability and control. This is a premium feature that will bump up the price, though.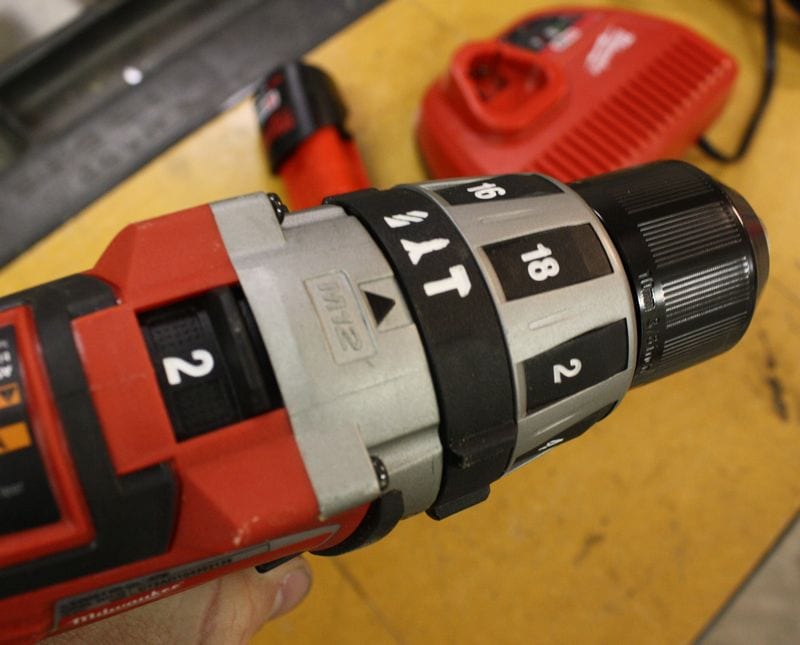 Pro Pick: A hammering function is optional for the Pro. Masonry drilling is best left to a rotary hammer, but a hammer drill can be handy in occasional light-duty applications. Given the minor cost increase and how much more efficiently these tools manage size, we recommend opting for the hammer drill.
Rubberized Overmold and Great Ergonomics
We like drills that have rubberized overmold in the areas that touch the ground when the tool's laying down. These "bumpers" will protect the tool body plastic and extend its life. Make sure it has a comfortable, secure feeling in the hand. We particularly like Ridgid's Hex Grip.
Pro Pick: Your drill needs a rubber overmold on the handle for security and around vulnerable parts of the drill in case you drop it.
Ready to Buy?
Think you now know what to look for in a Pro level drill? We hope this helps you have a better idea of what to look for on a Pro level drill. Like just about any other product, there are some entry-level features you'll want at entry-level prices, but you should also consider the premium features even if it means spending a little more. Keep in mind that you won't make your drill decision in a vacuum. Adopting a battery platform is a little like getting married – you get the whole family, too!