Shopping for work boots might be one of the most frustrating aspects of the job. We've all had the experience of suffering through the life of a pair that felt good in the store only to be garbage on the jobsite. If you're like me, you're not afraid to go buy an extra pair or two once you find some you like. I've been around the block long enough to know they'll change before I'm ready to buy the next pair. Will the new Wolverine Legend DuraShocks CarbonMax 6-Inch Boot send me back to the store for an extra pair? Let's find out.
It's typical to think that comfort and safety must have a give and take relationship. If you want more safety, the equipment will be heavier or more cumbersome. If you want more comfort, the equipment is likely to expose you to more danger. Many construction workers have experienced this trade-off.
As the Assistant to the Director of the non-profit Florida Home Partnership (FHP), I am constantly on my feet and spend much of my time on residential home construction sites. Every time I have to go pick up a new pair of work boots, I'm on the lookout for the best combination of comfort and safety. After trying them on and lacing them up, I hoped the Wolverine Legend DuraShocks CarbonMax Boot would fit the bill.
Editor's Note: Check out our best work boots review article for our favorite products for all applications.
First Impressions
There was plenty of fieldwork ahead of me as I wore the boots every day for several weeks. I needed to get field teams trained up and inspect recently completed work on construction sites. I needed to see if the Wolverine Legend would be a legendary success.
The Wolverine Legend appears to be built very well. Everything on the boot looks tough – even down to the stitching. The Legend is a 6-inch boot with a full-grain leather upper and an aggressive-looking tread. The midsole is chemically bonded to the upper and outsole using a direct attach method. This method is very strong and not likely to come apart like glue-based cement methods.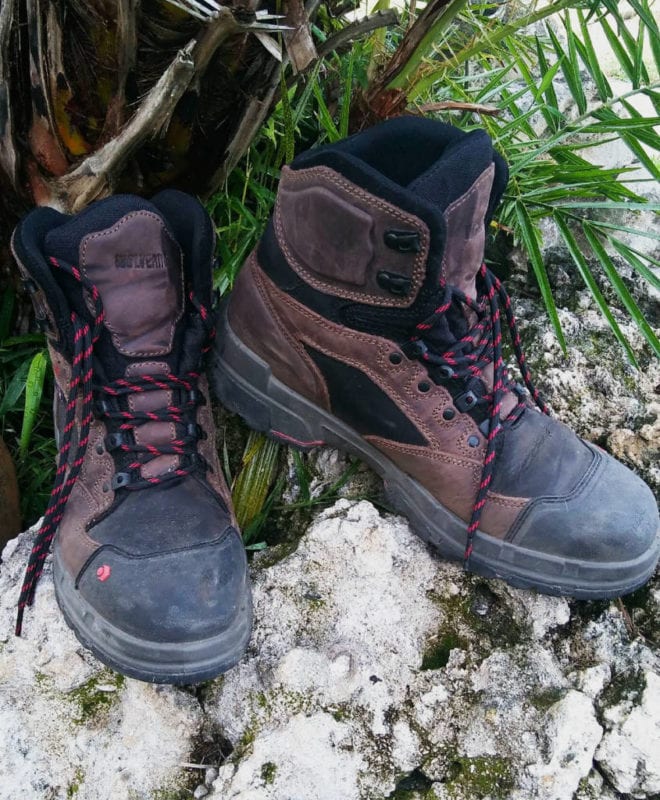 There are some areas of mesh lining for breathability and a moisture-wicking, waterproof membrane is also in place to help keep your feet dry.
A removable cushioned footbed sits above the H-Plate suspension. Lateral stability is something we're seeing more of in work boots. While it's always been a need, providing stability with comfort is a challenging task. Wolverine's goal with their H-Plate is to stabilize the foot over uneven terrain and return energy for the next step. That energy return is right in step with the DuraShocks technology that also aims for the same result as you move.
A carbon composite toe – the CarbonMax nanotechnology – has replaced the steel safety toe, which will save a few ounces in each foot. That may not seem like a lot, but covering distances of up to five miles a day will multiply the fatigue factor. I'll take whatever advantage I can get.
Putting My Foot Down
I laced up the Wolverines and headed to work. The size 10.5 fit me true to size, though I did see several people mention going down a size on the Wolverine website. I had to double-knot the laces because they are so thick. I understand that they might have needed these laces to fit the look of the boot, but I personally prefer a thinner style. This is really just my subjective opinion though.
Not everyone experiences a break-in period, but I certainly did with the Wolverine Legend Durashocks CarbonMax Boot. I was a little concerned because I liked the boots otherwise and everyone likes a perfect out-of-the-box experience. The boots' collars – the very top of the shaft – caused discomfort even though I wore socks long enough to cover the area. However, the break-in period only lasted two days and the material settled in comfortably with the rest of the boots.
As you know, jobsites are covered with uneven ground, sharp objects, and things to trip over. The H-Plate definitely kept my feet stabilized on each site visit. When the boot flexes near the toe, it doesn't pinch or bind at all like it does on boots that allow too much flexibility.
I really like the traction the outsole provides and I didn't have any issues with slippage. Traction and slip resistance are almost taken for granted these days. It's still a safety consideration to pay attention to and a requirement on many sites.
Waterproof can be a misleading term at times, though it seems like to it should be straightforward. The mesh lining has provided excellent breathability. My feet were cool and dry even in the hot Florida summer. The upper and tongue didn't allow water in when it rained or when I walked through wet grass and mud.
The Bottom Line
I did notice reduced foot fatigue over the course of the day. That's likely the sum of the DuraMax, H-Plate, and CarbonMax safety toe technologies as opposed to any on its own. Covering soft, sandy soil and mud to uneven concrete and climbing, the Legend is very comfortable compared to what I normally wear.
After the break-in period, the best part of the Wolverine Legend Durashocks CarbonMax Boot is the all-day comfort. At $175, these boots are a bit pricey for some users, but there's real quality here. While I'd prefer thinner laces and no break-in period, I'm happy to highly recommend these boots to other professionals.
Wolverine Legend Durashocks CarbonMax Boot Manufacturer's Key Features
All-new DuraShocks technology with a fully integrated energy return system to absorb shock and return energy
Wolverine H-Plate suspension that stabilizes while creating four independently responsive quadrants to harness the energy of each step
Wolverine DuraShocks slip-resistant rubber-lug outsole delivers superior grip in varied conditions
Waterproof full-grain leather upper
Waterproof Plus waterproof breathable membrane
Moisture-wicking mesh lining
Removable OrthoLite cushioned footbed
CarbonMax nanotechnology safety toe meets ASTM standard F2413-11 M I/75 C75 EH
Wolverine Legend Durashocks CarbonMax Boot Specifications
Model: Wolverine Legend DuraShocks CarbonMax 6″ Boot
Comfort Technology: DuraShocks
Stability Technology: Wolverine H-Plate
Toe Style: CarbonMax Safety Toe
Waterproof: Yes
Upper Design: Full grain leather
Outsole Design: Rubber lug
Outsole Attachment: Direct attachment
Certifications: Electrical hazard rated ASTM F2412-11 1/75 C/75 EH
MSRP: $175