I admit I was a little jealous when Kenny installed his Husqvarna 115H Automower across the street from my house. My inner sense of justice knows I'm on the road more than him and could really use something like that. So when he suggested I give the Worx Landroid L robotic lawn mower a shot, thoughts of lazy Saturdays kicking back with my wife and watching a robot do the yardwork entered my mind.
Pros
Better price than Husqvarna and Stihl with similar performance
Set it and forget it once you optimize the wire installation
20V power source is easily replaceable when the time comes (uses the same battery as Worx 20V tools)
Includes Find My Landroid GPS with 1 year of cellular coverage
Anti-collision, digital fencing, and specially-designed garage accessories available
Cons
More limited than upgraded models that use GPS mapping
No professional installation available for users that would prefer it
Installation
The Worx Landroid L uses a boundary wire system to find its way around your lawn and back to its charger. You'll need to install the wire fully around the inside and outside boundaries, including any landscaping elements you want to create an island around.
It sounds more complicated than it really is and everything you need comes in the kit. The mower itself doesn't create a lot of lift like a standard gas mower or battery-powered mower, so you can run the wire right on top of your grass. Clips in the kit push the wire tight to the ground and your grass will grow over it before long.
If you're really concerned about the wire on the surface, you can bury it up to 2″ deep.
Installation Expectations
The entire installation process takes around 4 hours or so, depending on the size of your lawn and how well-developed your plan is. In general, this is what it looks like:
Set up the base on a flat surface
I set mine in the backyard with pretty close access to power even though the included power cord is 32′ long. The mower needs 32″ of clearance to enter the charging base and 12″ to leave it.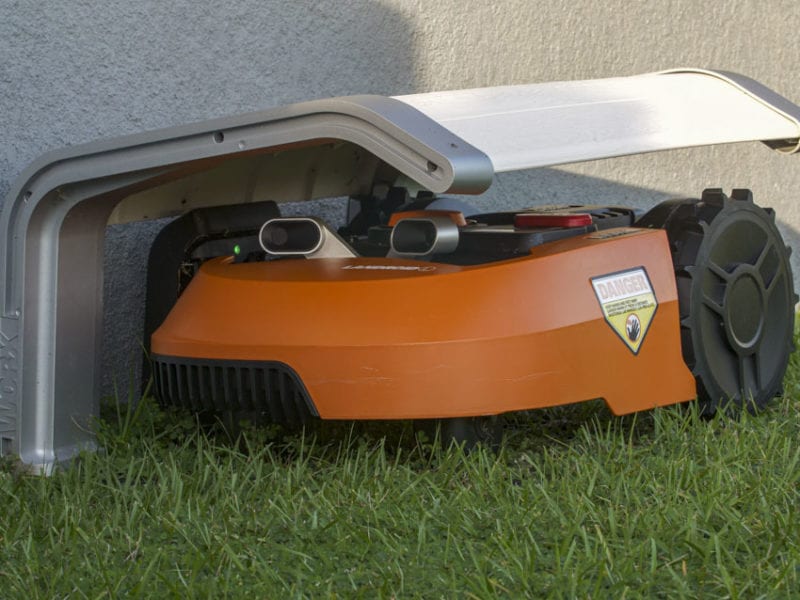 Install the wire
For areas close to boundaries that raise up like walls and steps, you need to install the wire 10.2″ from the edge. You can use 4″ clearance on areas that are okay for the mower to drive over. Since there's no blade lift, you can let it run over the edge of mulched beds. Push a clip down every 32″ and on corners.
Get the mower charging
Two contacts on the charging base need to touch the matching ones on the mower. Once they do, it charges automatically. The Worx Landroid L uses the same 20V batteries as their power tools and you can always swap a fresh one in if you want to.
Set the cutting height
There's a dial on top of the mower to set your height from 1.6″ to 3.9″, so you have a good range to cover most types of grass.
Set up the app
You could write an entire review just on the app. For now, let's just stick with that it's pretty user-friendly if you're comfortable navigating a smartphone. Here, you'll set mowing zones, you can map out your lawn, set your mowing schedule, and much more.
Kick back and watch the Worx Landroid L work
Okay, not really. You need to watch the mower as it works around your yard and see if there are any issues or obstacles you didn't anticipate. Once you're confident the mower can work all the way around the boundaries, then you can kick back and relax.
Some user manuals and quick start guides are garbage, but I was able to use Worx' to get my install done without having to call Kenny over for a consultation (although he did help me with setting a layout plan).
Key Features
GPS-Enabled
Most entry-level robotic mowers don't include GPS, but Worx does right now. While it doesn't help map out your lawn for the most efficient pattern, it does help by keeping track of where the mower. Here are a few highlights:
Connects via cellular data (1 year included)
Provides real-time notifications and status updates
Notifies you if the mower leaves the mowing area
Allows for remote locking if the mower is stolen
More Optional Add-Ons
ACS Anti-Collision System ($249): This accessory (included in our test model) uses an ultrasonic signal to detect and avoid objects before the mower bumps into them.
Landroid Garage ($129.99): Even though a little rain won't destroy your mower, you'll get the longest life from it if you protect it when possible.
Digital Fencing ($129.99): This genius system relies on magnetic barriers to section off areas you don't want to mow without having to bring your boundary wire in to create an island. It's easy enough to install and remove that it's perfect for temporary boundaries, too.
Narrow Corridor Friendly
If you have a narrow space your mower needs to go through, you can make it happen. Since you set mowing zones based on the distance from the charger, the mower follows the boundary wire the distance you tell it to. Just set a zone on the other side of your narrow corridor and the mower will get there.
Cut To Edge
With proper installation, your Worx Landroid L can cut as close as 2″ from any border.
Using the Worx Landroid L in the Real World
One of the big talking points on any robotic mower is whether or not it works. The short answer is that the Worx Landroid L works exactly the way it's designed to. Whether or not it's right for your yard depends on its limitations.
Run Vs Charge
As long as you give the mower enough mowing time, it's going to give you a lawn that looks freshly cut every day. You won't get those nice mower wheel lines, though. With a brand-new 4.0Ah battery, I'm getting about 2 hours of runtime and it needs right at 1 hour, 30 minutes to recharge. So if you want 8 hours of actual cutting, plan on scheduling it for a 14-hour day.
Cutting Power
Ideally, the mower's razor blade-style blades are going to just tick off 1/4″–1/2″ of grass at a time, but it's more powerful than it looks. I had several Podocarpus clippings started that were roughly 1/4″ thick. Our little robot had no problem running one over and promptly cutting it off at the base.
Anti-Collision System
The ACS system does a fantastic job of avoiding obstacles in our yard. The system turns it off in low power mode or anytime it receives a return home command. Since the mower follows the boundary wire to and from the charging station, ACS can't help it work around an obstacle and reacquire the wire. So if you have objects like garbage cans outside, you need to run your boundary wire around them.
This limitation is the same when it's in Cut to Edge mode and needs to follow the boundary wire.
Unfriendly Terrain
As far as the terrain goes, we have had no issues. Florida is pretty flat and our yard is no exception. However, I ran my boundary wire pretty close to the street and having to work with a wheel on the sloped curb isn't an issue, nor is the dip in and out of our water meter box.
If you have a more elevation diverse lawn, you can expect the Landroid's dual brushless motor and aggressive tread to handle slopes up to 35%.
Set it and Forget it
Once you understand the limitations the system has, the Worx Landroid L really is a set it and forget it robotic lawn mower. You still need to take care of some string trimming and edging. With the mower taking care of the brunt of the work, you can get your basic lawn care done during halftime and be back in the living room for the second-half kickoff.
WORX WR150 vs WR155
WORX updated its line of Landroid robotic lawn mowers with some new features. The best way to cover them might be to show you the difference between the Worx Landroid WR155 vs the WR150 robotic mower we tested. Among the features, notice the larger battery, LCD control panel, and the fact that you can hose down the undercarriage of the newer models. We also like the blade height system which automatically lifts the blades to give the Landroid more clearance. This helps the robotic lawn mower avoid certain situations that would block other mowers.
| | WR150 | WR155 |
| --- | --- | --- |
| Battery | 4.0 Ah | 6.0 Ah |
| Control Panel | LED | LCD |
| Bluetooth Connectivity | No | Yes |
| WiFi Connectivity | Yes | Yes |
| Auto Blade Height System | No | Yes |
| Hose-friendly Undercarriage | No | Yes |
| Price | $1199 | $1399 |
Price
The Worx Landroid is one of the most budget-friendly robotic lawn mowers available. The 1/4-acre version starts at $999.99 and the 1/2-acre version starts at $1199.99. Right now, both versions come with the GPS unit as a bonus.
For our testing, we added the ACS sensor, bringing the total price to $1449.99. Kenny previously declared Husqvarna's $1599 115H Automower the best value in robotic mowers right now, but I think the Worx Landroid L deserves some consideration as well. The big difference is that Husqvarna includes professional installation with theirs. If you're willing to do the work yourself (it really isn't that difficult), you can get some extra bells and whistles or just save a few hundred dollars with Worx.
The Bottom Line
I'm impressed with the performance I'm getting from the Worx Landroid L robotic lawn mower. Its user-friendly installation takes a morning or afternoon—a small price to pay for the hundreds of dollars you'll save over entry-level models from brands like Husqvarna or Stihl.
There are models for lawns up to 1/4-acre or 1/2-acre and those recommendations are solid. You need an intermediate level of technical skill to do the installation and set the operations via the app. If you're pretty comfortable finding a way around a smartphone, you can handle this.
Worx Landroid L Specifications
Model: Worx WR155 (similar WR150 tested)
Power Source: Worx 20V battery (4.0Ah included)
Charge Time: 90 minutes
Cutting Area: Up to 1/2 an acre
Cutting Width: 9″
Height Range: 1.6″–3.9″
Noise Level: 63 dB
Max incline: 20°
Weight: 22.9 lbs
Dimensions: 25 x 17.5 x 8.86 in.
Warranty: 3 years
Price: $1399.99
Check it out for yourself at Worx' website.
Code Embed: Cannot use CODE1 as a global code as it is being used to store 1877 unique pieces of code in 3387 posts