Time for another screwdriver review! Before you ask what can possibly be different about these Wurth Zebra screwdrivers and set, keep in mind two things. One, there are some styles that reach out ahead of the rest of the pack. Are you really telling me you don't pick up every new screwdriver you see just to feel it in your hands, or am I the only one who does that?
I thought not. So let's see what Wurth Zebra 3K screwdrivers are all about.
Before we go any further, let's figure out this whole "Zebra" thing. I get Gorilla or Lion or Tiger, but Zebra seems to be out in left field munching on the Bermuda grass. According to Wurth, a product achieves Zebra status by meeting their expectations for "extreme perfection".
"For only those products of premium quality with clever problem solving solutions, perfect ergonomics, optimized performance, top efficiency, functionality and service life are given the coveted Zebra stripes."

Wurth Hand Tools Catalogue, 2017
With that kind of criteria, Zebra might just be my new favorite animal… if it lives up to the hype.
Wurth Zebra Screwdrivers Handle Design
The physical design of the handle promotes a natural grip that is easy to use for precision turning and to bear down on for more stubborn screws. The 3K handle uses three separate components to secure it to the full tang shaft, offer a secure grip, and provide a zone with give in it to promote power transmission.
The endcap is steel because sooner or later, someone is going hit the back of that screwdriver with a hammer or bang it against a hard surface.
If a handle can sell a screwdriver, stop reading and go ahead and order a Wurth screwdriver set. These are without a doubt the most comfortable screwdrivers I've used.
Shaft
On the shaft, you'll see a wrench assist at the top of the handle. While not unique to Wurth, these are very handy to have when your hand strength alone isn't enough to budge a screw. The only downside here is that the hex portions of each shaft aren't the same size same as you move up in shaft diameter. You'll need to have several sizes of wrench available to assist, but that's something you likely already carry anyway.
The shafts are nickel plated to help reduce corrosion.
An Interesting Tip Design
The tips of each Wurth screwdriver are very precise. Of course, the precision of the tip is only as good as the precision of your fasteners, but it's nice to know at least one of them is about as perfect as you can hope for.
In this set, the Phillips head screwdrivers have magnetic tips and the slotted head drivers do not. I'm not disappointed by this move – slotted screws don't stay in place on the tip of a magnetic screwdriver, so I don't feel like I'm missing much there.
Each tip style is printed on the side of the handle. I prefer this to be on the end cap so I can see it when my screwdrivers are stored in my tool bag and I wonder how long the printing will last over time.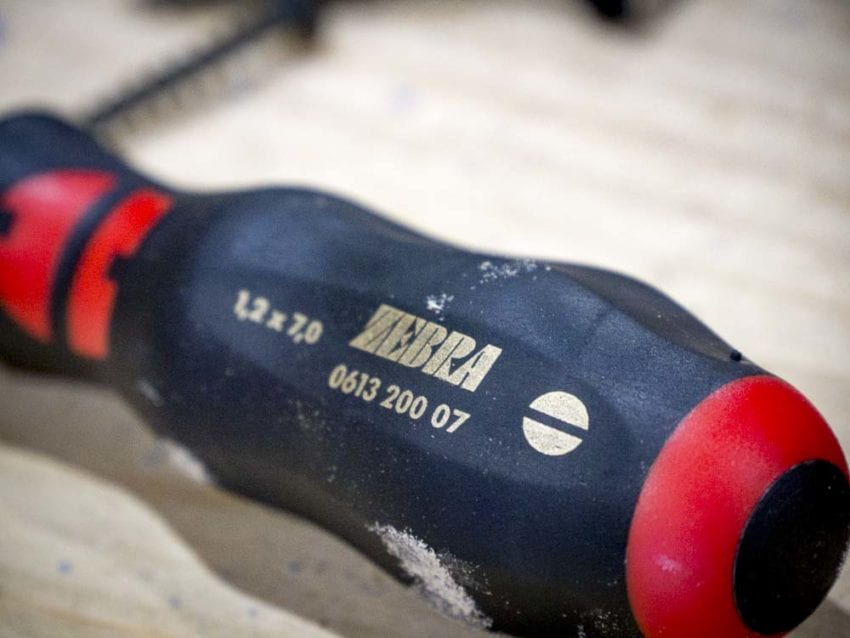 Wurth Zebra Screwdrivers Price and Value
High precision and comfort along with a full feature set mean these premium screwdrivers will have a premium price. At around ~$65 for the set of 5 (06139015), these aren't your bargain basement drivers. As it stands, this Wurth screwdriver set is a few dollars more than you pay for Klein and a little less than you pay from SK Hand Tools.
Wurth USA runs promotions so be sure to check to see if this product is on special!
The Bottom Line
The quality of Wurth Zebra 3K screwdrivers is exceptional with outstanding comfort. The only hangup may be the price, but it might just be a luxury worth pulling the trigger on.
Wurth Screwdriver Key Features
Flexible 3-component handle ensures perfect ergonomics, power transmission and working comfort
Quality strengthed steel impact cap designed to fit in the palm of your hand
Ergonomic shaped handle for a secure hold and fatigue-free use
Quick-spinning zone design that allows spinning with the thumb and index finger
Hexagon blade with wrench nut design for higher torque transfer
Nickel-plated blade with corrosion protection
Bi-metal black point tip for improved torque and power transmission
Wurth color coding system (Phillips head only)
Screw tip symbol printed on handle end for quick identification