Can the Makita Compact Keep Up With The Rest of the Makita Lineup?
In case you just happened to land on this page from a Google search. Pro Tool Reviews tested over 50 drills in our recent Best Cordless Drill Shootout. We looked at nearly every 18V and 12V drill on the market, including heavy-duty, DIY, and compact models. The Makita XPH12 compact hammer drill and Makita XFD12 compact drill both fall into the Compact category and entered the competition alongside 5 other Makita models. If anything, it speaks to the breadth of products Makita has in the drill category.
Shootout Results
Makita has had better showings during our shootout but this compact hammer drill and drill performed towards the middle of the Compact group. It had average drilling and driving speeds, and we saw a bit more torque from other compact drills. Contrast that with the Makita XDT16 Impact Driver, whose compact frame still packs class-leading speed, power, and features. In all of the categories that we tested, the 18V Makita Compact Hammer Drill kind of kept to the middle of the pack. It's got the goods to get the job done, and the build quality is great, but it probably won't be finishing the job with any flair.
Overall 18V Compact Hammer Drill Ranking: 7th Place
Features
The Makita compact hammer drill and compact drill both feature a brushless motor and an all-metal 2-speed gearbox that can be toggled via a mechanical switch. We prefer this decision over Makita's on-again-off-again love affair with blister buttons. Those tend to crack and break over time.
It also comes with a metal belt hook, a keyless 1/2″ chuck, and an LED work light that sits right under the chuck.
Performance
For performance, we look at a tool's speed under load, as well as how much torque it can generate. For more information about how we tested for these measurements, check out our Best Drill Head to Head Review.
In our soft torque test, the Makita XPH12 generated an average 126.4 in-lbs of torque, which was a 6th place finish in our shootout. Incidentally, when we test a tool that blows us away with its torque, more often than not, it's a bit on the heavy side. This one didn't really do either of those things. It weighs just 3.61 lbs with the battery, which was the 4th lightest compact hammer drill we tested.
We used a 3/4-inch auger bit to test drilling speed and checked the Makita's average RPM under load. It finished in a respectable third place here with 1347 RPM. We also learned that it operated at about 66% of its no-load speed. This isn't terribly efficient, so expect the motor to slow down considerably if you go bigger.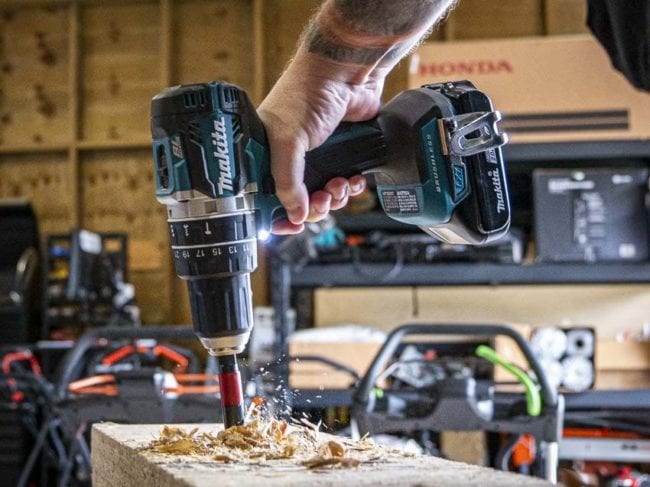 More Drilling
Next, we inserted a 1-1/2 inch self-feed bit to the Makita XPH12 compact hammer drill and drove it into our layered 5-ply OSB rig. It maintained an average of 330 RPM—a last-place finish for the category. Even more disappointing, the XPH12 displayed a 62% efficiency rate. We still had our concrete test on the docket.
Finally, we hooked up a 1/4-inch concrete bit. Driving it 3-inches into our cured 4000 psi concrete rig, it averaged 7.76 seconds per hole. This earned a fourth-place finish, with the winner finishing in 5.92 seconds. For reference, the last place tool finished the hole with an average of 9.48 seconds.
For anyone who likes the performance and value of this tool, but doesn't need the hammering function, look for the Makita XFD12 compact drill. You can find the kit online for $154.49.
Recommendation
If you're on the Makita 18V platform already, and you feel like a compact hammer drill could fill a void in your life, the XPH12 Makita compact hammer drill will do the work. It maintains the solid build quality that we've come to expect. It's not crazy heavy, and we've certainly met bigger compact tools. However, we've also met more compact tools that offer more speed and torque.
If you're already on another 18V platform, this tool likely won't make you switch teams. The thing is, the Makita platform is, by and large, pretty great. Makita certainly has tools in the line that have the performance and runtime to motivate a switch. Given our shootout results, the Makita XFD12 compact drill and Makita XPH12 compact hammer drill remain tools that will mostly appeal to existing Teal fans.
Makita Compact Drill and Hammer Drill Specs
Makita XFD12 Compact Drill
Steel Capacity: 1/2″
Wood Capacity: 1-1/2″
No Load Speed: 0-500 / 0-2,000 RPM
Max Torque: 530 in-lbs
Length: 6-3/4″
Weight: 3.9 lbs
MSRP: $285.76
Shop Amazon
Makita XPH12 Compact Hammer Drill
Steel Capacity: 1/2″
Wood Capacity: 1-1/2″
Masonry Capacity: 1/2″
No-Load Speed: 0-500 / 0-2,000 RPM
Blows per Minute: 0-7,500 / 0-30,000 BPM
Max Torque: 530 in-lbs.
Length: 7-1/8″
Net Weight (with Battery): 4 lbs
LED Light: Yes
MSRP: $209.99