Ariat WorkHog XT BOA Work Boots Meld Cowboy-styling with Modern Tech
When you're constantly searching for the best work boots you tend to pay attention to anything out of the ordinary. When our managing editor approached me about trying out the Ariat WorkHog XT BOA Work Boots. Wait…cowboy-style work boots with a BOA Fit System? I couldn't say no. I wanted to know if that would make give Ariat WorkHog XT boots more adjustability without getting in the way.
Pros
Super-comfortable heel
BOA Fit System lets you control the snugness
Excellent arch support
True-to-size fit
Hybrid "cowboy boot" look
Goodyear welt construction
Cons
Requires boot-cut jeans or work pants
Ariat WorkHog XT BOA Work Boots Overall Design
I've always appreciated traditional cowboy boots for their inherent comfort and design. Merging that design into a work boot intrigues me. While several different bootmakers do this. Ariat has a long history of making high-quality western boots. Naturally, a company that goes from those roots toward a work boot stands to overshadow those companies which don't have a lot of experience making western-style footwear.
As a soft-toe boot, the Ariat WorkHog XT BOA Work Boots get you really close to the look of a square-toe western boot. They then add lots of features to help you stay comfortable regardless of what the jobsite tosses your way.
Build Quality
To address build quality on this boot we need to look outside and inside. Starting at the bottom you get a Goodyear welt construction. We prefer this for its excellent durability, water resistance, and longevity. It may require some breaking, but it holds up much better than cement construction. You can find the latter on a lot of mainstream work boots.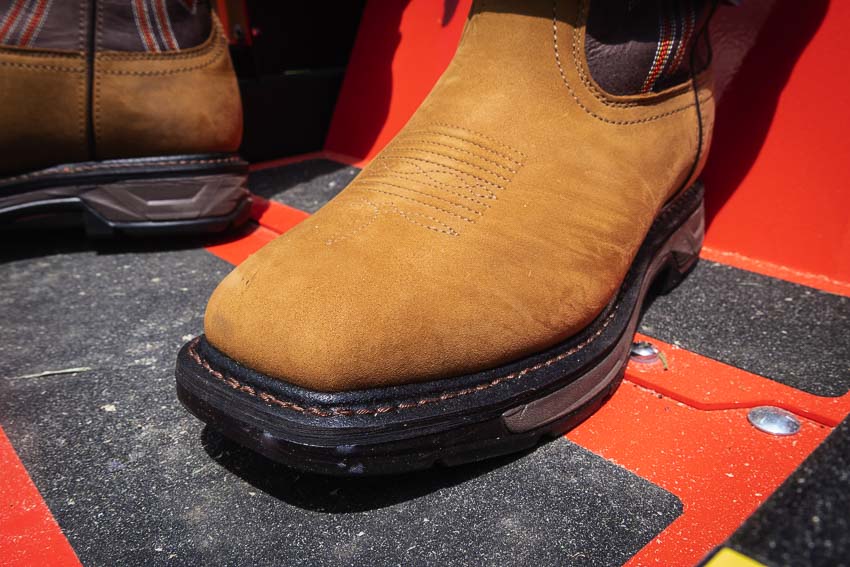 The ATS Max system combines roughly 8 layers—perhaps more—to deliver a truly comfortable experience. Under your feet, you have a moisture-wicking layer with Agion antimicrobial technology to reduce odor build-up. A gel-cushioned footbed comes next and softens the impact of your foot during each step.
A Smart Rebound layer dissipates pressure in the forefoot and further cushions the heel. For stability, Ariat employs a forked shank. All of this sits atop a flexible Duratread outsole that resists acids and oils. It also has just the right amount of grip, so you don't slide around on dusty concrete.
With no toe cap, this boot maintains a more traditional look that we really like. As a soft-toe boot, it also doesn't create that overly large squared-off boxy look many steel-toe boots in this style have.
The sides of the boot use full-grain leather and feature a six-row stitch pattern for the design. You can get these boots in any color you want—provided you want Aged Bark. If you can only have one color, this one's not bad!
Additional Design Features
Waterproof PRO construction with an impermeable barrier
Mesh lining
Removable Energy Max anti-fatigue insole
90° heel
Certifications
ASTM F2892-18 EH (electrical hazard) rated
Comfort
I typically wear a wedge boot like the Keen Utility Cincinnati. The greater surface contact area spreads out your weight and gives you lots of cushion. This helps a bunch when working on hard surfaces—we're talking to you, warehouse workers!
The multiple layers that make up the Ariat ATS Max system really make this a comfortable boot to wear. The heel almost feels like you sink into it a little when you walk. The Ariat WorkHog XT BOA work boots also nail the arch support.
I wore these boots over a period of several weeks. I kept coming back to just how well they fit my feet regardless of what I was doing. Standing in the shop, running a mower, or driving—they simply felt comfortable all the time.
Adjusting the BOA Fit System
The BOA Fit System gives you just one more way to dial in the fit. With it, you can tighten the area right above your midfoot area. As this is where most of your foot tendons fall, it helps to get this right—and not too tight. I found myself just slightly adjusting the BOA Fit System after slipping my foot into the boot. After a while, I determined that I needed just a single 360-degree turn to get a comfortable fit. Pulling the BOA dial out releases it immediately.
If you want to mess with the insole, the removable Energy Max anti-fatigue insole lets you customize the boot further.
Fit
I wear a size 9.5 in both work boots and shoes. Ariat stocks these boots in sizes ranging from 7-15 in both D and EE widths. That should cover a lot of people.
The Ariat WorkHog XT BOA work boots run true to size so they should be easy to order. Stick with the size you normally wear, and you should do well.
Ariat WorkHog XT BOA Work Boots Pricing
Given the Goodyear welt construction, attention to detail, and excellent design, the ~$285 retail price presented no surprise. In addition to these soft toe boots, you can get the WorkHog XT BOA line in Carbon Toe, Waterproof Carbon Tie, and a more traditional design with carbon toe and rubberized toe cap.
The Bottom Line
Ariat has a history of making excellent footwear—from cowboy boots to traditional work boots and even casual wear. The cowboy boot style and BOA Fit System technology stand out among the competition. If you like western wear boots but need durability for a workplace environment, we highly suggest giving these a try.