Everyone wants a job they love. Glassdoor.com, a job and recruiting site, released its annual top 100 employers list. The research uses employee feedback to determine the top companies to work for. Since the list included more than just construction- and tool-related companies we ran our own search. We wanted to know the best places to work in construction and related industries for 2021. All of the companies below fall into the realm of construction—everything from home builders to tool manufacturers.
We're not entirely sure why Pro Tool Reviews didn't wind up at the #1 spot. This especially irks us considering the results are based on employee feedback. Oh well, maybe next year…
The Best Places to Work in Construction for 2021
Power Home Remodeling
Power Homes Remodeling has been on Glassdoor's Top 100 List for the last five years running, as well as the Top 100 CEOs from 2015 to 2019. They even finished in the Top 100 Places to Interview in 2017. Suffice to say that, if you're a construction-minded person who finds himself in the job pool this year, Power Homes Remodeling has offices set up across the country and is one of the best places to work in construction going into 2020.
Company quote: We are a company dedicated to improvement, for our customers and ourselves. Within Power's positive and driven environment, you can build character, become a leader, and develop into the best person you can be. With the support of your fellow employees and belief in yourself, the American Dream of job, home, and family is within your grasp.
Turner Construction
Turner is a North America-based, international construction services company. They are a leading builder in diverse market segments. The company has earned recognition for undertaking large, complex projects, fostering innovation, embracing emerging technologies, and making a difference for their clients, employees, and community.
Fluor
Fluor Corporation is a global engineering, procurement, construction (EPC), and maintenance company that designs, builds, and maintains capital-efficient facilities for its clients on six continents. Since 1890, Fluor has delivered innovative and integrated solutions across the globe. With headquarters in Irving, Texas, Fluor ranks No. 181 on the FORTUNE 500 list with revenue of $14.3 billion in 2019.
Power Design
With more than 1,000 completed projects, Power Design is one of the nation's leading electrical contractors and a one-stop-shop for all things in the multi-family market. They are also one of the nation's Top Workplaces, as recognized by Inc. and Fortune magazines.
Company Quote: We are contractors who think like engineers, and engineers who think like contractors. [We are] looking for talent to help fuel this family-run business into the future on the unbending commitment to provide quality service and loyalty to our customers and Power Design family.
Taylor Morrison
Taylor Morrison, also know in some regions as Darling Homes, is a leading national homebuilder and developer based out of Scottsdale, AZ. Through the development and nurturing of the Taylor Morrison team members, the company encourages employees to operate as if the financial success and ethical foundations of the company rest on their shoulders.
The end result is a company whose employees enjoy building the company up and is the only other builder from Glassdoor's list to make the list as best places to work in construction.
Gensler
This global design firm is grounded in the belief that improving the human experience is the purpose of design, whether that revolves around planning a new urban district or refreshing a retailer's brand. The company aims to create experiences that enrich lives and transform communities.
ABC Supply Company
ABC Supply Company sells exterior and interior products, tools, and related supplies to contractors. With over 700 locations nationwide, it has become the largest wholesale distributor of roofing materials in the US. While this company is well known for what they sell, their employees will tell you that the company also takes pride in recognizing employee talents and equipping personnel with the tools to reach their full potential.
If you're looking for one of the best places to work in construction on the materials sales side, ABC is a family-friendly organization that receives very high praise for the way they treat their employees.
Best Places to Work in Manufacturing for 2021
Cummins
Cummins Inc. is a global power technology leader and a "corporation of complementary business units that design, engineer, manufacture, distribute, and service engines and related technologies…". If you have any interest in working with fuel systems, controls, air handling, filtration, emission solutions, and electrical power generation systems, maybe Cummins is right for you.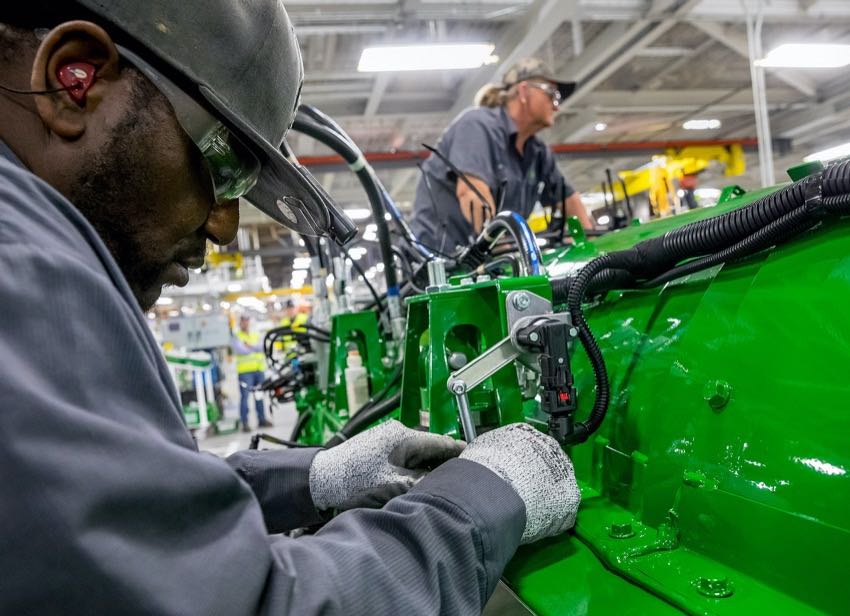 John Deere
John Deere (Deere & Company) provides advanced products, technology, and services for customers whose work is revolutionizing agriculture and construction. That includes those who cultivate, harvest, transform, enrich, and build upon the land to meet the world's increasing need for food, fuel, shelter, and infrastructure.
Milwaukee Tool Electric Corp
This isn't the first time Milwaukee Tool has made Glassdoor's Top 100 list—the brand has been doing it right for a while. They work side-by-side with real users to understand the demands of a constantly evolving workplace. With that being the model, they really appreciate creative and innovative thinking to come up with disruptive innovation in the power tool market.
Pella
Pella doesn't just create doors and windows, they cultivate passion and purpose with their employees. As a privately held company, they strive to benefit their customers, members, partners, and local communities. As of now, this growing company employs over 7,000 people at 14 different manufacturing locations.