While we've already addressed our thoughts about the best professional chainsaw and the best battery chainsaw we're aware some people have their favorites. Stihl remains one of the most popular, and a lot of our Pro reviewers have experience with the brand. Even as we recommend the best Stihl chainsaw it became clear that we have to balance our reviews and opinions with specific applications. What you intend to do with the Stihl chainsaw guides our recommendations as much as the saw itself.
Best Stihl Chainsaw Overall
Stihl MS 261 C-M Chainsaw (the Best Stihl Chainsaw for the Money)
The Stihl MS 261 C-M chainsaw is made in the USA. It mirrors the fuel efficiency and low exhaust features of the MS 261 but adds Stihl's M-Tronic engine management system. This system uses a small computer to monitor and automatically adjust the fuel mix to deal with things like elevation, temperature, fuel quality, and (our favorite) dirty air filters.
We've tested the MS 261 C-M, and it amazingly maintains chains speed even when the air filter is nearly clogged. We don't recommend you run the saw like that on purpose, but it provided a great testimony to the efficiency of the system. This saw is simply a workhorse. With guide bar options anywhere from 16 to 20-inches, you can use it for just about any type of wood-cutting.
You can find this saw on sale for under $700. We really feel it's the best Stihl chainsaw for the money based on the performance and value it delivers.
Best Pro Stihl Chainsaw
Stihl MS 271 Farm Boss Chainsaw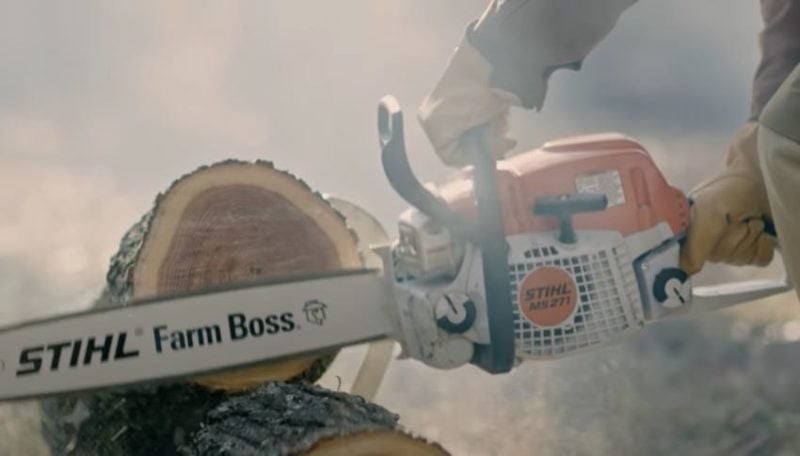 Some people see the words "Farm Boss" and immediately disregard "Pro" status. We feel this is a notable exception. Stihl has done some amazing things with this line over the last several years. The original MS 271 came out in 2011. But it wasn't until Stihl awarded the coveted "BOSS" elevated status to the Stihl MS 271 Farm Boss chainsaw in 2015 that it officially replaced the highly-favored MS 270 chainsaw.
The new MS 271 cut emissions in half while adding a pre-separation air filtration system. That would sound like so much marketing material except for the fact that it added 5X the life to the air filter.
Stihl continues to mess with their air filter systems, creating saws that can run for longer and with less a performance hit—even when the air filter gets significantly clogged up by work. Grab this workhorse of a saw for around $420.
Best Stihl Chainsaw for Homeowners
Stihl MS 250
For homeowners, we can't think of a better saw than the Stihl MS 250 chainsaw. This $350 saw delivers plenty of power, comes with an 18-inch chain, and mixes some Pro features with a saw priced well for homeowners who want a reliable, powerful saw. As an example, the MS 251 CB-E has a tool-free chain tensioner, but we actually prefer the side-access bar wrench adjustments. Similarly, the MS 251 seems to prioritize fuel efficiency—we prioritized a stronger cut with better features.
Best Stihl Battery-Powered Chainsaw
Stihl is one of a few companies that manufacture more than just a couple of battery-powered chainsaws. The company currently has a half dozen different models. Of those, we really like the Stihl MSA 220 C-B for its excellent power and runtime (over 40 minutes with an AP 300 S battery). It also has the ability to accommodate either a 14″ or 16″ bar.
The saw retails for around $419.99 as a bare tool and carries a 2-year commercial or 3-year residential warranty.
Best Stihl Top Handle Chainsaw
Stihl MS 201 TC-M
Released in 2015, the 35.2cc engine on the Stihl MS201 TC-M provides a ton of power for its small size and weight. How light is it? Just over 8 pounds before you add the bar and chain. Stihl added their M-Tronic engine management system that automatically adapts the fuel mix when needed.
This saw runs efficiently and with low emissions. You also benefit from a low vibration design and excellent balance that helps when you're climbing. Everything about this saw feels Pro—from the easy-to-access (and tool-free) gas and oil caps to the translucent tank so you can see when it's time to refuel.
Retail on this saw varies, but expect to see it in the neighborhood of $729 depending on the bar size.
Best Stihl Chainsaw for Cutting Trees or Farm Use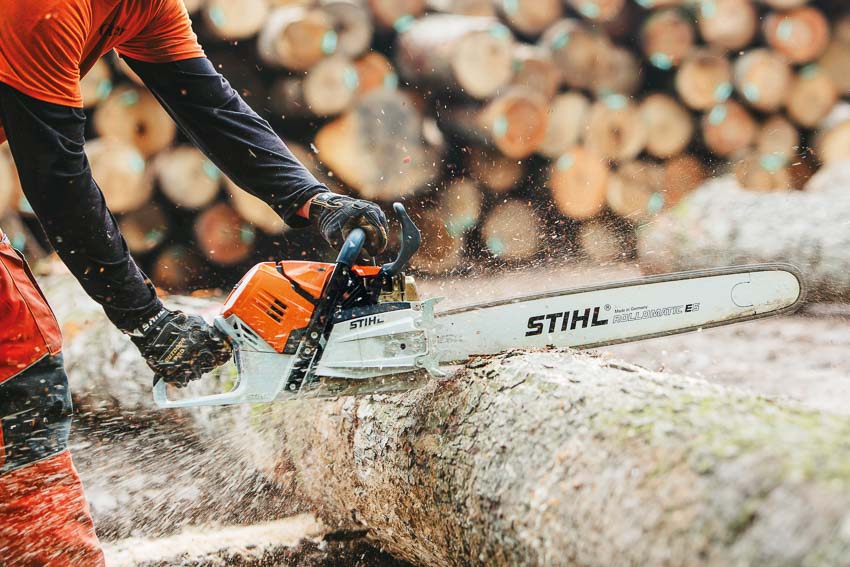 The Stihl MS 500i chainsaw provides a ton of power for cutting trees. Its 79cc (4.83 cu. in.) engine includes the use of an electronic fuel injector. Stihl uses this same technology on their TS 500i 14-inch brushless cut-off saw.
The MS 500i delivers quick acceleration when going through the various tasks associated with cutting trees. How quickly does it ramp up? 0-62mph in a quarter second. That's quick.
Pushing 6.7 bhp and weighing 13.9 lbs. without fuel, the Stihl MS 500i saw also has an excellent power-to-weight ratio. A chainsaw with no choke? We'll take it. Priced at around $1,350, this is a saw you can plan to use for well over a decade if you take care of it.
The Best Stihl Chainsaw for Cutting Firewood
MS 261 C-M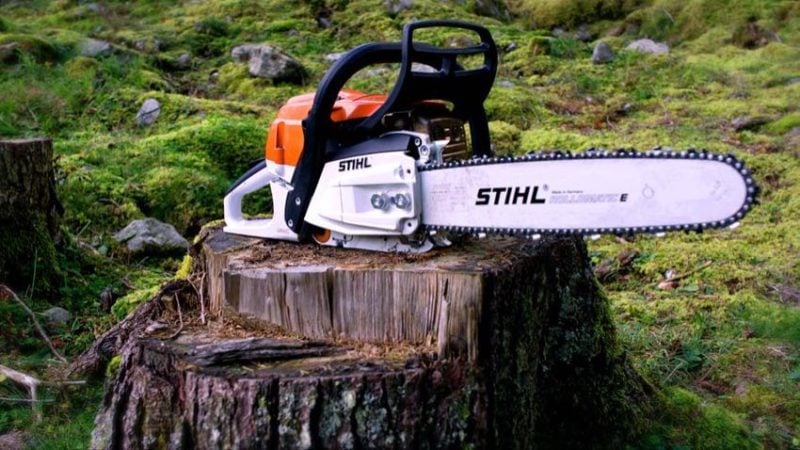 For the best Stihl chainsaw for cutting firewood, we refer back to our recommendation of the Stihl MS 261 C-M. In addition to this saw being our top recommendation overall, its M-Tronic engine management system auto-adjusts the fuel mix to keep the saw running no matter what you're cutting (or where). It also doesn't hurt that this saw is made in the USA.
We tested the MS 261 C-M with purposefully-clogged air filters and almost nothing stops this saw. You can typically pick it up for less than $700.
Best Stihl Chainsaw for Milling
MS 881 Magnum Chainsaw (up to 41″ bar)
Can you find a chainsaw with a larger bar and more power? Sure, but the Stihl MS 881 Magnum chainsaw is currently the largest Stihl offers. It directly replaces the well-regarded MS 880 and reduces emissions. This saw boasts a 121.6cc engine and support for a 41-inch bar. While the MS 880 supported a bar up to 59-inches in length, Stihl no longer seems to offer that as a stock or build-to-order option.
From forestry to logging or milling, this saw brings both power and control. You can grab it for around $2020.
Best Stihl Chainsaw for Carving
Stihl Carving E bar on an MS 194 C-E
Ask various professional and amateur carvers, and you'll quickly find they use a variety of saws for carving. One saw that popped up a lot was the rear handle Stihl MS 194 C-E saw. Pop a 10- or 12-inch Carving E bar on this lightweight saw and you get a good mix of power and control.
Priced around $460, this saw won't exactly break the bank and it provides solid reliability.
Best Stihl Chainsaw Chain
Stihl is the only chainsaw manufacturer that produces its own guide bars and saw chains. They have a guide bar facility in Waiblingen, Germany, and the 83-acre Virginia Beach campus in Virginia (where they make additional products as well). They also manufacture saw chains in Switzerland. Longer Stihl Rollomatic E Super Guide Bars feature an angled oil delivery hole that improves oil flow to the saw chain. All Stihl chains are pre-stretched before they leave the factory.
We can't really recommend a single chain for everyone. You have too many variables depending upon your goals. Stihl has over a dozen different chain types if that's any indication of how many options you have. If you don't know anything, we love the Stihl Rapid Micro Comfort 3 chain. It combines low chatter and reduced kickback with smooth cutting and low vibration. Their Pico Duro chain features carbide-tipped technology and stays sharper longer.
Finally, you can choose one of their Rapid Micro skip-tooth blades if you want more speed and fewer teeth for sharpening. This is our preferred chain for basic tree felling.
Stihl Chainsaw Evaluation Methods
Over years of testing, we've made many thousands of cuts through pine, cedar, oaks, and much more. These range from limbing small branches through felling 3-foot diameter trees, and digging out after hurricanes. We prefer to test chainsaws by crosscutting in green (wet) wood like their chains were designed for, not in dried construction lumber.
Chainsaw Cutting Power
The size of the motor determines a good amount of the power potential of a saw, but hands-on testing really matters. Our recommendations come from either personal use of these saws by our Pros or careful research into professionals giving us feedback on specific uses and experiences.
We also see power helped by smart systems that monitor fuel/oxygen levels and keep saws running strong even when filters get clogged from use. For this reason, some 55cc saws can outperform other brands with larger engines once the work gets underway.
The combination of real-world and controlled scenario cutting really puts a saw through its paces.
Matching Chains to Reduce Bias
When doing head-to-head testing of chainsaws, we match the chains across all saws to ensure we aren't biased by comparing saws using different types of chains. You'll find the same differences in your own use depending upon what type of chain you choose. Chain type affects the speed of cut (perceived power) as well as chip clearing, vibration, and the potential for kickback.
The Best Stihl Chainsaw Features We Look For
Ease of Starting
Stihl chainsaws—with the exception of their battery-powered models—use two-cycle fuel. That means we have to pull-start them. If a Stihl chainsaw starts slowly or requires a drawn-out process to start, we take it to the dealer. For the most part, Pros don't have issues with these saws starting up quickly. For those who need to ramp up and down without missing a beat, however, the Stihl EFI options present a nice solution—albeit one that costs money.
Chain Adjustment
Chainsaw bars need to be adjusted nearly every time you use the saw. A new chain stretches out pretty quickly. You need to snug it up at least a few times as it breaks in.
If your chain gets tight rather suddenly, it usually means the bar is not getting oil. Don't loosen it until you make sure the saw is oiling properly.
Pro Tip: Get into the habit of loosening your chain at the end of the day. Cold weather can cause it to tighten as it cools and damage parts.
Professional chainsaw bars require a screwdriver-wrench combination tool called a scrench. None of our Pro recommendations feature tool-free tensioners—professionals don't like them and neither do we for this type of use. They don't tend to work as well or hold up over the long term.
Don't Lose Your Nuts!
Lost bar nuts are a frequent occurrence during regular use in the field. To prevent this, some saws have the added feature of captive (retained) nuts that won't fall off the saw when you loosen them. Several Stihl and Husqvarna chainsaws feature these while Echo tends to skip this handy feature. We always keep a few screnches in the truck and/or trailer.
Pro Tip: Keep a spare nut on hand as it's not unusual to lose one in the field.
Bars and Chains
Most chainsaw brands don't try to reinvent the wheel by making their own bars and chains. Except for Stihl, that is—who make their own. Other brands typically use an Oregon bar and chain. Most of the chainsaws we test use 3/8″ pitch, 0.050″ gauge chains. Some other saws might opt for "faster" .325-inch pitch chains.
Oiling Systems
Bar and chain oil is the lifeblood of a professional chainsaw. Your saw won't last very long without it. Throughout our testing, most of the saws oiled readily, and we appreciated any saws with features to prevent or limit leaks.
We also checked oil visibility. For the most part, Pros just maintain a regular schedule for oiling. Even the best translucent oil windows quickly get dirty quickly—making it difficult to use them for their intended purpose. This goes double for the ones that look like they were an afterthought—far too small to be practical.
Ease of Filling Matters
Since we add a lot of oil to our Stihl chainsaws, the size of the oil reservoir and the ease of adding new oil matter. It makes a regular task much easier. We don't like having oily fingers, so being able to fill the tank while leaving our work gloves on is our preference. Look for oil caps with lugs that are easy to turn with gloves on and/or flip-up tabs that provide an even better grip.
Spills & More Spills
Another cause of spills in professional chainsaws is an oil tank with a filler neck that is too narrow. Bar and chain oil is thick and tacky. It can pour like molasses in the cold, so it easily "piles up" and overflows in a narrow neck.
While filling most chainsaws proves passable, some designs have a narrow neck or sit at an angle that makes the target even smaller.
Providing another challenge, plastic filters at the inlet of its tank can constrict the diameter. Finally, caps that cross-thread easily can also make the oil-fill process more of a chore.
Tips to Avoid Leaking or Spilling Oil
Here's a tip—only poke a little hole in the foil sealing your quart or gallon oil bottle so you can pour a skinny stream. Or dispense your oil from a syrup bottle that has a tapered, pull-to-open tip. It works like a charm, and you can push the tip against the inside of the filler neck to stop the flow for one-handed control when your other hand is steadying the saw.
Just make sure you clean out the bottle first (you may have to eat a whole lot of pancakes).
Chainsaws often leak oil while sitting because daily heating and cooling shrinks and expands a plastic tank like a rudimentary pump. Some saws are messier than others.
Chain Brake and Other Safety Features
We want an easy-to-use chain brake that works well. Most manufacturers have this down to a science at this point, so we encounter very few issues here. Most extend high enough to offer easy activation during a kickback event.
We want a safety trigger lock that's easy to use without getting in the way. Stihl, Husqvarna, and Echo put theirs on the back of the handle. These work well—until they don't. For the most part, we're simply looking for the placement and feel—ensuring we don't have to move our hand from a natural position when grasping the saw to use it. Notably, Echo provides the easiest to replace trigger lock…we're not sure if that's a good or bad sign.
We also check the chain catch pin and position of the handguards—but most manufacturers have this down to a science.
Bucking Spikes
For pushing a saw through wood more efficiently, chainsaws come fitted with bucking spikes (a.k.a. bumper spikes, felling spikes, or dogs). These spikes sit against the body of the saw alongside the bar and anchor the saw in place while the bar pivots through the cut.
The spikes allow you to apply a lifting motion of the rear hand instead of pushing downward. Holding the saw tight to the wood, the motor can exert its maximum pulling power. This saves you from some of the cutting vibrations and especially the jerking common to holding a saw away from your work.
Applying leverage with spikes adds control, but go easy and listen to the pitch of the motor. You can stall even a gas chainsaw by applying too much pressure.
Chainsaw Ergonomics
Balance
While it's true that the comfort and feel of a tool are largely subjective, it's also true that some designs work better than others. Most Pros and experienced homeowners can immediately tell. I believe that thoughtful design intention and execution do come through for the majority of users.
The best Stihl chainsaws feel balanced in your hands. They should cut straight without introducing a twisting motion and you should not feel like either the back hand or your front grip are overly stressed when making a cut. You want to be able to easily rock the saw forward and back on the bucking spikes when cutting through larger trunks.
Holding a saw with your left hand on the front handle in front of you should have the saw balancing fairly flat. Being a bit front-heavy is okay, but a rear-heavy saw lifts the cutting end of the saw up towards you and requires more effort and vigilance to use and carry safely.
Cutting Sideways
Determining a good feel for felling cuts while holding the chainsaw sideways is more about the comfort of applying force to the front and rear handles as you grasp it from the side, and also the ease of operating the trigger while sideways. We try and test all directions when using both top-handle and rear-handle saws.
Handles
In general, chainsaws with thicker handles are more comfortable to grasp in use because their broader radiused edges serve to soften the contact with your hand. Of course, rubber handle surfaces help too, not only for padding but also for the increased grip they provide.
In actuality, it's remarkable just how similar the grip is on Stihl, Husqvarna, and Echo professional chainsaws. Husqvarna provides little to no rubber overmold. Echo gives you some texture on the side of their plastic handle. Stihl gives some overmold on the back, which we like.
They (and also Husqvarna) provide a stop to keep you from sliding up in the decoupled portion of the handle where the vibration control occurs.
Trigger Comfort
Most professional chainsaw triggers are large enough for two fingers to fit on them. Some have an extra-long trigger with more room to vary your grip stance for comfort. The best feeling triggers retract flush with the handle instead of leaving a raised bump your fingers have to push against.
Weight
The dry weight of the best professional chainsaws can be as low as 6 pounds to well over 16 pounds. Experience shows that a saw's weight is less important than proper balance overall as you only feel the full weight when you're NOT cutting.
Why You Can Trust Pro Tool Reviews
Ever check out a "review" site and you can't tell if they actually tested the tools or if they're just "recommending" the Amazon top sellers?
That's not us. We only recommend what we'd actually use, even if we don't earn a commission from it. It's all about giving you a legitimate recommendation and our honest opinion of each product.
We've been in business since 2008 covering tools, writing reviews, and reporting on industry news in the construction, automotive, and lawn care industries. Our Pro reviewers work in the trades and have the skills and experience to know whether tools can perform well in the field.
Each year, we bring in and review more than 250 individual products. Our team will put our hands on hundreds of additional tools at media events and trade shows throughout the year.
We consult with innovators in the technology and design of tools to gain a broader grasp of where these products fit and how they work.
We work with more than two dozen professional contractors around the United States who review products for us on real job sites and consult with us on testing methods, categories, and weighting.
We'll provide more than 500 pieces of new content this year absolutely free for our readers—including objective evaluations of individual tools and products.
The end result is information you can trust because of the editorial, scientific, and real-world professional experience we collectively utilize each and every time we pick up and test a tool.