The Bosch BNS200-18 Brad Nailer Slims Down
When I opened up the included hard case for the Bosch BNS200-18 Brad Nailer I noticed two things. First, the tool is extremely small and lightweight—much smaller than I expected. It measures an inch shorter than most products we've used. It's also a full half-pound lighter than the DeWalt D51238K 18-gauge 2″ Brad Nailer I currently own. Where it really saves is in its girth, which is, like all Full Force products, remarkably thin. The second thing I noticed was that the included Bosch hard case offered lots of storage for accessories and nails. Most cases can't since they house larger nailers.
Like Bosch's other air nailers, the BNS200-18 Brad nailer uses the company's patented Full Force technology. We've gone into detail on this in earlier reviews. Full Force uses a second, smaller, burst of air through the gun that resets the driver. This eliminates the need for a surrounding secondary chamber in which to store air. No chamber, thinner gun. It's that simple. Typically, the result has been a 20 percent savings in the area of "girth".
The BNS200-18 weighs only 2.1 pounds, making it easy to manhandle into even the most precarious or difficult positions. Bosch all but eliminated the need for any fancy jam-clearing devices at the top of the tool. Consequently, the brad nailer can be placed very close to flush against a ceiling or other piece of wood. Even if you need to fire a nail perfectly perpendicular to a top plate, shelf, or ceiling, you can do so within 3/4 of an inch.
There is also a depth adjustment knob. It easily clicks left or right to increase or reduce the depth of drive. It varies how far into the tool the work contact element will retract. Using it with gloves may be difficult since it sits flush into the top of the tool.
Ergonomics and Grip
The rubberized grip on this tool seems well-placed and in general, we just liked the feel of it. It has a narrow handle that is easy to grasp and very forgiving whether you have gloves on or not. The trigger is easily changed from bump to sequential fire mode (which is standard). It was great to see this and other features get handed down to the smaller brad nailer and not be reserved solely for the bigger dogs. Another feature we absolutely used to death was the dry-fire lockout. I no longer even worry about when I'm going to run out of nails. The tool will simply stop firing—before it blows a hole in my quarter round. I can't tell you how important a feature this is to have on trim guns.
Loading the Magazine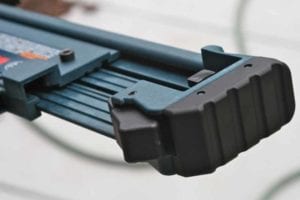 The magazine has a 100 nail capacity, so it will take two full strips of brad nails. It will also support anything from 5/8″ to 2″ brads. This means you can get a lot of work done with this tool. It supports a lot of differing trim jobs. Two red bars begin to appear on the side when the magazine is nearing empty. This lets you know you're nearing the end. Since the tool has a dry-fire lockout, you are safe to keep going until the Bosch BNS200-18 simply stops shooting.
Swapping out your "ammo" is accomplished by squeezing the magazine latch. An easy to grip button on the back of the magazine that releases it and allows the ABS plastic mechanism to slide back. Some won't like the idea of a plastic magazine, but we found that it's part of what makes this tool lightweight and inexpensive so we'll give it a pass.
The tool certainly seemed durable and we had no doubt that it could take a few drops without any serious consequences. The only real point of concern for us would be the place where the magazine attaches to the handle via a hex bolt. If it's ever going to snap, our money is on this location. Loading brads is easy – you simply grab the magazine naturally, squeeze, and pull it open. Then you drop in the nails via the side, making sure that the head sites on the appropriate wear rail. The system is easy to load with gloved or ungloved hands and its simplicity means that you're not going to run into any issues with jamming. On the backside of the magazine, you'll notice a stub that holds the removable no-mar tip.
Bosch BNS200-18 Brad Nailer in the Field
We were able to use the Bosch BNS200-18 on a few different projects. One involved putting up a nice piece of wood trim across an existing home-made shelf that had been mounted into a kids' room. This was delicate work but still required a bit more than a pin nailer would provide. Since we wanted better adhesion and grip, plus the wood was thick enough to handle a small head, we opted for 1-1/4″ brad nails that gave us a little more depth and did a great job of fastening the trim piece to the 1×12 board behind it. 
It was a very easy thing to use this tool and we didn't get tired, even though we were holding the tool overhead for extended periods of time while we lined up our pre-cut boards. In this scenario, light is definitely better… and yes, that is a Millennium Falcon in the photo.
Dialing In the Air Pressure
The BNS200-18 also does well to nail in shoe molding overtop refinished wood floors. This is possibly the quintessential use for a brad nailer and one for which we know we've turned to it again and again. We found the Bosch to be nimble and easily flipped from left to right hand as needed. The tool works well in almost any position and it didn't seem fickle about how much pressure it had. Once we fed it around 80 PSI it seemed good to go and it was a simple matter to adjust the depth of drive.
The tool didn't seem to go weak or strong as the pressure changed, it kept a very consistent feel throughout its use. From the shoe molding, we used the Bosch Brad Nailer to secure loose baseboard molding underneath some kitchen cabinets. The nailer does well to drive a nail to flush depth and we found that it only took about 2-3 shots before we could dial it in perfectly.
Conclusions & Recommendations
There are a lot of brad nailers to choose from on the market. Bosch's BNS200-18 differentiates itself with a dry-fire lockout, lightweight tool, and tool-less adjustable trigger/firing mode. We felt that this was a workhorse nailer and it has one of the most ergonomic magazine load mechanisms we've ever used. Add to that a price that is more than reasonable (you can get cheaper, but it will likely result in a tool that is three times as heavy and far more complicated to load and use) and you start to see the big picture.
This is a really good trim tool. For Performance, we had no choice but to give it a well-deserved 8/10 rating. It's just all around solid. In terms of pricing, it falls nearly in the middle of the scale for brad nailers, but since it has some pretty advanced features our Value rating is a well-deserved 9/10. We can recommend this tool to any professional or homeowner who wants a great product that looks and feels like a winner.