Ask just about any carpenter about the utility of the oscillating multi-tool and he'll tell you that he's not sure how we all got along without it in the "old" days. For flush cuts, plunge cuts, sanding, grinding, polishing, removing, and much more, the oscillating multi-tool is nearly indispensable on today's jobsite. Like most power tools nowadays, today's multi-tools have made the leap to battery power, but there are some reasons to keep a corded version around. I intend to get a lot of work done with the Bosch StarlockMax Oscillating Multi-Tool as we build a home in a development in Polk City, Florida.
Bosch Starlock Advantages
The perennial problem and danger of using even the best oscillating multi-tool has been the need to change the blade soon after a cut. You remember very quickly that friction generates heat. Lot's of heat. And let's not forget when your fingers are around the teeth. Multi-tool manufacturers each have their own takes on blade change mechanisms, but whether screws hold them in or levers clamp them down, at some point in the process you have to touch the blade. But Bosch and Fein seem to have finally solved the problem with the 3-D bottlecap interface of the Starlock system.
Working the Starlock System
A lever closes the Starlock's two small jaws, which are then pushed through the hole in the blade, and pop! The jaws automatically spring open to hold the blade securely. When it's time for a blade change, pulling the lever closes the jaws and the blade falls off of the tool. No fingers were harmed in the making of this blade change because they never touched a blade. What's more, so many points of contact between the blade and tool should result in more torque transfer. We'll see how it goes.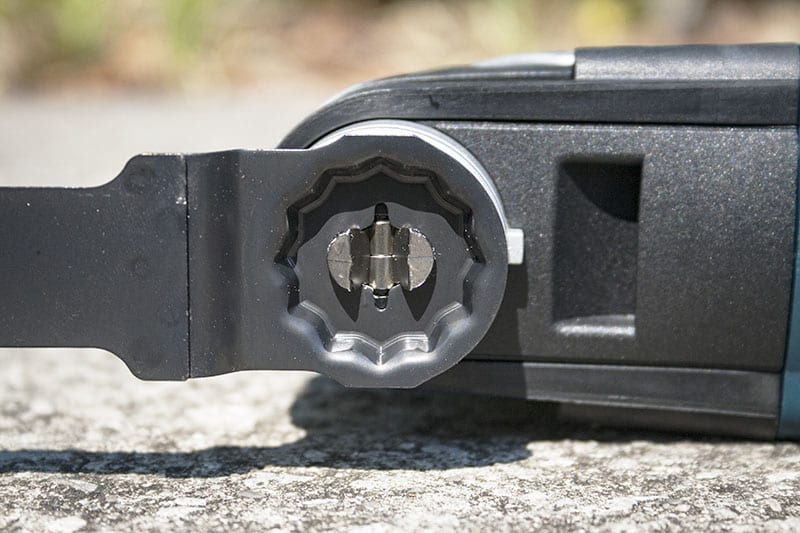 Other Noteworthy Features
The Bosch StarlockMax Oscillating Multi-Tool also packs quite a punch with a 5.5-amp motor. A variable speed dial modulates the oscillations per minute between 8,000 and 20,000. The blade moves in a 3.6° arc, which might not sound like a lot, but at several thousand oscillations per minute, it can do a good bit of work.
It also boasts Bosch's Constant Response circuitry which is designed to keep the power constant even under load so there's no bogging down. And if you have to be tethered with a cord, the ball-joint cord swivel is a nice touch. It all weighs in around 3.5 pounds. Hey, we've got a house to build here, let's go!
Bosch Starlock Multitool Performance
This tool can do just about anything. I mentioned before that there's still a reason to have a corded multi-tool in a sea of battery-powered ones, so let me give you an example. Say you need to put in a wall unit because plans changed mid-stream and the tradesmen before you didn't know they should frame for it – or maybe they just forgot.
Just about any multi-tool can make quick work of the drywall, but sometimes there's a stud right where that wall unit needs to go. Battery-powered multi-tools can struggle with the stud, but the Bosch StarlockMax Oscillating Multi-Tool didn't break a sweat in 2x4s. It just about doubled as a reciprocating saw. It's that powerful. It eats straight through studs. In fact, I had to dial back the power just to keep control of it for shorter, finer cuts.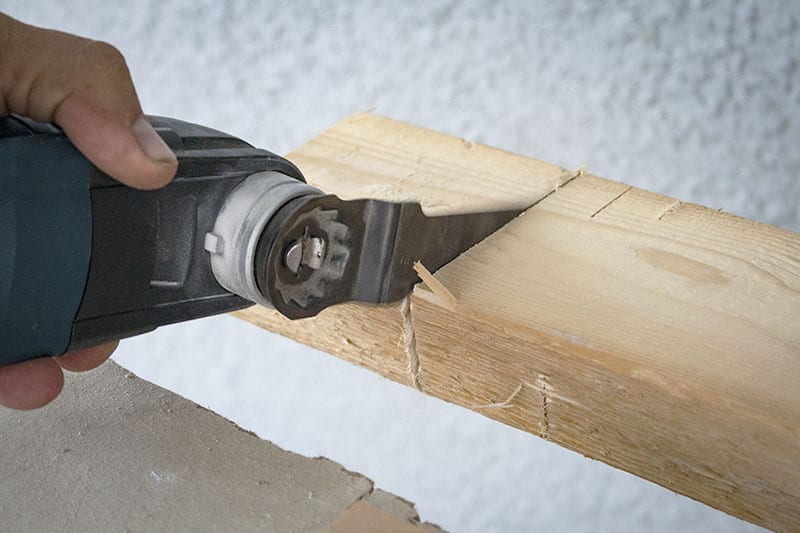 More to the point, I had to cut an electrical box into the side of an island in the kitchen. For rougher work, precision isn't as big of a factor, but for something like this, you've got to be right on it. I had to turn the power all the way down to have control of it. The tool did a fine job, but it revealed one thing – at this speed, it isn't really any quicker than a battery powered multi-tool.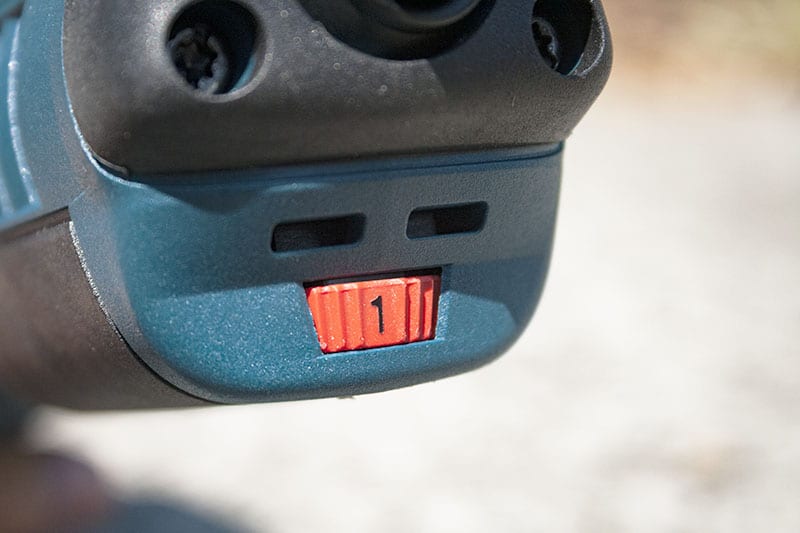 So one thing to consider when you're deciding on what type of power source you want is the type of work you typically do. If it's finer, precision work then you'll probably do just fine with a battery. But for an all around multi-tool from small work to demolition, this model has all the power you'll need. Like I said, it's nearly as good as having a reciprocating saw. Pretty impressive.
But it is funny how perceptions have changed – we used to doubt the usefulness of the battery power and rely on the corded tools. Now we tend to avoid the corded tools unless absolutely necessary!
The Starlock Connection and Blades
The Starlock system is really efficient and easy to use – it's the best blade system I've seen on a multi-tool. You use the lever to pop the old blade off and snap the other on. It's a quick, done deal. One of the nice things about this model is that it accepts Starlock, StarlockPlus, and StarlockMax accessories. Hmm, the naming system sounds vaguely familiar… anyone seen my rotary hammer?
The soft material blades from the kit aren't terribly impressive in my experience. The main issue is they don't cut a straight line well as other blades I use. If you're just doing a rough opening in soft material and the hole will be covered with something larger, then it'll be just fine. They will excel at taking silicone out of corners or some similar job. Just be cautious on finished material.
The scrapers work very well, however. Just take a look at each kit before you buy and be sure you'll actually use all the included blades. For some Pros, you'll be better off buying the individual blades and accessories you need.
The Bottom Line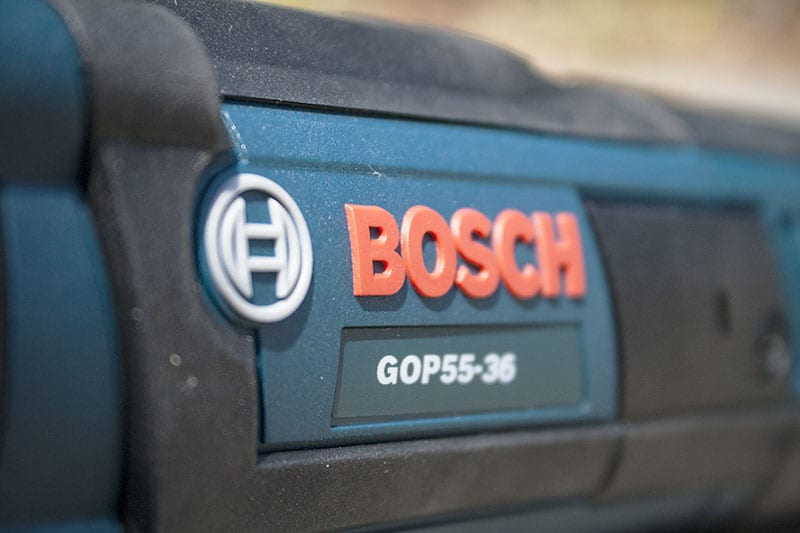 The Bosch StarlockMax Oscillating Multi-Tool is just a great tool. The question is whether the work you do requires so much power in a multi-tool enough to justify the cord. It's possible that battery power is sufficient. But if you want an all around, soup-to-nuts tool that handles the fine as well as demo work, then you won't be disappointed for one minute with the Bosch.
It's right at home doing finer, precision work at slow speeds and demo work at high speeds. It's like a wild stallion near 20,000 RPMs, so be sure you have control. It can almost double as a reciprocating saw in some scenarios. Some of the impressive performance is undoubtedly due to the power transfer of the Starlock system, which is the best multi-tool blade system I've seen.
On its own, the multi-tool is $259 and has accessory kit options that run it up to $399. That's a pretty big price for this class of tool, even for Bosch. What you get for the premium is the Starlock connection system. The build quality ensures that the tool should last, so it's a convenience feature many Pros will want to consider pulling the trigger on.
For lighter duty stuff, you might stick with battery power, but if not, the Bosch StarlockMax Oscillating Multi-Tool is a stellar option if you can afford it.
Bosch StarlockMax Oscillating Multi-Tool Features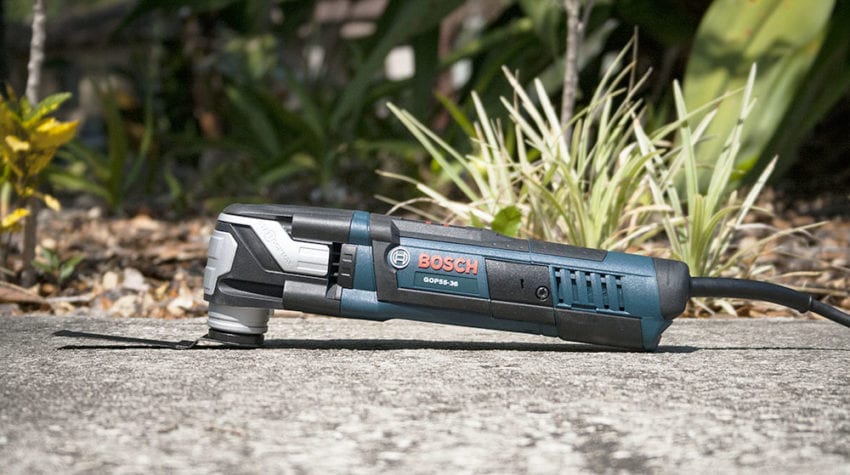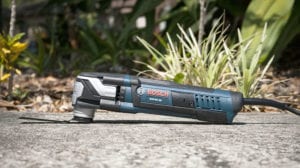 Starlock 3-D tool-accessory interface – delivers best-in-class blade grip providing more torque transfer
Multi-tool versatility – accomplish flush-cutting, plunge-cutting, sanding, grinding, and many other tasks
Dynamic accessory range – utilizes all Starlock, StarlockPlus and StarlockMax accessories
Extreme power – driven by a 5.5 Amp motor with reinforced metal gearing
3.6° oscillating arc – delivers better accessory utilization and increased productivity
Snap-in toolless accessory attachment and release lever – allows a no-touch, easy release of blade; no more burned fingers
Flush cutting – provides a design that is ideal for flush cuts such as door jamb cuts using various plunge or segment blades
Constant Response circuitry – maintains the desired speed under load
Variable-speed dial – rotates from 8,000 to 20,000 oscillations per minute to match speed to application for outstanding results
Compact build – reaches into corners and other tight spaces
Ergonomic design – features a narrow grip diameter, for user comfort
Reinforced metal gearing – offers well-built construction for optimal force transmission from the tool to work surface
Rugged construction – for robust durability and minimal tool vibration
Ball-joint cord swivel – for enhanced ease of positioning tool and for cord durability
Easy-to-use on/off slide switch – for trouble-free operation
Easy brush access – allows access for tool maintenance and lasting operation
Bosch StarlockMax Oscillating Multi-Tool Specifications
Model Numbers

GOP55-36C1 – 8 Piece Kit (Tested)
GOP55-36B – 2 Piece Kit
GOP55-36C2 – 40 Piece Kit

Amps: 5.5
Case Type: Heavy-Duty Plastic
Length: 11 inches
Material: Aluminum and Plastic Composite
Oscillating Angle: 3.6°
Oscillations Per Minute: 8,000 – 20,000
Speed: Variable (8,000 – 20,000 OPM)
Voltage: 120V
Weight 3.5 Pounds
Width: 2.5 Inches
Price: