Hunter Fan Company claims to have invented the ceiling fan. That's a very impressive claim—and it explains why the thought of installing a Hunter XP Industrial Fan in our 2,700 sq. ft. shop space seemed very appealing. For a company that dates back to 1886, they have some experience in manufacturing reliable and effective ceiling fans for a variety of applications.
Key Takeaways
The Hunter XP Industrial Ceiling Fan provides a significant amount of airflow from just four blades. Simple, quick installation and a quiet direct-drive motor make this a well-designed, effective solution for cooling spaces up to 4,900 square feet with a single 110V fan.
Hunter Industrial XP 10 Fan Features and Build Quality
Hunter Fan Company may have grown significantly since the 1800's, and they certainly haven't sat on their proverbial laurels. From innovative residential ceiling fans that you can control with your smartphone or watch, to industrial fan designs made from cast aluminum, Hunter Fans tend to impress.
This is a Big Fan
The Hunter Industrial XP 10 fan has a 10-foot diameter and weighs 108 lbs (49.1 kg). It's classified as an HVLS (high-volume, low speed) fan, so the angle of the blades forces a lot of air downward without requiring much velocity. This model spins at up to 139 rpm—at which point it will move quite a bit of air. How much? This fan is rated to handle spaces up to 2,500 sq. ft. or 50 feet in diameter.
What is an HVLS Fan?
An HVLS (high volume, low speed) fan moves a lot of air without having to spin at higher speeds associated with small ceiling fans. Instead, it relies on its large size (typically diameters of 7 feet or more). It moves massive amounts of air toward the floor. This air then spreads outward until it hits a wall or airflow from another source. At that point the air moves upward, and the cycle begins again. This type of air circulation dries the air and covers larger spaces more evenly than multiple smaller fans would. It also delivers a higher perceived cooling effect. In winter, you can run HVLS fans in reverse to drive warmer air downward along the perimeter of the room or space.
Hunter XP Fans Easy Installation
One of the winning features on the XP line of Hunter Industrial fans is its ease of installation. It uses a direct drive motor that suspends from a standard 2-inch rigid mount. The fan also operates off a 110V input, so you don't need to run a 240V line to make it work. It ships with a surface-mountable variable speed control for fully-adjustable airflow (including Reverse).
The fan comes almost pre-assembled with plug-n-play wiring and blades that require just two nuts to secure. A controller takes power and sends it to the motor while connecting to the variable speed switch via RJ45 (Cat5e) cable.
Hunter XP Industrial Model Options
You can order the Hunter Industrial XP ceiling fan in 5 different sizes:
XP 14
Size: 14 ft diameter
Weight: 121 lbs (55 kg)
Speed: 108 rpm maximum speed
Coverage: 70 ft diameter/4,900 sq. ft.
Price: $3,600
XP 12
Size: 12 ft diameter
Weight: 117 lbs (53.2 kg)
Speed: 108 rpm maximum speed
Coverage: 60 ft diameter/3,600 sq. ft.
Price: $3,300
XP 10 (tested model)
Size: 10 ft diameter
Weight: 108 lbs (49.1 kg)
Speed: 139 rpm maximum speed
Coverage: 50 ft diameter/2,500 sq. ft.
Price: $3,100
XP 8
Size: 8 ft diameter
Weight: 104 lbs (47.3 kg)
Speed: 156 rpm maximum speed
Coverage: 40 ft diameter/1,600 sq. ft.
Price: $3,000
XP 7
Size: 7 ft diameter
Weight: 100 lbs (45.5 kg)
Speed: 200 rpm maximum speed
Coverage: 35 ft diameter/1,225 sq. ft.
Price: $2,800
Installing the Hunter XP 10 Fan in the Shop
Living in Florida, we try to take every imaginable step to cool down our shop space. Having already installed a radiant barrier in the shop and a wall exhaust fan, we next turned to a solution to move air and cool down our work area. The Hunter Industrial XP 10 seemed like the perfect fit for our space.
The fan arrived on a pallet with several boxes. The motor comes separated from the ceiling mount and downrod which are otherwise fully-assembled. The four fan blades came in a box, separated by foam dividers to keep them safe during shipping. Another box held the control panel module, 100-ft RJ45 cable, and standard surface-mount control.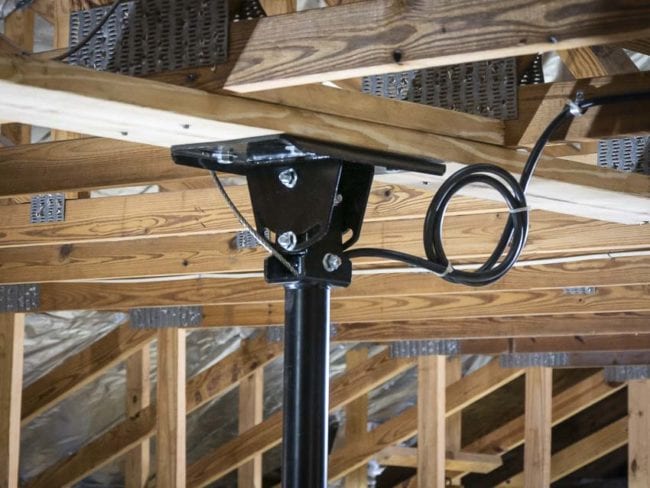 Mounting the Fan
We installed this in a shop with pole barn-style construction and a full rafter system. Hunter Fan recommends the use of U-channel above the ceiling joists to ensure rigidity and a secure mounting position. Opting to use a pair of 2×10 boards, we secured the top piece between two joists. We then installed the bottom piece with ledger screws so that it spanned four ceiling joists. Finally, we bolted the ceiling mount completely through both pieces using 1/2-inch bolts, washers, and nuts. Given the fan weighs less than I do, this is what we refer to in the industry as "overkill".
After mounting the downrod, we attached the motor, being careful not to pinch the retention or motor cables. After securing the motor with the provided bolts, we secured the retention system as instructed.
Installing the Blades and Control Panel
We next installed the four fan blades. Each requires two nuts to secure the blade to the motor. As with the motor, we used an impact wrench to snug down the bolts.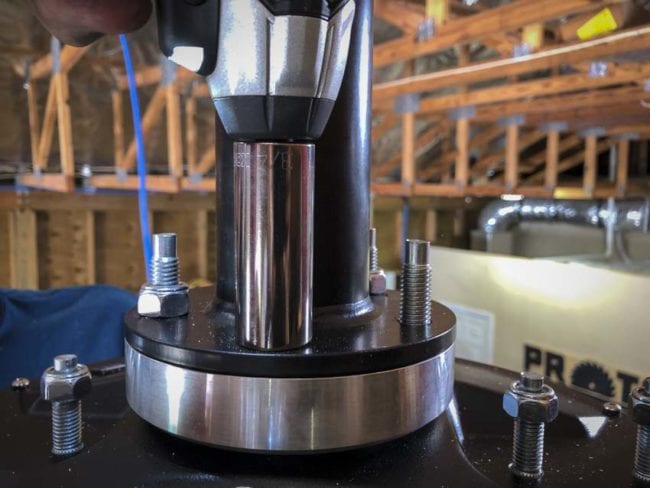 With the fan in place, we could turn our attention to the control panel. This gets mounted about 5 feet outside of the swept area of the fan. We did so vertically, using a spare piece of 3/4-inch plywood as a base.
The fan terminates into the control panel with a 4-pin VFD cable. The control panel itself receives power via an L5-15P plug, so they include an L5-15R receptacle. We used it and ran a dedicated 15A line to this location, though this particular fan only requires around 9.1 amps at maximum rpm.
With the power run, we next turned to the controller. The supplied wall-mounted control switch lets you turn the fan on and off as well as set the direction and variable speed. Designed as a surface-mountable box, we decided to take it apart and grab a deep box and Madison (F) straps to flush mount it in the wall.
This turned out really well and gave us a nice, finished look that also hid the RJ45 (Cat5e) cable in the wall so we didn't have to strap it to the surface or let it dangle.
The entire installation took us less than 2 hours—including running a new 15A circuit for the control panel. With that said, we can confirm that the ease-of-installation of this fan ranks very high. Installation becomes even easier if you can commandeer an existing outlet.
Using the Hunter Industrial XP Fan
Our 10-foot diameter model spins at 139 rpm, but the XP line ranges from 108 rpm at its largest 14-foot diameter size to 200 RPM on the 7-foot model. When we finally flipped the switch, the fan moved enough air to blow loose papers around the shop. Underneath, the air quickly cooled our work area, and the effect extended all the way to the walls.
Airflow seemed smooth and consistent, and we actually turned the fan down to 75% using the wall-mounted control box. At that speed, the airflow felt natural and didn't toss about loose papers nearly as much as with the control at full power.
The lower perceived temperature with the fan running definitely improves our comfort levels when testing tools in the shop. We also appreciate the direct-drive motor, which makes only a small amount of noise as it runs. The fan also stops quickly when you turn it off at the wall—a feature we appreciate when we occasionally pause it to shoot video clips.
Conclusion
For the price, Hunter Industrial provides commercial level value and performance. One comparable 10-foot model from Big Ass Fans costs $4,400. That's a 42% premium over the $3,100 XP 10 from The Home Depot. That particular fan also requires a more extensive installation and lacks a reverse switch on the included wall-mounted control.
For larger shops, Hunter Industrial provides some great solutions that work efficiently and install easily. These fans should also hold up over time since they lack problematic gearboxes. In fact, the fan only uses two bearings. The company provides a lifetime warranty on the blades and a two-year warranty on all other parts.
For more information, check out the Hunter Fan Company website.
Shop the Hunter Industrial XP fans at The Home Depot.