DeWalt DCF887 Slides But Still Relevant More than Years After Initial Launch
Back in 2015, we tested eleven of the cutting-edge 18V impact drivers. At the top of that pile was the DeWalt DCF887 20V Max XR brushless impact driver, a model that was brand new at the time.
It's been a few years, and we brought back the DCF887 to defend its title in our recent Best Impact Driver head-to-head tests. With the exception of the optional upgrade for the Tool Connect (DCF888), nothing has changed about this tool. However, it still has relevant performance and design in its class.
DeWalt 20V Max XR Brushless Impact Driver Performance
On paper, the DeWalt CDF887 has a no-load speed of 3250 RPM with 3250 IPM. It also generates a respectable 1825 in-lbs of torque.
Speed Under Load
In our speed test, the DeWalt DCF887 maintains 429 RPM under load. We expect to see a Pro-level impact driver in this class maintain a 400+ RPM. DeWalt can hit this mark with a comfortable margin and has no trouble driving a 1/4″ screw, though it's well behind the leaders that maintained more than 600 RPM.
You can expect to drive anything up through timber screws and smaller lags. We recommend getting your hands on an impact wrench if you're going to drive anything larger than those.
Fastening Torque
Though it's far from the top in our speed test, the DeWalt 20V Max XR brushless impact driver gets its act together in the torque department. We use a hard torque fastening test, but it doesn't tell us how much torque the impact driver put into our rig. Rather, it tells us how much torque is required to break its best efforts. It's objective and repeatable and that's what we're looking for in our comparison.
DeWalt performs closer to the high end of the group, generating 2237 in-lbs of fastening torque and landing it in the upper half.
Nut-Busting Torque
Cranking out a respectable 3000 in-lbs of nut-busting torque, the DeWalt DCF887 finishes in the middle of the pack again. A quick conversion brings that 3000 in-lbs to 250 ft-lbs—the same kind of power we see in compact impact wrenches.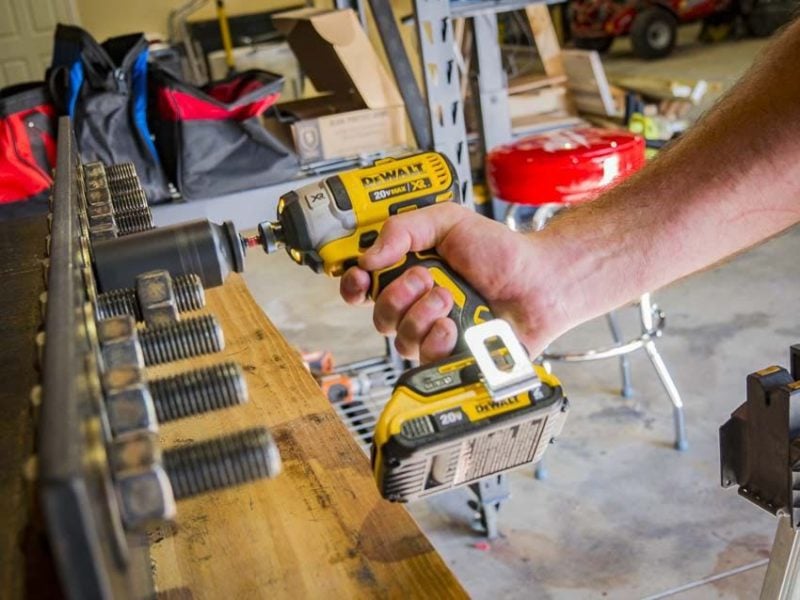 DeWalt 20V Max XR Brushless Impact Driver Size and Weight
DeWalt's impact driver does a pretty admirable job at staying light and compact. As a bare tool, it weighs in at 2.1 lbs, and the battery only adds a pound to the weight. It's near the top with the lightest models only marginally lighter.
One of the selling points of the DCF887 is that it is one of the more compact models on the market. Years after its original launch, it's still not that bulky. After all, it's still only 5.3″ long and 7.7″ tall. Makita and Milwaukee are more compact, but DeWalt's design can still get you into most of the same spaces.
Noise Level
Welcome to Loud Town, population, 2: you and the DeWalt DCF887. No lie, the DeWalt 20V Max XR brushless impact drive can generate some serious noise. Granted, it isn't the loudest we tested, but registering a 104 dB(A), it comes in just one decibel away from the top honors. Better get that hearing protection ready.
DeWalt 20V Max XR Brushless Impac Driver Feature Set
Tool Connect (upgrade to the DCF888): DeWalt's Tool Connect feature allows you to check battery status and tool diagnostics, customize your tool's power settings, manage your inventory, and set security alerts. It's easy to use and it adds another level of value to your impact driver. This feature is available on the DCF888, which is a carbon copy of the DCF887 with the smart controls.
Three-speed settings with a precision mode: We like mechanical switches as opposed to blister buttons. They are more reliable and durable than their electric counterparts. The DCF887 has three-speed settings for customizing your speed and power. Plus, the first setting acts as a precision mode for delicate applications and finish work.
One-handed bit loading: We appreciate the simple things in life, and one of those simple things is when we don't have to set our tool down to change out bits. You can load a bit up without pulling the collet forward and it will use a spring to eject the bit when you do.
Other Features
Brushless motor
3 LED lights surrounding the chuck
Made in the USA with global materials
DeWalt 20V Max XR Brushless Impact Driver Price
The DeWalt DCF887 is $129 as a bare tool and has several other configurations.
You can also find this model kitted with other tools. Click here to see more.
The Bottom Line
Can the DeWalt DCF887 stand for an update? Sure, if DeWalt wants to chase bigger numbers. There's no reason to shy away from this model and unless DeWalt has a major upgrade up their sleeves, we don't see a reason to change it for something minor.
DeWalt's 20V Max lineup runs deep, so if you're looking for a new cordless platform to buy into, the DCF887, DCF888, or one of their combo kits is a great place to start.
DeWalt 20V Max Impact Driver Specs
Model: DeWalt DCF887

No Load Speed: 0-1,000/ 2,800/ 3,250 RPM

Maximum Torque: 0-240/ 1,500/1,825 IN-LBS

Impact Rate: 3600 IPM

Bare Weight: 2.1 lbs

Weight with Battery: 3.1 lbs

Length: 5.3″

Height: 7.7″

Warranty: 3 years limited

Price: $129 bare, $149 and up for kits