DeWalt Impact Connect Offers Powered Cutting At A Lower Cost
For plumbers, HVAC techs, irrigation specialists, and anyone else who works with piping, it can be a struggle to choose between the low cost and cutting speed of hand tools and the more expensive convenience of powered solutions. DeWalt got our attention with its Impact Connect Pipe Cutter Attachment and we've been waiting to put it to use and see how well it works.
DeWalt Impact Connect Pipe Cutter Attachment Basics
Instead of releasing a dedicated cordless pipe cutter, DeWalt designed the system to attach to your existing impact driver. It leverages the power and rotational impact of your tool to cut pipe faster than manual methods to limit fatigue on the job.
There are two versions. The DeWalt Impact Connect PVC/PEX Pipe Cutter Attachment (DWAPVCIR) cuts material up to 2 inches in diameter. It makes clean, efficient cuts in PEX, PVC (up to Schedule 80), and other plastic piping or conduit. In terms of speed, it's up to 6 times faster than manual cutting.
The second version is the Copper Pipe Cutting Attachment (DWACPIR) and comes with a 1/2-inch and a 3/4-inch cutting wheel. There's also a 1-inch cutting wheel you can purchase separately. It's rated for use with type K, L, and M copper pipes.
Installing the DeWalt Impact Connect Pipe Cutter Attachment
Editor's note: For this review, we used the PVC/PEX cutter attachment.
There's an installation process that takes a couple of minutes to set up. The good thing is that DeWalt designed this system to work on any brand of impact driver. Start by installing the brace. Loosen the knob to spread the brace until it can fit over the foot of the tool. Then, tighten it down until it hugs the foot securely.
Next, connect the attachment's 1/4-inch hex shank to your impact driver. One of the yellow knobs on the attachment allows the arm to swing forward and back. The other allows it to lengthen or shorten.
When you pivot the arm back toward the brace, you hit some detents. It feels like you shouldn't push it any harder, but you actually need to. You'll hear and feel it click over those detents and even though it takes more effort than you might think, it provides rigid stability. Lengthen the arm to connect to the brace, tighten both knobs down, and you're ready to work.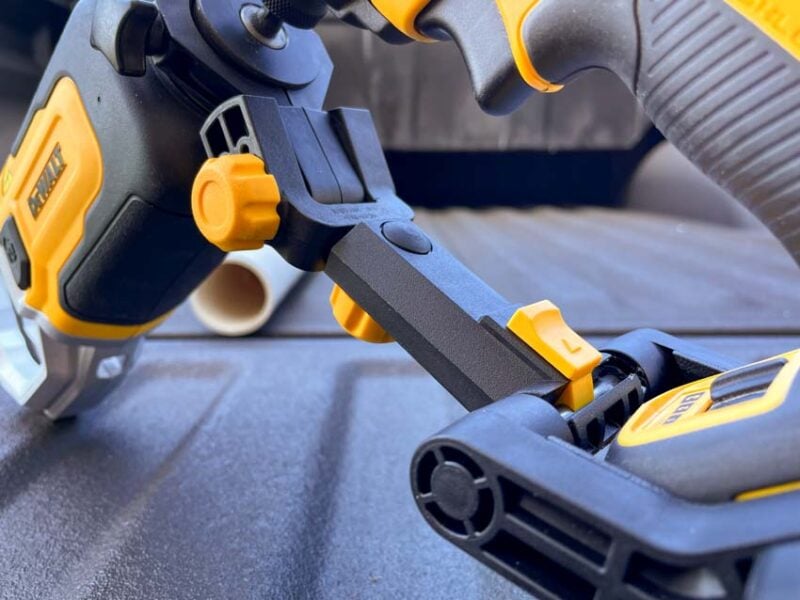 Blade Changes
When it comes time to replace the blade, start by extending the blade fully. Then lift the cover on the left side (small rubber cover in front of the DeWalt logo) to expose a set screw. Loosen—don't remove—the set screw until there's enough movement in the blade to pull it out. Slip your new blade in, tighten the screw, close the cover, and you're back in action.
Using the DeWalt Impact Connect Pipe Cutter
Even though the combination weighs more (5.7 pounds with a DCF887 and 2.0Ah battery), it's still very manageable with one hand on the tool and the other either on the attachment or your material.
The tool cuts with an arrow-shaped blade. To make the cut, set the material in the retainer, and pull the trigger with your impact driver in the forward position. For accurate cuts, we find it helpful to feather the trigger until the blade is touching the material and then go full speed through the cut.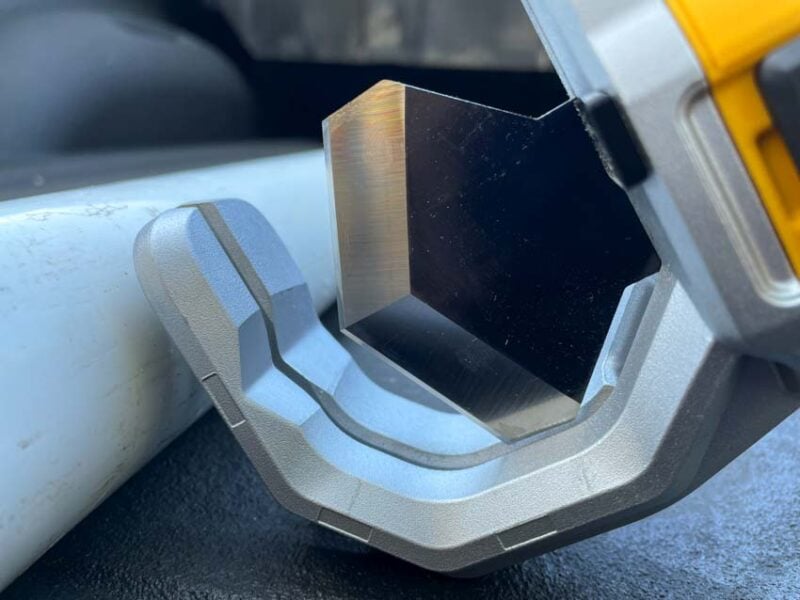 Once the cut is complete, flip your impact driver switch to reverse and pull the trigger to retract the blade.
The blade is sharp and makes for legitimately clean, fast cutting. However, it's no joke, so be very careful where your fingers are while you're cutting.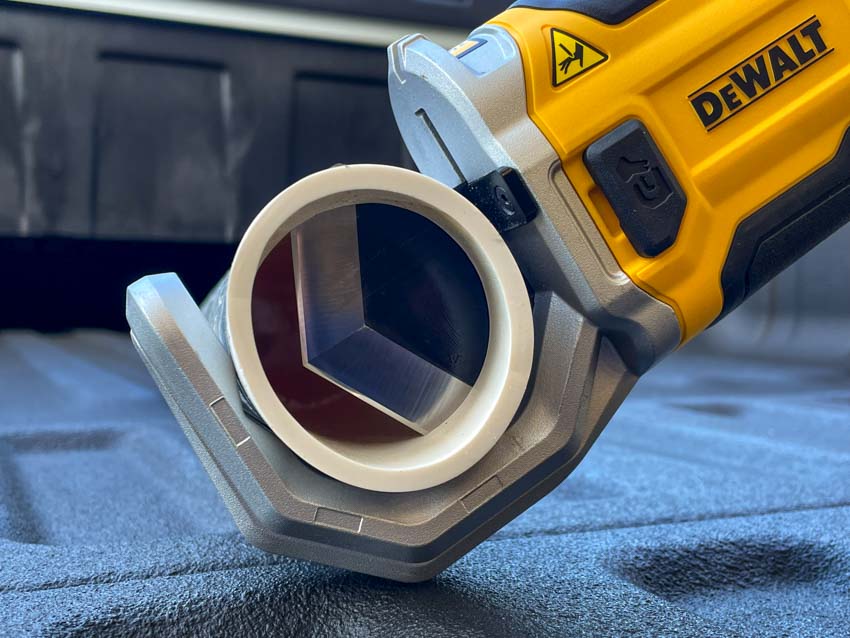 If you need to use your impact driver for screwdriving, you can take the attachment off in about 15 seconds and reinstall it just as quickly. You just leave the brace on the foot. DeWalt even integrated a bit holder onto it.
There's a black knob on the attachment and it enables 360° rotation. Loosen it to change your angle of attack and tighten it to prevent rotation.
DeWalt Impact Connect Pipe Cutter Attachment Price
Both versions retail for $119.00 as an attachment only. Currently, there are no kit options available. DeWalt backs your purchase with a 3-year warranty.
The price is where the rubber meets the road. Dedicated cordless cutters run north of $200, so DeWalt's attachment is about half the cost. Since most professionals already have an impact driver, that very well may seal the deal and shove your manual cutters into the backup tool bin.
The Bottom Line
Converting your impact driver into a pipe cutter is a really big deal, and not just for plumbers. Electricians. Irrigation specialists, HVAC techs, refrigeration techs, and many others can take advantage of Impact Connect. Best of all, it's not a gimmick. These attachments really do work very well.
Don't miss the value proposition, though. With cordless solutions from brands such as Milwaukee running well over $200, DeWalt's price tag makes it an awfully attractive way to relegate your manual cutters to the backup squad. It's also no surprise that it's a 2022 Pro Tool Innovation Award Winner.