DeWalt recently introduced the new DeWalt XP Tape Measure built around its patented Dual-Core spring retraction technology. With dozens of tape measures to choose from across a variety of price points, finding one that you like can take a little trial and error. But when you find "the one", you better buy several since you know they'll go missed or break eventually.
Recent years have brought some improvements on the durability side of things. But we also need to consider the tangible functions like standout and throw along with features like the hook and markings.
So how does the DeWalt XP Tape Measure compare?
Editor's Note: Think you know everything about tapes? Check out our article on how to read a tape measure and we promise you'll learn something new!
DeWalt XP Tape Measure Key Features
Having already reviewed and ranked the best tape measures, it may seem like we're near the pinnacle of innovation. Yet there are a couple of things worth noting on the new DeWalt XP Tape Measure, and the company has gone to great lengths to highlight them.
Housing Material
First, the case uses one of the toughest thermoplastics available – PC/ABS – known for its strength and heat resistance. DeWalt claims it can withstand a drop from 60 feet, but the fine print is that the surface is hard-packed soil and not concrete. Still, that's not too bad.
There's a good amount of overmold surrounding the tape to offer additional protection. There's also a metal-looking side plate that's actually just a foil sticker.
Riveted Hook
DeWalt outfitted the DeWalt XP Tape Measure with a three-rivet hook connection since tape measures fail most often at this point. There's a little bit of play in every tape measure hook connection so that you get an accurate measurement whether you're pulling against material or pushing into it. But that play also gives the hook connection a shock when it retracts back in place.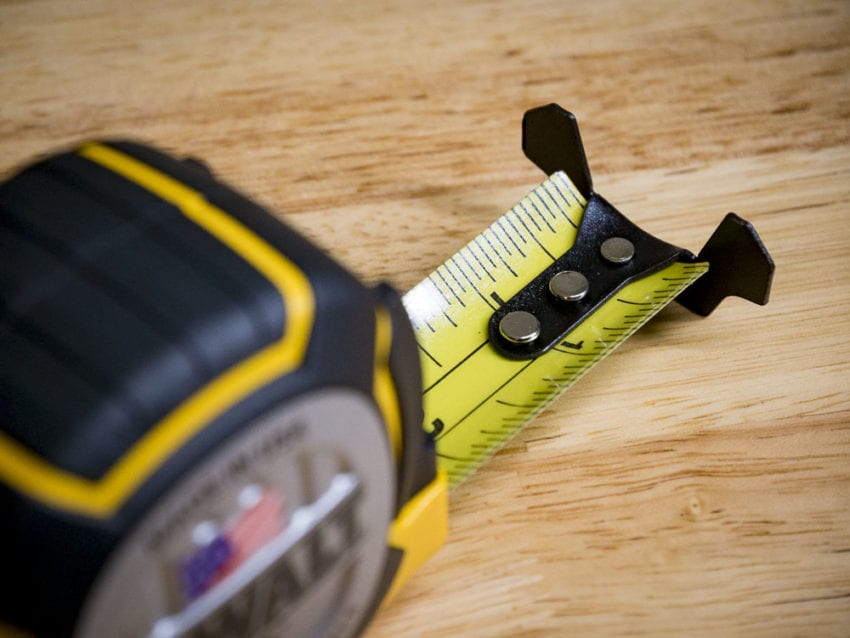 The hook itself does a nice job of giving you a stable grab on all four sides. It likes to roll over when you're grabbing to the side, but once you get a solid pull on it, it will hold nicely.
Coating
DeWalt claims this is their toughest coating ever. Similar to Milwaukee nylon tapes, you get an extra layer of thermoplastic coating protection over the first 9 inches of the top where tapes seem to start shedding most frequently. The thermoplastic clearly isn't nylon, but DeWalt is claiming it will outperform Milwaukee in paint and rust protection over their nylon-coated 48-22-5125 tape.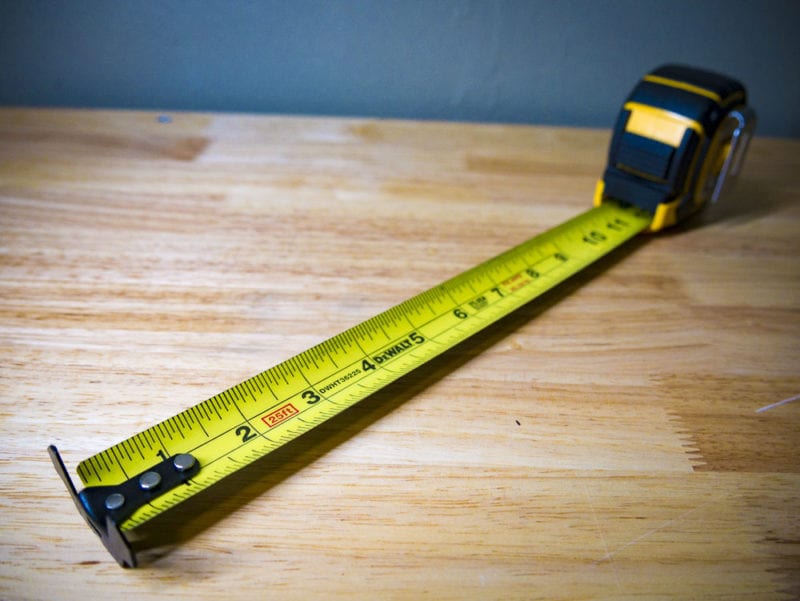 Markings
The DeWalt XP Tape Measure gives you standard foot and inch markings with no fractional digits in between. A running count of inches is in large print with black foot and red inch digit markings printed smaller after the 1-foot mark.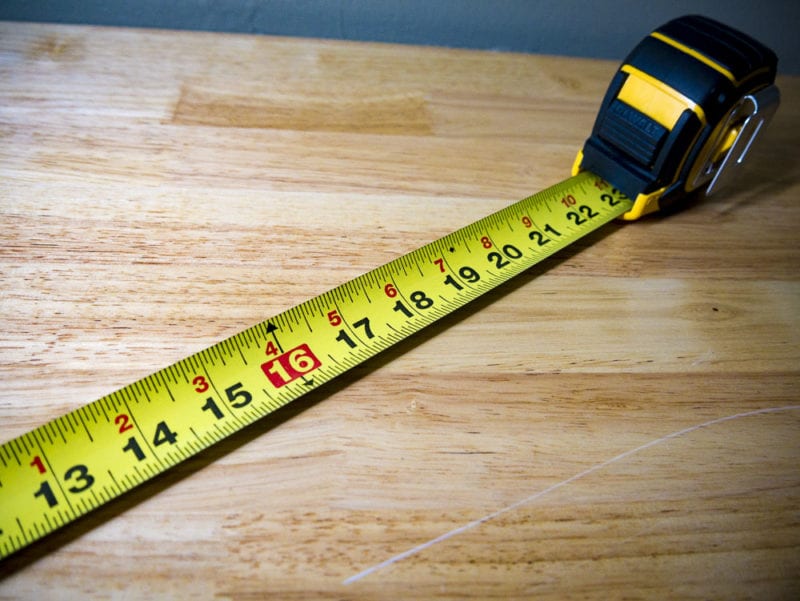 You get standard 1/16-inch marks along with red stud digits every 16 inches and black truss diamonds every 19.2 inches.
Clip
The clip doesn't use a screw to hold it on. At first glance, it looks like a pretty solid connection that should hold up well. It also appears to be weak in the holding department since it doesn't pull tight against the housing like most do. However, the same plastic piece that the clip connects to also provides a contact point on your belt. I find that it sits loosely on my pocket or waistband, but holds well on my belt.
The only downside of not having a screw to hold the clip is that if you bend it out, you'll have a tough time repairing it.
Lock
The lock mechanism is made of plastic. It has to be to prevent damage to the coating and paint. It holds well enough but you can easily move the tape against it. The thumb engagement is also easy enough to use with one hand and jimping provides some extra grip. However, I did find some difficulty getting it to lock solidly somewhere around the 9-inch mark and below.
Lanyard Slot
If a 60-foot drop terminates on a coworker's head, the tape might survive but possibly not the coworker. Even if OSHA never mandates that all tools be tethered when working at height, it's wise and kind to use a lanyard on your tools.
DeWalt XP Tape Measure Standout and Throw
We know that you can never have enough standout, and the wide blade and high-carbon steel blade provides about as long as you can get at 13 feet. At least that's the claim. I was able to consistently get an 11-foot standout and I could push it to 12 feet. But I never did get the full 13 feet without an extra hand for support.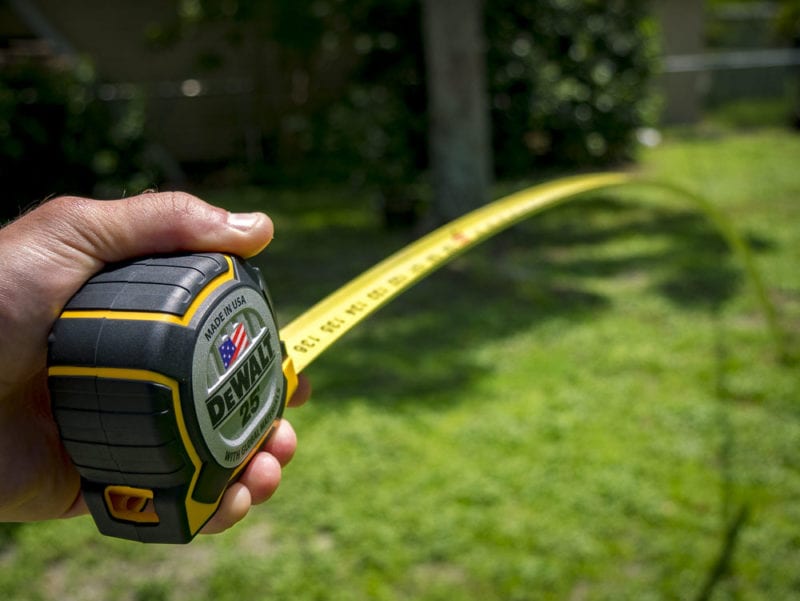 As far as throw goes, the tape feels like it has a little more friction than some of the other tapes I use. But that's a misconception. I was able to consistently get a controlled throw out over 7 feet and pretty reasonably expect 8 feet if I tried hard. A throw out to 8-1/2 feet or even 9 is possible, but you lose control over where the hook is going and the tape will roll on you.
About that Dual-Core Spring Mechanism
The Dual-Core spring mechanism offers the retraction strength you need without making a monstrous housing size. While I find the size to be pretty comparable to other 25-foot tapes, it is an effective mechanism.
But this isn't an ordinary tape measure. The use of a 1-1/4-inch high carbon steel blade means this tape should be much larger. The heavier high-carbon steel blade needs greater retraction strength and that usually comes with a bigger spring and bigger footprint. You'll notice the weight difference when you pick the tape up.
The more compact size also allows DeWalt to stiffen up the blade resulting in a straighter standout.
On the inside, you have a standard spring in the center like all tapes. The second spring is inside a separate housing underneath the blade itself. These two work in tandem to bring the blade back in and produce that smaller size.
Pro Tip: Don't take apart your tape measure unless you're ready to replace it. Even if you get it back together, the spring(s) will release and you'll lose the retraction you're supposed to have.
DeWalt XP Tape Measure Additional Features
Dual-Core Spring Retraction Technology
High Carbon Steel Blade
PC/ABS Case
Reinforced Hook
Integrated Lock Protection
Lanyard Slot
9-Inch Thermoplastic Coating
13 Feet of Standout
Screwless Belt Clip
The Bottom Line
All in all, the DeWalt XP Tape Measure in its 25-foot form is a solid option. I like the size in my hand and it offers confidence with a durable feel. It's got 4 screws holding the housing together, skipping the 5th in the center, though. The other durability features seem to be a win in the first few weeks of testing.
The only downside for me is that the clip doesn't hold securely on my pocket or waistband. It needs to sit on something thicker like a belt. That means it's going to be a little loose on the tape holder on your tool bag.
DeWalt XP Tape Measure Pricing
When it comes to price, you'll pay $30 for this model, which is a little higher than the $22 – $25 where others like Milwaukee and Stanley Fat Max live. Still, you get excellent standout and throw for your extra $5. Whether this will become the new standard in this price range and length is all about whether it holds up over the long term. DeWalt is backing the tape for life, so they're confident in its build quality. It's also available as one of their Made in the USA with Global Materials products. While not all of these tapes are made here, you can feel god about buying the ones that still are.
DeWalt XP Tape Measure Specifications
Height: 3-1/8-inch
Case Width: 3-3/8-inch
Tape Width: 1-1/4-inch
Depth: 2-9/32-inch
Weight: 1.25 pounds
Price: $29.99
Warranty: Lifetime