With Twice the Cutting Edges, Diablo Self-Feed Bits Speed Up Rough-Ins
Self-feed bits are helpful, but traditionally, cordless drill users complain that they can be inefficient, slow, short-lived, and tear through a battery charge. In response to these common complaints, Diablo has put in the research to come up with a solution that works specifically with your cordless drills. The result is a line called Diablo SPEEDemon self-feed bits.
We were able to do some initial testing at Diablo's media event held at the 2019 STAFDA trade show. More recently, we got a wider range of sizes to run through some common rough-in scenarios.
Pros
Legitimately faster drilling in all sizes
Longer-lasting design made from premium quality forged steel
Allows you to use your right angle drill in high speed across the entire size range
Aggressive, replaceable threaded feed bit
Cons
Some standard drills may not have the power to use the entire size range even though they can handle single-cutter designs
Recommendation
When all the sawdust settles, Diablo SPEEDemon self-feed bits are faster than any of the other bits we normally turn to. The larger sizes aren't as friendly to moderately-powered drills, but they'll cut your rough-in right angle drill trigger time down significantly.
Traditional Self-Feed Bits Vs. Diablo SPEEDemon
The Problem: Standard Self-Feed Bits
Diablo set out to solve some problems they found with traditional self-feed wood-boring bits. These dealt with speed, battery drain, and the self-feed design.
Aside from speeding up the cutting experience, the size of these bits and the way they aggressively cut into wood tends to quickly drain drill batteries. We've seen this when doing in-house testing and when using them in the field, especially using a 2 9/16-inch bit.
Diablo also contends that standard self-feed bits lack a solid feed screw design. They're easy to lose in the wall, get stuck when pulling the bit out, and don't feed consistently in softer woods.
The Solution: Diablo SPEEDemon Self-Feed Bits
Diablo's SPEEDemon self-feed bits use a two-cutter head. Right away, we knew this presented both an opportunity and a challenge.
Part of what helps increase the speed is a positive hook angle tooth geometry. Combined with the two-cutter design, it rips through softer woods better than standard self-feed bits.
Diablo tells us that current bits on the market are cast into dies during manufacturing, which results in inconsistencies in performance and quality. Diablo uses a precision heat-forge process and premium steel on automated equipment. This ensures a consistent and quality end product that Diablo claims lasts up to two times longer.
Diablo SPEEDemon self-feed bits have a replaceable feed screw with a pull-out stop design that prevents it from slipping out when you remove the bit from the material. It has an aggressive low thread count to dig in faster without any pitch build-up from softer wood species. Each bit comes with a replacement feed screw and a hex wrench.
With two cutting edges doing the work instead of one, it requires your drill to keep more working area moving. If it has the muscle, the bit really should remove material faster.
And it does.
Diablo SPEEDemon Self-Feed Bits Testing Results
We tested with both our Metabo HPT MultiVolt hammer drill and the Milwaukee M18 Fuel Super Hawg. For our comparison, we used our go-to Milwaukee SwitchBlade self-feed bits and higher-end bits from Wood Owl. Our baseline material was a pair of 2×4 studs as a common encounter during rough-ins.
For the most part, Milwaukee and Wood Owl bits ran roughly the same speed with a little back and forth depending on the size. Diablo was faster across the board.
Using a 1 1/2-inch bit, Diablo averaged 6.28 seconds compared to 9.42 seconds for Wood Owl and 9.19 seconds for Milwaukee.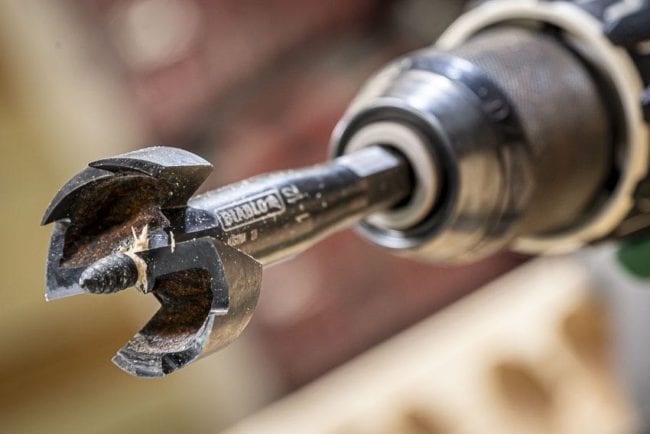 Kicking up to the 2 9/16-inch size, the gap was closer. Diablo's 9.21-second average led by a little over a second compared to both Wood Owl (10.38) and Milwaukee (10.58).
Using the Super Hawg netted different gaps than we saw from our hammer drill. High-speed drilling with the 2 9/16-inch bits gave us about the same gap as the handheld, but with faster times and much smoother boring.
Low speed was where things got interesting. Using the same 2 9/16-inch bits, Diablo opened up a much larger gap of 5 – 6 seconds compared to the others.
Observations and Takeaways
While Diablo SPEEDemon self-feed bits are clearly faster, there are a few things to consider as you go up in size.
The Tool Makes a Difference
Not all 18V/20V Max drills can handle drilling the bits over 2 inches. Some of the flagship pistol-grip drills we tried didn't have enough muscle to keep that 2 9/16-inch bit moving.
We're not really offended by that, though. Most plumbers and electricians have a Hole Hawg-style right angle drill and that's really the best tool to use on rough-in applications.
That said, we were able to use our standard drills with bit sizes under 2 inches easily and in some cases, at high speed.
Removing More Material Takes More Effort
With both standard and right angle drills, it was clear the motor had to provide more power to keep the bit moving. That was particularly obvious with our 2 9/16-inch testing as Metabo HPT's brushless motor produced more heat when using the Diablo bit.
It's not a 1:1 trade-off between speed and effort that results in the same number of holes per charge, though. Diablo claims than you get up to twice the holes per charge. We didn't see that high of an efficiency gain using the higher-quality bits we tested with, but we can see how it's possible against lower-quality ones.
Here's the other thing—you're not going to use a 1.5Ah or 2.0Ah battery when you're doing this kind of work. With most modern brushless right angle drills and higher-capacity batteries, you already have enough work time to give your second battery more than enough time to charge. Diablo's efficiency cushions the lead a bit while clearly cutting holes faster.
Additional Field Notes
Tear-Out
If you're using a drill that's right on the edge of the power you need, there's a good chance it will stall at tear-out. It's a common characteristic in many of the hole-making accessories we use. The extra cutting edge on Diablo's SPEEDemons means you need a bit of a boost to make that last push through. This isn't a concern if you're using a Hole Hawg.
Chip Ejection
We noticed that the two-cutter design doesn't do as good of a job ejecting chips, particularly when you're boring straight down. With horizontal holes it does much better and, of course, there's no issue when you're making a hole straight up overhead.
Overall, it isn't much of an obstacle and only caused an occasional slow down to stop and clear.
9 Sizes Available
The Diablo SPEEDemon self-feed bits come in nine sizes ranging from 1-1/8″ to 3-5/8″. Each one comes with a replacement feed screw and Allen key. You can pick them up anywhere Diablo products are sold.
1-1/8 in. Diablo DSF1125 — $35.99
1-3/8 in. Diablo DSF1375 — $37.99
1-1/2 in. Diablo DSF1500 — $39.99
2 in. Diablo DSF2000 — $42.99
2-1/8 in. Diablo DSF2125 — $44.99
2-1/4 in. Diablo DSF2250 — $46.99
2-9/16 in. Diablo DSF2562 — $53.99
3 in. Diablo DSF3000 — $93.99
3-5/8 in. Diablo DSF3625 — $139.99
The Bottom Line
When all the sawdust settles, Diablo SPEEDemon self-feed bits are faster than any of the other bits we normally turn to. The larger sizes aren't as friendly to moderately-powered drills, but they'll cut your rough-in right angle drill trigger time down significantly.
Get more information at the Diablo website.