I remember back in the day being simply amazed by my Dad's soldering iron. The idea that you could take a metal wire and melt it with a small, corded tool that gripped like a pencil was simply fascinating. Of course, Dad was using it for various fishing applications and I got the completely wrong idea of what soldering actually was. Still, I used to sneak away when I got the chance and just melt that solder for the sheer joy of melting metal.
As a kid, all-metal was hard and couldn't be broken easily, so soldering was a strong adhesive application in my mind. The reality of course was and is that soldering is mainly for an electrical connection using a soft metal that has a bonding quite easy to break. Imagine my frustration when none of my soldering "welds" would hold the way I expected them to. Fast forward 20(ish) years and I've got a bit more knowledge about soldering as well as metal.
Dremel has helped to forge the dream born from the ignorance of my childhood with the new Dremel VersaTip Butane Torch. Just how do they do that? With one cordless device, I have the ability to solder to my heart's content while also enjoying the opportunity for brazing connections that form much more solid bonds. There are several other applications as well, and this looks to be a pretty handy tool to have around the shop.
Editorial Note: Check out our best cordless heat gun article to see our top picks.
Dremel VersaTip Included Accessories
Soldering Tip
Cutting Knife
Shaping Knife
Hot Air Tip
Wide Blower Tip
Deflector
Solder
Sponge
Tin Trays
Wrenches
Cap
Storage Case
Dremel VersaTip Applications
Like the name would suggest, the Dremel VersaTip is versatile. The soldering tip is good for soldering jobs (obviously). The cutting knife isn't terribly sharp, but when combined with the heat from the butane, it makes an excellent knife for cutting nylon while preventing the feathering that occurs with a sharp traditional blade. The shaping knife features an edge for cutting plastic. The deflector is designed to shrink insulation around wiring. The hot air tip delivers 1256 degrees F to materials while the wide tip blower is good for surface prep on paint removal.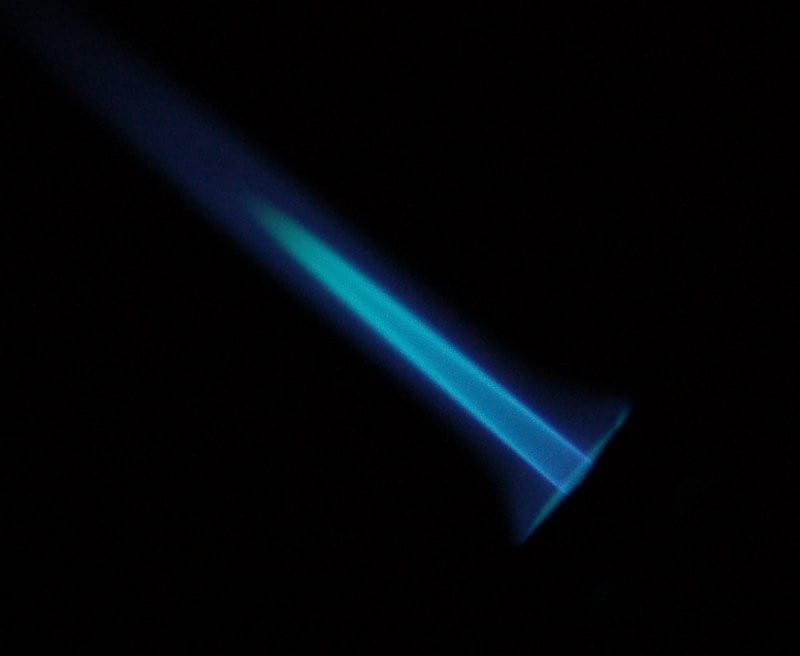 Simply using the Dremel VersaTip with an open flame also has its advantages. In our corner of the world, it's great brazing, sweating copper pipe, and freeing seized nuts and bolts. In another set of applications, it can be used in several cooking applications like caramelizing and browning the top of that lemon meringue pie.
Using the Dremel VersaTip
Filling the VersaTip is a simple process. If you've ever refilled a butane lighter, it's the same idea. Simply push the universal filling tip to the tank fitting and press them together. The instructions say to do this in a well-ventilated area… and they're right. It's supposed to take up to 10 seconds to fill the unit, but it only took about 7 seconds before butane started spilling out from the connection. That's how you know it's full, by the way.
You'll need the included wrenches to switch out the tips. It's just a threaded connection that's really easy to switch out though. There is a flame diffuser that needs to stay in place when you're using when using any of the tips. The manual gives you installation instructions on how to do this, but my unit came with it and the soldering tip pre-installed.
Ignition takes a little bit of practice but is intuitive in preventing accidental lighting. You have to push forward on the safety lock before pushing down to attempt ignition. Once in the down position (whether it lit or not), you can slide the lock switch on and continue clicking the ignition until it is lit. I found this to be more reliable than clicking the ignition until it was lit and then sliding the lock over.
Igniting the Dremel VersaTip is not a guarantee on every click and it often took me several tries to get it lit. While safety dictates that you light the VersaTip with the flame slider in the minimum position, I did get more reliable ignition at a higher setting.
There is more than one way to grip the VersaTip, though I prefer a pencil grip for precision applications. Since I used it with the lock on, I moved my fingers away from the ignition and to eliminate some of the awkwardness of having a finger over it. This was a comfortable working position for both precision and non-precision applications. You may find yourself sliding your grip down just slightly to avoid a pressure point that is created by the plastic guard around the collar.
Parting Comments and Recommendations on the Dremel VersaTip
The Dremel VersaTip finds its niche with soldering applications. It's also solid in its role with various heat-blowing applications. For these reasons, electricians will particularly find this to be an attractive tool to carry as a quicker option than having to find an outlet or run an extension cord. There are some plumbing applications here that the lightweight and compact size lend itself to as well.
Dremel VersaTip Butane Torch Specifications
Model: Dremel VersaTip 2000-01
Heat Source: Butane
Tank Capacity: 0.57 fluid ounces/0.31 ounces (weight)
Run Time: Up to 75 minutes
Operating Temperature: 2192 F (open flame), 1256 – 1832 F (hot air), 1022 F (soldering tip)
Weight: 4.76 ounces (empty)
Warranty: 2 years
Price: $48.99
Final Thoughts
The limitations on the Dremel VersaTip will primarily lie with run time. 75 minutes of heat on low will leave heavier users refilling a couple of times a day. While that may be inconvenient for some, the torch is still pretty efficient. A 5.5-ounce canister of Benzomatic butane (Dremel doesn't offer refills at this time) will run about $5 and should fill the VersaTip at least 15 times.
For users that are primarily using this as a soldering tool, it's easy to put in your tool bag or backpack secured by an elastic strap. Just keep a can of butane refill in there as well. The case is nice and does a great job of securely holding the tips, but it is a little bulky to keep in your grab-and-go kits. Around the shop or the house, however, I really like having everything together and secured.