Last Updated on July 11, 2023
Choosing the Best Cordless Heat Gun is All About Expectations
We're seeing more cordless heat guns hit the market. But what should you expect from them if you're making the switch from corded? The best cordless heat gun you can get your hands on has everything to do with the jobs you expect to complete with them. There are significant limitations compared to the heat and runtime you get from corded models.
Setting the Right Expectations
When most of us think of cordless tools, we assume you need some accessories, but nothing more than a battery to actually power it. Generating heat consumes a lot of power and making a cordless, gasless heat gun is ambitious.
Your runtime is going to be limited, even with some of the mega-watt-hour batteries out there. If you're looking for the best cordless heat gun that doesn't need anything more than a nozzle, it's going to do its best work on heat shrink connectors, softening PVC, and decal/sticker removal. There's just not enough runtime to do much else.
However, you can expand your possibilities if you're willing to use butane and an open flame. You can get much higher temperatures faster and extend your runtime.
The Best Cordless Heat Gun Overall
Makita earns the title of best cordless heat gun this year with the XGH02. As the first battery-only model to top the 1000°F mark, it's your best bet for the highest temperature. The 02 model also has a variable temperature dial, allowing you to work with multiple materials easily. If you want to save a little a forgo the variable temperature feature, the XGH01 is the model for you.
Airflow is also worth talking about. Both models have 7.1 CFM and the 02 includes a 4.2 CFM low speed. The extra features on Makita's upgraded model give it a maximum runtime of 30 minutes on a 6.0Ah battery.
Grab this one for $198 as a bare tool, or pick up the XGH01 for $129.
The Best Cordless Butane Heat Gun
Bernzomatic ST2200T Butane Micro Torch
If you don't mind buying butane, one of the best solutions for shrink tubes and other smaller work involves something like the Bernzomatic ST2200T Butane Micro Torch. You refill this unit from below using a butane refill bottle. It also gets crazy-hot compared to battery-powered options—over 3000° F!
The ST2200T works perfectly on small precision projects, fine soldering, crafts, or putting heat shrink on wire. This cordless mini heat gun works in three different modes. You can use the cone tip, a hot air blower, or the micro torch tip to get a pinpoint flame. An adjustable flame control knob lets you vary the intensity and you can put it on continuous mode to set it down while you work.
The price—less than $36 last time we checked—makes it a great solution for anyone not needing a full-sized cordless heat gun.
Best Budget Battery-Powered Heat Gun
Greenworks 24V Cordless Heat Gun
The Greenworks 24V cordless heat gun stands apart from the no-name generic brands on Amazon to offer something more reliable from a brand we know and trust. Their 24V batteries work across a wide swath of around 100 power tools and lawn care equipment. The Greenworks cordless heat gun rises to an impressive 1080° F as its maximum temperature, heats up in just 9 seconds to usable heat, and includes three nozzles—similar to most heat guns we've seen.
With the highest heat among the non-butane options and a price of $99.99 with a battery and charger, it's only missing a two-mode selection for when you want to work with a lower heat level.
Best Precision Cordless Heat Gun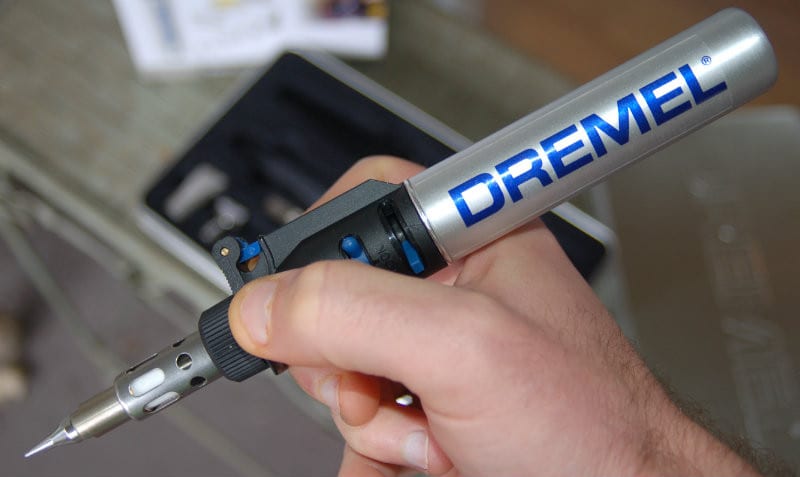 If you don't own a heat gun for heat shrink connections, there's a good chance you're using some sort of lighter or open-flame torch. These are more limited since they don't produce any airflow to move the heat away, but they still get the job done and are much less expensive. You just need gas refills. The one thing you need to keep your eye on is that they use an open flame for heat, so take appropriate care.
The Dremel VersaTip makes a great heat gun alternative thanks to the tips that come with it. We can say the same about the Dremel VersaFlame but we like the VersaTip's compact size a bit more. The tip is for precision applications, so it's smaller than the heating area on our other recommendations. You get a range of 1256–1832ºF and the 0.57 fluid ounces of fuel last up to 75 minutes. That's a pretty killer combination if heat shrink connections are your primary focus.
Without butane, the tool weighs less than 5 ounces. In addition to applying precision heat, you can cut, shape, pyro-write, and solder with the included tips. And for the OCD person in the room (that'd be me), it even comes in a handy-dandy case to store everything. If you're a DIYer, it's a pretty nice way to go. Pick up the Dremel 2000-01 kit for around $49.
More Recommendations from Brands We Trust
Best Craftsman Cordless Heat Gun
Craftsman V20 1228-BTU Heat Gun
The biggest takeaway from the Craftsman V20 heat gun is the price. You get this brushed motor tool for just $89, and it includes deflector and spreader nozzles. If you already own Craftsman 20V tools, this makes for an easy purchase.
The Craftsman CMCE530B has a slightly lower 950-degree maximum heat point compared to its brand group brother, DeWalt. Still, you can't complain too much about this inexpensive cordless heat gun.
DeWalt 20V Max Heat Gun DCE530B/DCE530P1
DeWalt makes its argument as the best cordless heat gun by upping the temperature mark to 990ºF in High mode. That's getting really close to the 1000ºF mark that we like to see corded heat guns at. That said, expect that max temperature to take nearly 6 minutes to peak and you'll need to be 0.4 mm away to get that maximum rated temperature.
It's also one of the more compact options at 6.33 inches.
At $219 for a kit with a 5.0 Ah battery, it's a compelling option if a heat gun is going to be the first tool you buy on a cordless platform.
Best Kobalt Cordless Heat Gun
Kobalt KHG 124B-03 24V Heat Gun
Kobalt Tools has made a name for itself when it launched the 24V line of power tools. The Kobalt KHG 124B-03 24V Heat Gun holds its own as an entry-level professional cordless heat gun. With a maximum temperature of 1000° F and the ability to drop down to 550° in Low, this tool gives you some flexibility for a variety of applications.
At $99 Lowe's prices this tool is right in line with other entry-level manufacturers. You get the expected Lock-on switch and the tool sits securely on its back so you can work on it hands-free. You get both a reflector nozzle and a reduction nozzle, but no wide slot or welding nozzles.
Best Milwaukee Cordless Heat Gun
Milwaukee's M18 Heat gun makes a name for itself with quick heating, giving you heat-shrinking temps in just 7 seconds and taking a bit longer to reach its full 875ºF potential. We really like the hanging hook and its compact 6.4″ head length. The kit comes with a 5.0Ah battery, charger, guarded nozzle, and reducing nozzle. As a purely cordless model, it was the first to hit the market from the major tool brands.
You can grab the bare tool for $149 if you already have Milwaukee batteries and a charger.
Best RIDGID Cordless Heat Gun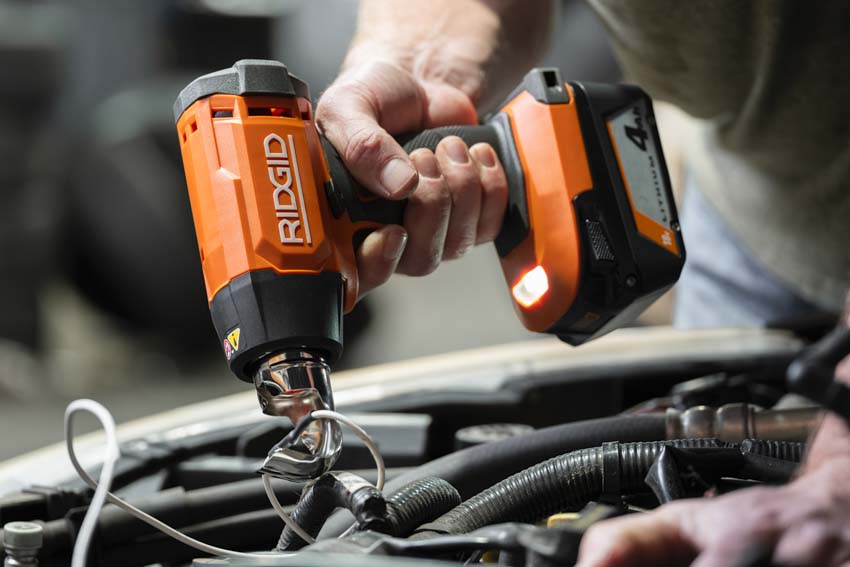 While the Ridgid 18V cordless heat gun has a lower maximum temperature than its butane-fueled predecessor, we're impressed that it matches the runtime. Unless you require temps over 1000° F, Ridgid users thankfully have an 18V cordless heat gun to tackle shorter projects.
You can pick up the RIDGID R860435B as a bare tool for $119 or as a kit with two 4Ah batteries for $149. That's a really solid price for a kit with two batteries and a charger. It almost feels like you get the tool for free!
Best Ryobi Cordless Heat Gun
Ryobi 18V ONE+ Cordless Heat Gun P3150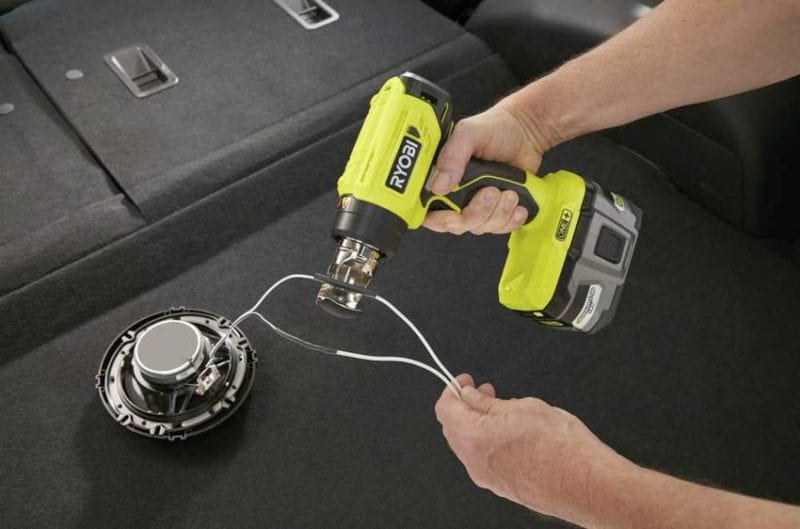 The Ryobi P3150 cordless heat gun pretty much sits on Milwaukee's design minus the hanging hook. Like its cordless colleagues, it hits 875ºF and claims to get there in just 10 seconds. You also get guarded and concentrator nozzles in the package. If there's a downside, it's that Ryobi uses stem packs and doesn't have quite as nice a handle design as Milwaukee and DeWalt. But that's being pretty picky for this kind of tool.
You can pick up the Ryobi P3150 for just $79 as a bare tool.
Best Cordless Heat Gun Buying Guide
We've given you a lot of information so far, but there's more to the story. Here are several other considerations to help steer you to the best cordless heat gun for you.
Corded or Cordless?
If you're here, you at least think you want a cordless heat gun. Whether that's the best solution for you or not depends on your application. If you want to remove paint from the side of a 1920s home, cordless doesn't make sense. It doesn't tend to get (and stay) as hot as corded heat guns. A cordless heat gun also doesn't have the continuous runtime you want when doing a larger job like that.
Lastly, a corded heat gun typically weighs far less than even the best and lightest cordless heat gun. Take the Milwaukee 2688-20 cordless heat gun for example. It weighs about 1.7-1.8 pounds without a battery. Add another 1.5 pounds if you plan to add a 5.0Ah M18 battery into the mix. The corded 11-amp Milwaukee 8977-20 heat gun weighs just 1.8 lbs total. You might be carrying twice the weight with a cordless solution.
So cordless gives you convenience, but it may not make sense for every application and use.
How Much Temperature Do I Need in My Heat Gun?
Another big decision point comes down to how much heat you need the cordless heat gun to produce. For temperature, all numbers we use refer to Fahrenheit. We consider 1000° F to be "Pro-level" for cordless. In actuality, the top temperature for most corded heat guns peaks at 1100° F. If a cordless model approaches that, it qualifies as a corded replacement—at least with respect to heat production.
Most projects and applications, however, don't require the maximum heat levels you can produce with a heat gun. For example, you can solder around 600 ° – 700° F depending upon the material you use (higher for lead-free). If you want to soften plastics, that occurs at lower temperatures—somewhere around 350° – 400° F. Paint stripping needs 600° F, and you thaw frozen copper pipes using some of the highest available temperatures.
Perhaps one of the lowest temperature projects involves activating adhesives. Most of those need around 300°F.
Why You Can Trust Pro Tool Reviews
Ever check out a "review" site and you can't tell if they actually tested the tools or if they're just "recommending" the Amazon top sellers? That's not us. We won't recommend anything unless we'd actually use it ourselves and we don't really care who the primary retailer is. It's all about giving you a legitimate recommendation and our honest opinion of each product.
We've been in business since 2008 covering tools, writing reviews, and reporting on industry news in the construction, automotive, and lawn care industries. Our Pro reviewers work in the trades and have the skills and experience to know whether tools can perform well in the field.
Each year, we bring in and review more than 250 individual products. Our team will put our hands on hundreds of additional tools at media events and trade shows throughout the year.
We consult with innovators in the technology and design of tools to gain a broader grasp of where these products fit and how they work.
We work with more than two dozen professional contractors around the United States who review products for us on real job sites and consult with us on testing methods, categories, and weighting.
We'll provide more than 500 pieces of new content this year absolutely free for our readers—including objective evaluations of individual tools and products.